Hana Whitfield is such a pleasure to talk to. One of the nicest, kindest people I have had the pleasure of knowing, she is also one of the most interesting. She helped us on The Aftermath, appearing on the episode "The Life and Lies of L. Ron Hubbard" (S2 E 13). Hana joined the Sea Org before it was the Sea Org (it was originally named the Sea Project) in 1967, and went on to Captain various Sea Org ships and bases. We do a deep dive into the early years of the formation of the SO, her recollections of Hubbard, his "Mission Into Time" and much more.
Hana was a highly trained scientologist and OT — the St Hill Special Briefing Course (SHSBC) was the course only available at St Hill, Hubbard's home in England, that consisted of hundreds of lectures Hubbard had delivered to students there providing the most advanced auditing techniques. He subsequently conducted a course for auditors on the Apollo with the new, most advanced auditing technology that he called the Class VIII Course. You can find his Class VIII lectures on the internet — for many years they were confidential. They are some of the craziest he ever did.
The formation of the Sea Org: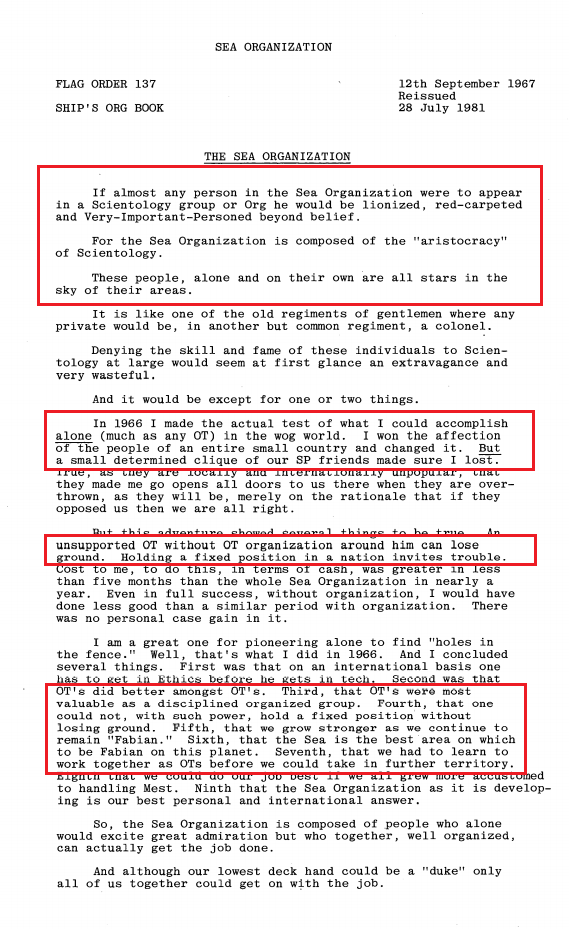 The Avon River (later renamed Athena) in Las Palmas: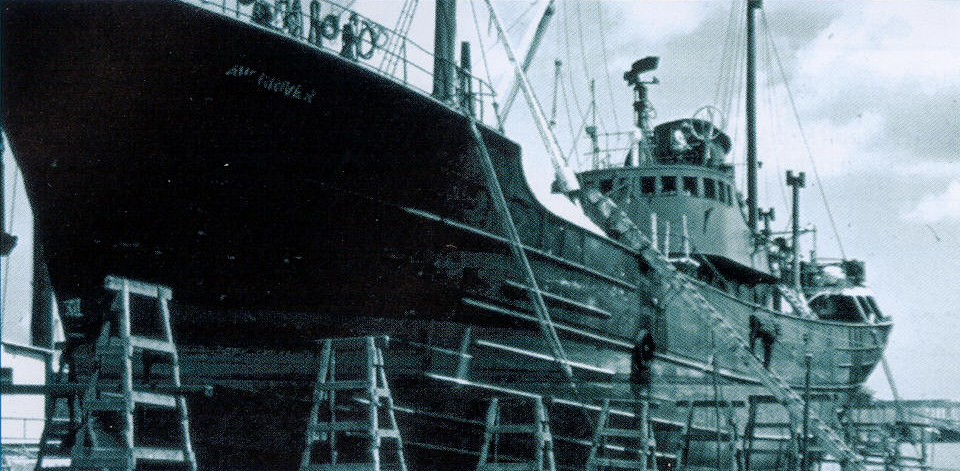 Ranks in the Sea Org:
Captain Miscavige:
Scientology objects to calling him Captain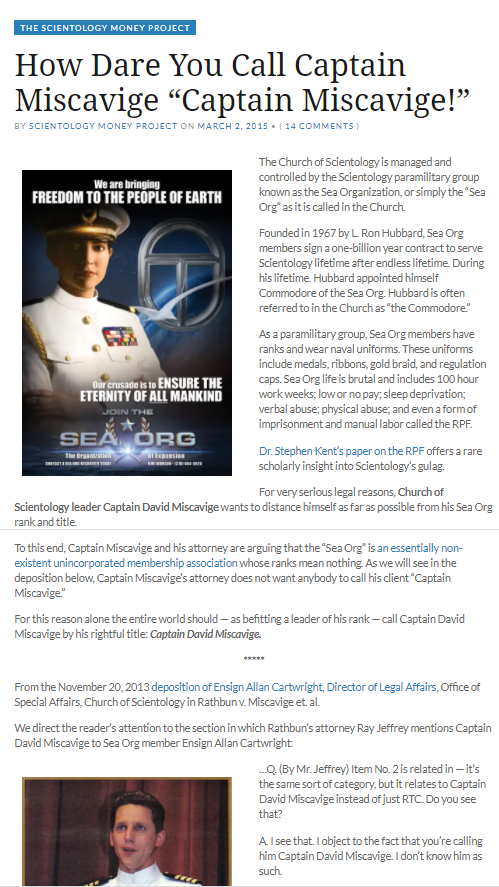 The CST decision concerning the Sea Org:
"After carefully examining the record and attempting to understand the nominal corporate structure of Scientology it is apparent to the court that it is something of a deceptis visus. Real control is exercised less formally, but more tangibly, through an unincorporated association, the Sea Organization, more commonly referred to as the Sea Org. This group, in the nature of a fraternity or clan, began with Scientologists who pledged themselves eternally to Scientology and who accompanied LRH in his sea-going spiritual research in the Mediterranean"
Mission Into Time:
Hubbard's failed effort to locate buried treasure he "recalled" from past lives…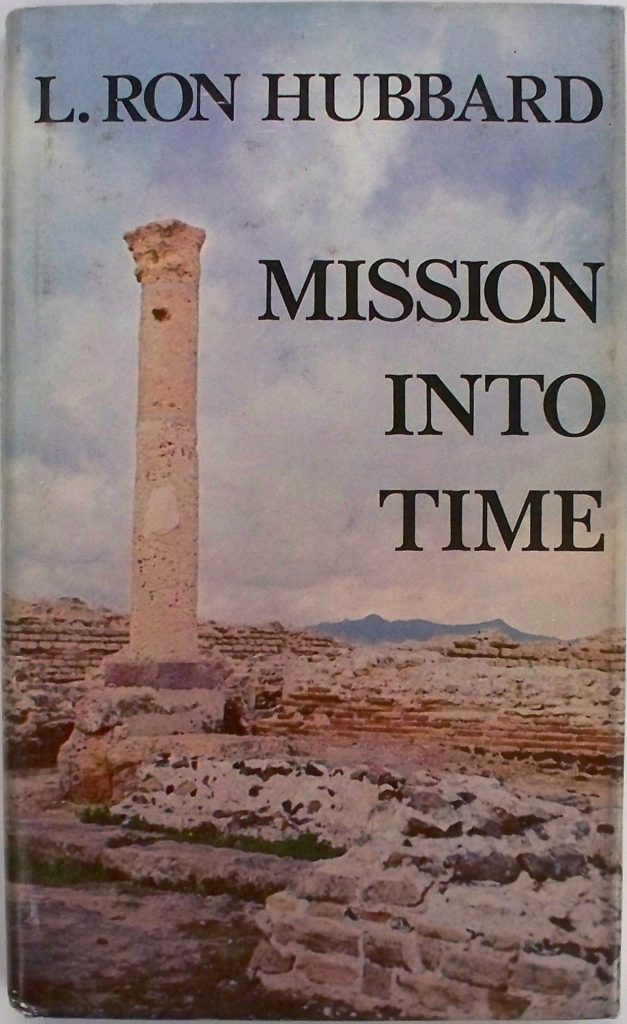 Ron's Journal 67:
One of the crazier Hubbard lectures where he announces OT III and the formation of the Sea Org.
Sea Org Contract:
Toughness FO:
Sea Org members pride themselves on being "tough."
There is no concern over physical violence among SO members in the course of doing their jobs: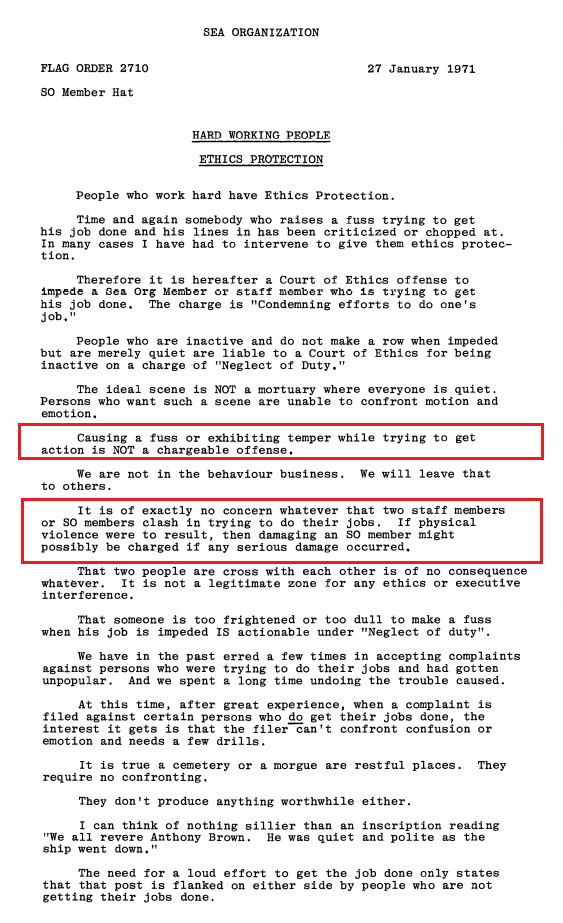 You're expected to do any job in the SO, trained or not: