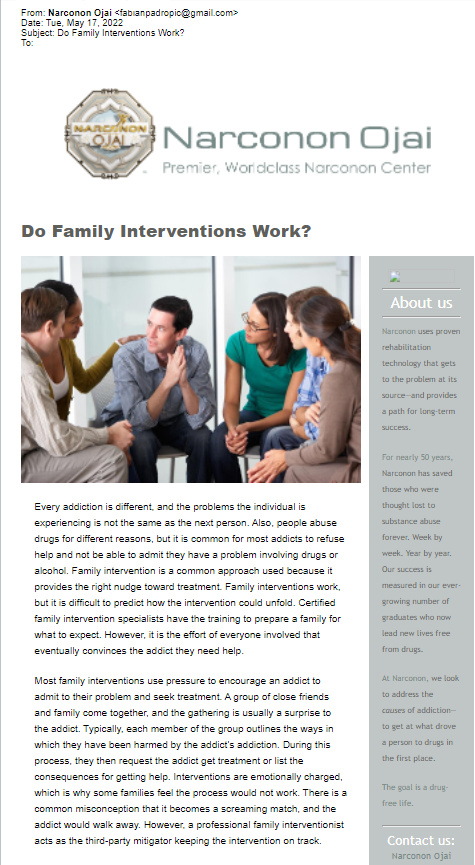 Here's an interesting article from Narconon, pushing the virtues of interventions.
This is how they describe what an intervention is:
Family intervention is a common approach used because it provides the right nudge toward treatment. Family interventions work, but it is difficult to predict how the intervention could unfold. Certified family intervention specialists have the training to prepare a family for what to expect. 
Most family interventions use pressure to encourage an addict to admit to their problem and seek treatment. A group of close friends and family come together, and the gathering is usually a surprise to the addict. Typically, each member of the group outlines the ways in which they have been harmed by the addict's addiction. During this process, they then request the addict get treatment or list the consequences for getting help. Interventions are emotionally charged, which is why some families feel the process would not work. There is a common misconception that it becomes a screaming match, and the addict would walk away. However, a professional family interventionist acts as the third-party mitigator keeping the intervention on track.
Generally, most interventions are successful, but this depends on the interventionist and the family or friends involved in the intervention. A family may feel it is successful when they agree to go to treatment. Still, success is a result of the family setting healthy boundaries and holding the addict accountable, while also following the guidance of the interventionist. 
Family intervention is also effective at any time, and it should not be considered the last step to take. 
Whether it is early intervention with a conversation involving family or friends or a staged intervention, the process does work.
They call those who specialize in these activities, intervention specialists.
When it comes to scientology, there is a whole different take.
Scientology calls intervention specialists who try to help people escape from cults "deprogrammers" and they reserve some of their most hateful propaganda for them. Deprogrammers are psychiatry's guerilla warfare specialists, seeking out families to bilk them out of their hard earned cash in order to employ their criminal tactics. It's all a matter of perspective. Intervention specialists are a conduit for new paying customers for Narconon. Thus, they are good. Deprogrammers take people away from scientology, thus they are bad.
STAND League reserves a special place for those they denominate deprogrammers: Ted Patrick, Rick Ross, Steve Hassan and Hana Eltringham. They focus on Ted Patrick in particular as he was arrested (like Wick Allcock) and then throw everyone else who has engaged in any form of "intervention" with a scientologist as also being a "violent criminal." I have not personally met Rick Ross, though I have seen interviews with him and he is no proponent of violence. I have met Steve Hassan and Hana Whitfield. They are two of the kindest and gentlest people one could ever hope to meet.
Here is one piece of indignant propaganda from the scientology.org website:
Over the years, the Church of Scientology has exposed numerous instances of brainwashing or mind-control practices, such as those involved in so-called "deprogramming." Such practices are diametrically opposed to Scientology, which is intended to free Man and restore his ability to control his own life.
The terms intervention specialist and deprogrammer are interchangeable. The methods are identical. Yet, in the world of scientology propaganda, one is saving lives, the other destroying them. One is bringing in money, the other taking it.