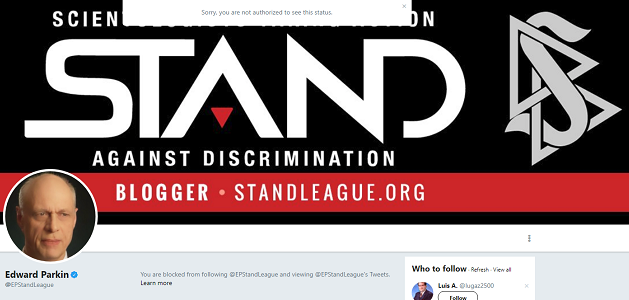 Another in the ongoing series of posts documenting the insane statements and lies of scientology's only public spokesperson, Fast Eddie Parkin.
Eddie as you may recall from earlier posts is a long term staff member in the Office of Special Affairs International (he used to be an assistant to Heber Jentzsch before Heber was "disappeared" many years ago).
Fast Eddie is busy on twitter. Though he blocks the people he constantly carps about, and in fact blocks ANYONE who questions him or any of his tweets, this self-proclaimed champion of free speech and human rights (as long as they are his) has people he has not blocked who see his tweets and pass them on to those he smears. He devotes most of his efforts to Leah Remini, me, The Aftermath, A&E and Disney.
Here is one of his recent tweets: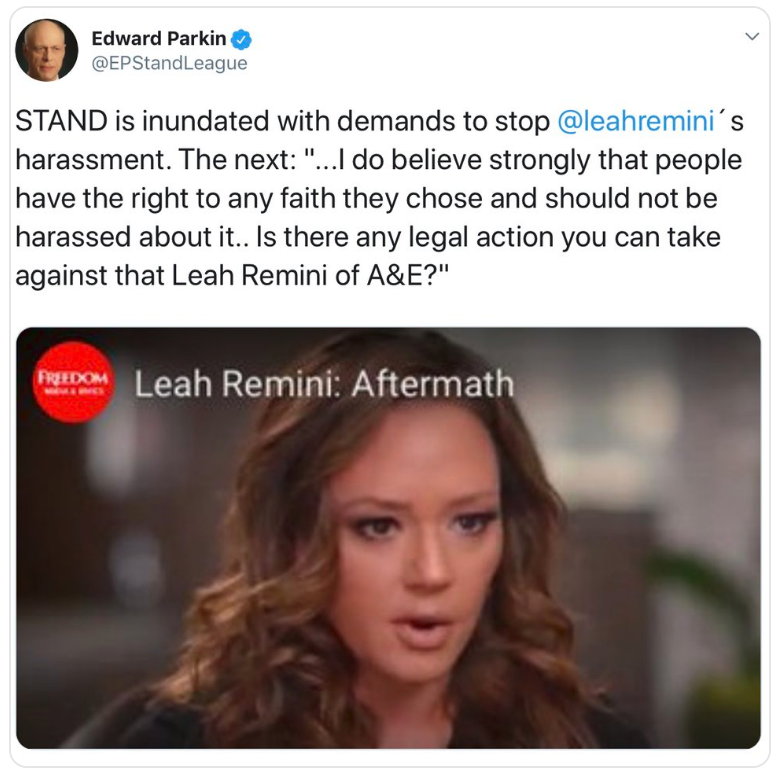 Now, this is what you call in the business being a chickenshit.
He takes some supposed statement from an unknown person and repeats it like it is something that must be announced to the world because he has been "inundated with demands." Sure thing Eddie. The only thing inundating you is people who you feel must be blocked from your account.
Apparently Eddie doesn't have the courage to just say it himself so he quotes someone else. It's intended to be some sort of veiled threat I suppose?
What is so strange about it is that scientology has all the money and all the lawyers in the world. There is absolutely NOTHING stopping them from filing a lawsuit against Leah Remini, me or A&E. Unlike their victims, who do NOT have a bottomless pit of tax free money to buy lawyers.
Many DO wonder why we don't sue scientology and why so many victims have not brought legal cases. The answer is always the same — the US legal system favors the litigant with the most money, and the vast majority of the victims of scientology have been bled dry due to their involvement in scientology.
But scientology does not have that problem. So, why no lawsuit?
Two reasons: 1. What we include in our program is the absolute truth, so scientology could never win, and 2. if they filed a lawsuit, it would open the doors to legal discovery which means they would be forced by a court to turn over documents and testify under oath. There are so many skeletons in scientology's many closets they could never afford to engage in litigation where those doors might be opened. They know full well that if they were to file a lawsuit, a LOT of dirt would tumble out in the for of their own documents and statements.  As a plaintiff they would be hard pressed to persuade a judge the defendants do not have a right to discovery. The last lawsuit they filed against anyone was Debbie Cook and look how that turned out for them…
So, Fast Eddie, the point of your tweet was what? To make it sound like filing a lawsuit was a great idea?
Where is it then?
And why won't you come out from behind your keyboard and appear on camera to respond to things on our show? We have tons of questions. You repeatedly say we present only "one side" but you refuse to appear. You don't mind tweeting, why are you such a coward that you will not speak in person?
Of course, we know the answer. You are not ALLOWED to speak to anyone in the media in case you said something stupid (even stupider than your tweets, which are cleared before being posted). The ONLY person who can speak for scientology is True Leader, David Miscavige. But he is so scared of the press he hires all sorts of security to ensure they cannot get anywhere near him. He is not about to answer any questions, whether puffball or tough.
The old adage is that liars are cowards and cowards are liars. You are perfect examples of both.