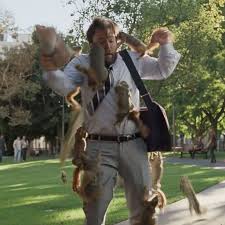 The squirrels are everywhere.
And they are us.
Ignore if you can the typos and grammar — what is so remarkable about these pronouncements is how unabashed the bubble dwellers are when they state everything they have been doing up to now has been squirrel.  "You MUST do this new course/rundown/procedure/level/status NOW because we have been doing it all wrong for 20 years."
"Return your money and make good on the screw ups you paid us for?" 
"Are you kidding?"
"You are disaffected. Only COB can tell us everything he implemented we have been doing is squirrel. Start on Steps A-E — it is your only hope to have an eternity."
See the African blog this morning. Coincidentally, a different take on the exact same thing.
The squirrels are everywhere….