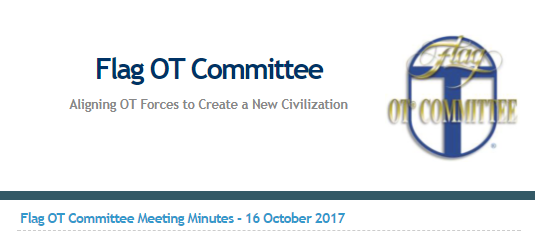 Some interesting information here.
Plenty of evidence things are not all peachy at Flag.
Just a few comments:
They are trying to double the number of IAS members by reducing the annual membership fee and sending a mailing to everyone who has ever bought a book! Ha. Good luck with that. Although they disclose the REAL intent — to get people to higher statuses and that is ONLY about money.
THE most successful Clear event yet had 30 attendees. Yes, 30. And they then go on to say there are more Clears than any other case level…
There are less than 50,000 people on earth who have EVER been declared Clear. And there are more who are dead or have left scientology by a factor of five. I would guess there are a lot less than 10,000 Clears who consider themselves active scientologists today.
Obviously, they have to keep some campaign going to get money from Flag Public, and as Orlando has maybe 10 active scientologists in it's whole field, the Flag OT Committee is focused on Orlando. And by the way, how come there have been no announcements of the new Missions and Narconons and WTH Chapters in Miami since the ribbon yanking? And where are all the Clear announcements from "Mighty MyMammy"?
You will be pleased to know that thanks to the IAS there is hope for peace on this planet. Are these people on drugs? They attend these events and walk out like they have been given some sort of hallucinogen. It's crazy.
But they saved the best for last. They are having to do an OT Ambassador "Recovery Pgm" — and there are ONLY 300 OT Ambassadors in the Tampa Bay Area. Remember, scientology claims they are 10% of the population (that would be 14,000 in Clearwater)… The VAST majority of active scientologists in the local area are COUNTED as "OT ambassadors" even though they are not "active." This is an accurate indicator of the number of active non-SO scientologists in the Flag field. No more than 500…