The news from Flag has not been good.
You may recall I did a post (Things At Flag Are Bleak) in January mentioning they had stopped circulating the "Good News" briefings. And that only happens when there is nothing even the eternally unreal FSC office can present as good news.
But I guess they must read the blog, because 3 days later, after nothing since November 2015, suddenly in my in box appeared a new (shortened) edition of "Flag Good News."
Since then there have been a few more of these "Good News" briefing.
There are a LOT of missing weeks of really stinking stats. The numbers from those weeks would make these graphs look considerably worse than they already appear.
They long ago stopped including Purif and Objectives completions when they petered out. Then they stopped including Clears when those too dwindled to nothing.
There are 3 stats that have been consistently reported: Super Power (blue line below), Running Pgm (Orange) and OT VII Completions (Gray).
As you can see from this graph — which now represents 49 weeks of "Good News" numbers, the "massive international expansion" must be happening elsewhere.
In fact, the only number on an uptrend is completions on the Running Pgm, and of course, as they have loudly promoted, some people have already done it 3 times over!
The most devastating statistic is OT VII completions. This is the ultimate "product" of Flag. This is the one statistic that truly measures whether Flag is accomplishing its purpose of "moving people to the top of the Bridge." Clearly not. The number has only been greater than 10 3 times and that was well over a year ago. Now it averages less than 5. This represents the total number of scientologists reaching the top of the bridge on planet earth. There is nowhere else that this can be achieved.
These are their figures. They may even be inflated. But regardless, they are evidence of a steadily shrinking bubble. You can go back on this blog and sequentially see every one of the "Good New from Flag" reports since the release of the "Golden Age of Tech II" in November 2013. What a brilliant strategy that has proven to be….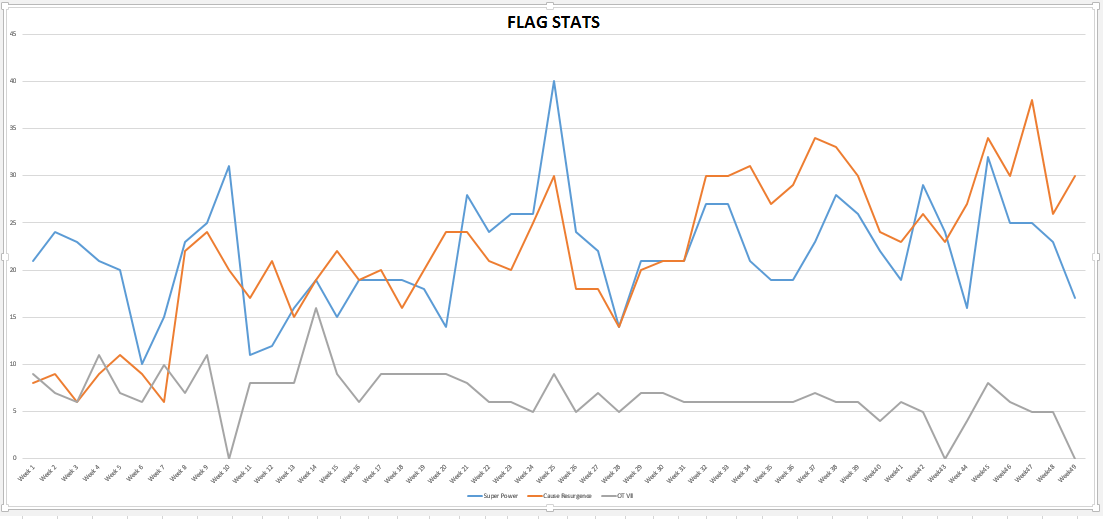 No OT VII completions at all!
And the "OT VI" Comps consist primarily of the suckers they have conned into redoing the Golden Age of Dreck for OTs "New Solo Nots Course."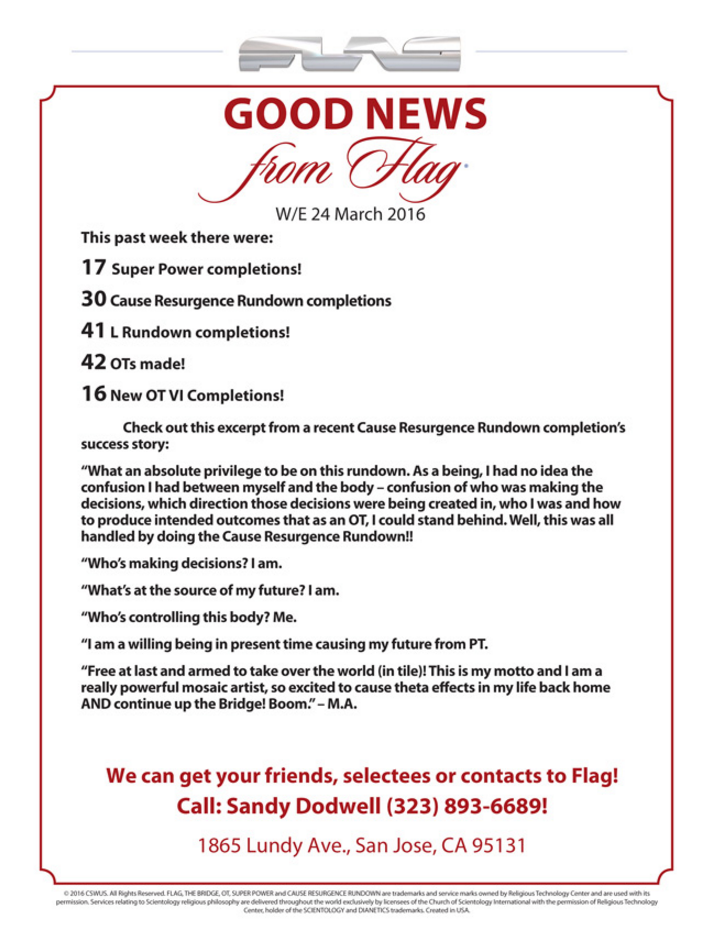 Highest EVER? But it was 38 the week before. Must have forgotten to change the sentence when it was copy-texted into the new version….