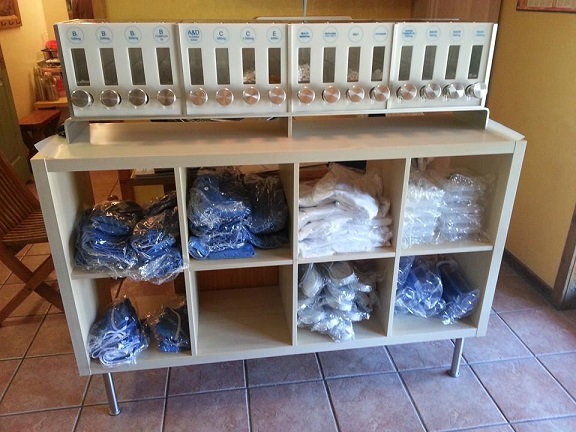 The secret of the GAG II Purif has leaked out.
The "new tech" incorporated into the "GAT II Purif" is a VITAMIN DISPENSER and BLUE AND WHITE UNIFORMS (wrapped in plastic).
This is MAJOR.
No doubt the SP's that originally transcribed the Purif materials and left these vital elements out have been assigned to re-do their Purif 100 times and then run around a pole for eternity (they are SP's, they deserve it). 
And meanwhile, the good lemmings are filing in for their uniforms and lining up at the vitamin dispenser. A report just in yesterday spotted John Allender flattening his unhandled drugs at Los Gatos sort of Ideal Org. I guess his drug flashbacks were getting the better of him….
UPDATE:
Here are some recent promo pieces that show off the new uniforms nicely.  The top one also contains the "New Super Quantium Ultra Vitaminomatic" that speeds up the Purif by 50X.
The successes are rolling in, with these uniforms there are just no barriers to moving up the bridge faster than ever!