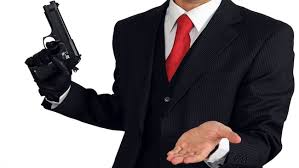 This is a partial list of the new GAG prices for services in a US Class V org.
I don't have a recent price list, so don't know how these numbers compare to pre-GAG prices.
It appears there has been an effort to simplify things. Probably because Miscavige is convinced there are rip-offs occurring because it is too confusing and there are too many possible discounts and packages.
You can be pretty sure that even if these prices appear to be LESS than pre-GAG prices they are in fact MORE than what was ACTUALLY being paid on average in Class V orgs through manipulation of discounts and packages.
Interesting to note there are $928.5o worth of materials for Academy Levels. That's nearly $200 per level. Those packs must be printed on parchment made from the skins of Nepalese mountain goats. Clearly it does not include books and lectures as they are required to be done as a prerequisite.
That $2,500 Student Hat is not going to be an easy sell.  Miscavige seems to think that because he bamboozles with bullshit about how it's the most amazing thing ever that everyone will just pony up $2,500 to listen to the edited study tapes.
Based on all I have seen so far about GAG II it truly is going to be the straw that breaks the camel's back. Of course the enormous stat push pressure is going to be on and with virtually no delivery in orgs for the past 5 months (while most of their staff were at Flag getting through this super fast training line-up) there will be immediate affluences and it will all be attributed to "COB's genius". Then the crash will come in about 3 weeks and new witch hunts will be going on around the clock to find out "Who is CI to COB." Some heads will be put on pikes and the heat will be turned up even further. It will be the Basics evolution revisited. All staff everywhere will be off post regging. I do not think there will be anything left once this evolution has run its course.