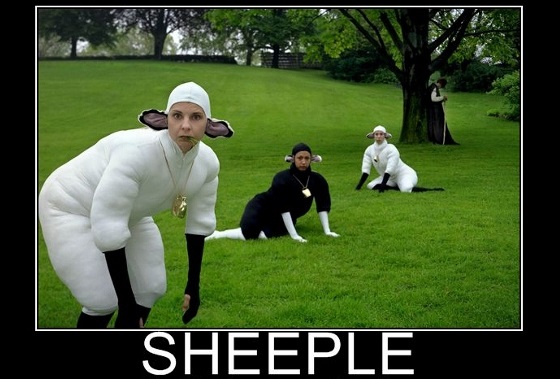 I have assumed since the release of GAT II in November 2013 that it meant that all previous auditor training was no longer valid.
Though of course, at the outset, this was never stated. Might have the natives to get restless.
Those natives are pretty docile, fed on a constant diet of lies and half-truths to turn them into sheeple. The trick is to keep them thinking that the next big thing has just been given to them and that this "breakthrough" will cure all the previous failures to deliver what was promised.
So, it is nice to finally see it in writing — direct from COP hisself.
It's also nice to see that nearly two years after the new "streamlined, lighting fast" training line up was sprung on the world, that they NOW have internships for Class IV and V and for the Purif.  But just "Qual OK's" for the "other tech courses." Oh, bow down and kiss the dirt that COP walks upon for he has blessed us with the internships he didn't give us when he released the new, streamlined incredible training line up.
And these people just keep buying it. And they truly believe they are the top 1% of the top 10% of the people of earth (or whatever that quote is, I cannot remember it verbatim and don't really care if I misquote it, everyone knows what I am referring to).
I suppose it's another aspect of the control — the praise and validation that you are so smart for going along with what is obviously so stupid…. Ergo, you would no longer be smart or superior to others if you stopped going along with the party line.
Sad really.
Hello,
The release of the Golden Age Of Tech Phase II has made it possible to train auditors in a matter of months especially those who have put in a standard study schedule. As with everything, the more time is put into something the faster it goes to complete the cycle of action.
We now also have the Internships for Class IV and V as well as for Purif C/S and we have the Qual OKs for the other tech courses.
It is fully expected that all our auditors get through their training and through the Internships as fast as possible. Remember that certs are only validated and permanent with an Internship as otherwise the certs expire after 1 year. If you have done your courses more than a year ahgo, route onto the Internship as soon as you can. For those who are completing Class IV from now on best thing is to get straight away onto the Internship to prevent your cert from expiring. Note that the
The question has come up if previously interned auditors have to do the GAT II Internship. The answer is: Yes. Per the latest IG Network Bulleting "All existing golden Age of Tech Phase II auditors and delivery personnel can now attain permanent certification and must do so by completing the Interneships and Qual Okays for the courses they have done." – COB
Please fill in the below so that we have your update on where you stand and your target to complete the various levels and Internships.
1. What GAT II courses have you done so far?
2. Which GAT II course are you on now?
3. What is your target date to complete this course?
4. What is your target date to complete the line-up to Class IV?
5. What is your target date to start the Internship for Class IV?
6. What is your target date to complet the full training line-up and internships?
7. If you are currently living in a country where there are no orgs where you can do the training (India, Pakistan, Bangladesh, Nepal), what would you need to do before you can get your self to a country where you can go to an org (UK, US, South Africa, …). Please include any steps you need to take to make it happen.
8. Conditional for those in non-UK countries: If you have worked out your plan of action as per point 7 above, where will you do0 your training and what is your estimated arrival date?
9. Is there anything else you want to communicate about your GAT II training?
Thank you very much for your data.
Ml,
Ann – CO I HELP UK