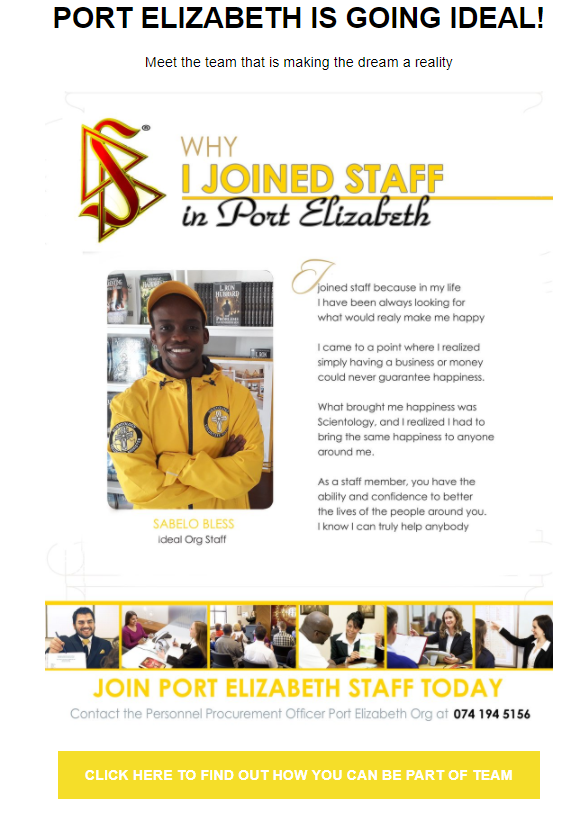 Apparently he is already an "Ideal Org Staff", though Port Elizabeth, after 20 YEARS of trying, is not close to even purchasing a building in order to be "ideal."
Once again, it is clear that this has simply become a catch-phrase in scientology. And these poor people say it as if it means something. "Going ideal" is as empty a concept as "Clearing the Planet." It means absolutely nothing.
How do we know?
After 20 years, there is a long list of "ideal" orgs and nothing has changed in the world. During this time, scientology has shrunk. It is a fraction of the size it was in the 80's. They haven't opened a NEW org in forever. There are a LOT less Missions. Scientology is truly disappearing up its own asshole, but still the cry goes out "Let's make an ideal _______ (city, state, country, continent)" as if it means anything at all. There are many "ideal countries" (their definition is all the existing orgs in a city, state, country etc have new buildings) without it causing a blip on the radar. Remember when ALL of Florida "went ideal" and all of "Southern California" and then "all of California"? And these are the two strongholds of scientology in the world. Nobody even noticed. Drive past San Diego "ideal" org or Stevens Creek or Orlando. They are literally deserted. And that's not to mention the REALLY empty places, like Perth or Malmo or Basel or Frankfurt….
But they are going to keep the fundraising train rolling, even though they know it's heading off a broken bridge. Why? Because it's "command intention" and they've been TOLD this is a successful program despite the evidence that is before the eyes of every single scientologist on earth. They believe.
It's sad.