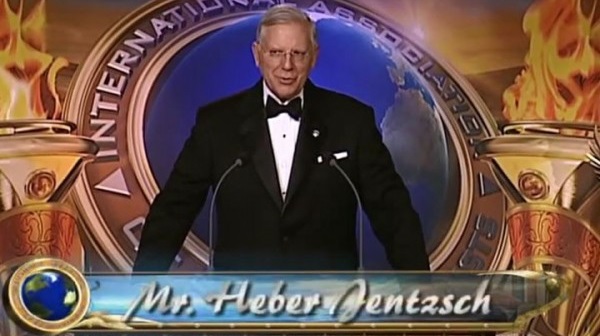 The new episode of Scientology: Fair Game Podcast is now available here.
We interview one of Heber Jentzsch's nieces, Tammy Clark.
Tammy reached out to me and Leah as she was concerned about Heber. Many members of the rather large family had not heard from him and she was so concerned she thought it necessary to fly from Utah to try to see him as a representative of the family. But she was fearful of scientology and asked that we help her.
Leah and I were more than happy to provide her support and a camera crew from The Aftermath accompanied us. Unfortunately, this is one of the shows that did not make it to air for various reasons.  We feel it is important to tell Tammy's courageous story, what happened when she tried to get the Riverside County Sheriffs to help and how scientology Fair Gamed her after the fact.
Heber had been incarcerated in The Hole at the scientology headquarters (Golden Era Productions, also known as Gold or Int Base) in Riverside County CA near Hemet. There had been reports he was not in good health, and he had not been seen in public for many years.
Here are some documents that are relevant to the podcast. I won't repeat the story here — it is an episode worth listening to.
This "good roads, fair weather" letter from Heber to Tammy from May 2018 was the last communication she had with her uncle.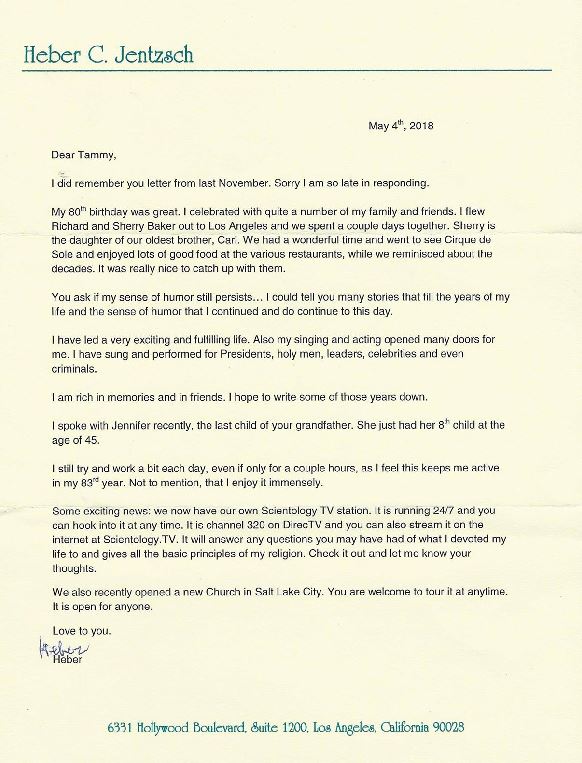 To give some context to the actions of the Riverside County Sheriff's Office, this is a video taken by some protestors outside the Gold Base where the Sheriff's deputy says: "We don't care what they do on the other side of the fence."
This is the Sheriff's report documenting the welfare check they did perform on Heber without Tammy present:
The "welfare check" was conducted with Heber's "full-time nurse" present at all times, after the deputies were fully briefed by Catherine Fraser and Muriel Dufresne (the "PR" people for the Gold Base). Cathy Fraser was one of the "inch wives" who appeared on Anderson Cooper and has also been seen in various other footage from media who went to film at Gold Base. A rather unpleasant woman. Muriel was the woman who showed up chasing down Marc Headley when he made his escape as covered in his excellent book, Blown for Good.
Heber's "full-time nurse" is Jeanette (Nettie) Allcock. She is not a nurse. She is his "minder."
Scientology acknowledges Heber has medical issues, but refused to disclose what they were or what doctor he was visiting or why he needed a "full-time nurse."
Despite these facts, the conclusion by the Sheriffs was that he "appeared to be in good health" — though as you will hear from Tammy, they did not even ask him to stand up.
It didn't take long before scientology had a lawyer on the job "representing my client Heber Jentzsch."
Her letter raised even more concerns — was Heber now suffering mental deterioration as well as physical? She now claims he has "never met" Tammy???And that she has "no personal basis" for requesting a welfare check?
He "chose to retire" — not something that has ever been announced to the scientology world. In fact, there is no NEW President CSI?
And she claims the RCSO stated this was a "publicity stunt."
When asked to confirm they had told scientology that this was a "publicity stunt," the Sheriff Dept responded: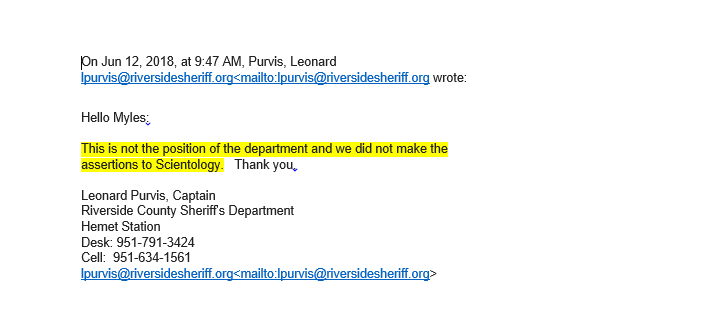 Julia Azrael has not been heard from since.
But soon after Tammy returned to her home in Utah, scientology did what it is prone to do: Keep proving the contributors to Scientology and The Aftermath right.
They do exactly the things that confirm what everyone keeps saying they do.
They launched a "noisy investigation" and flew two Private Investigator to Tammy's home to threaten her pursuant to Hubbard's words of wisdom about "investigating noisily":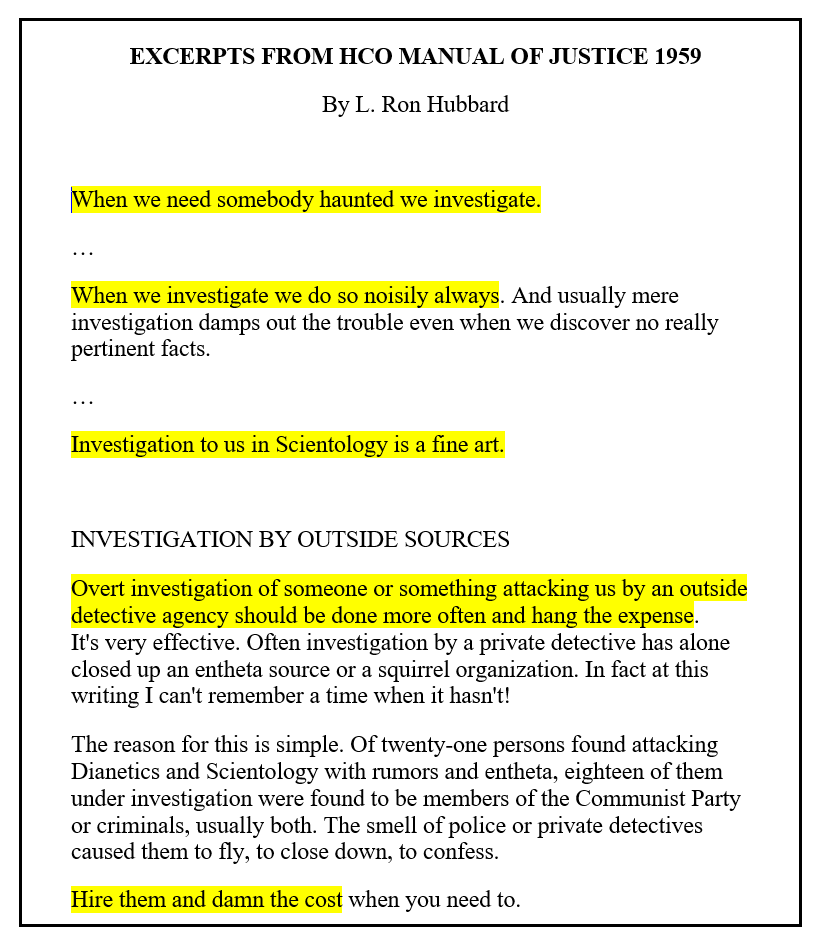 The PI they sent was Rebecca Dobkin. You can read a bit about her here on Tony Ortega's blog when she went to visit Karen De La Carriere and Jeffrey Augustine (and note the name of the attorney in this piece and the letter appended to the end of the RCSO report above).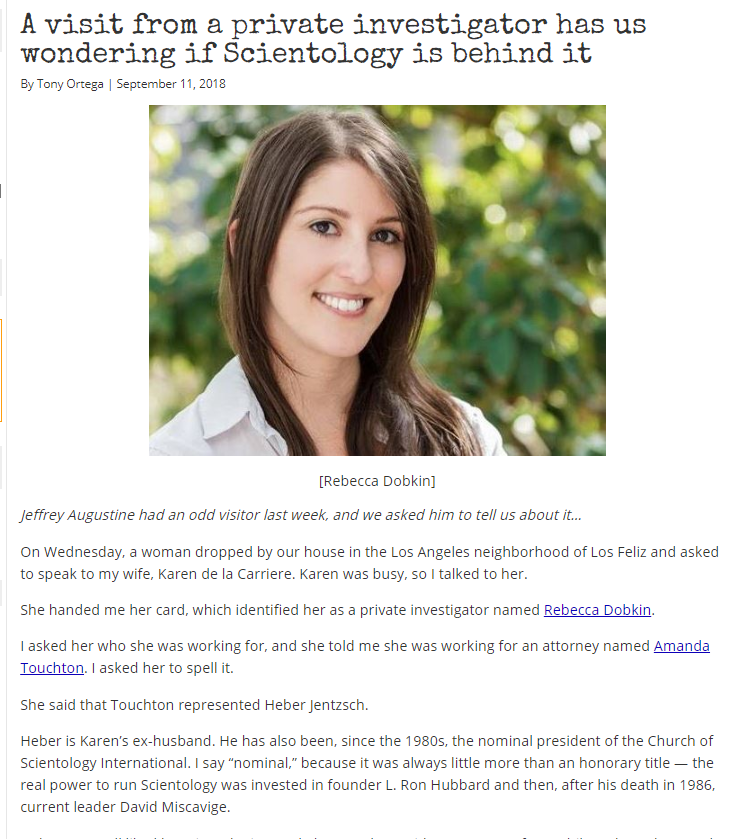 And for those looking for help leaving scientology, here is a link to Aftermath Foundation