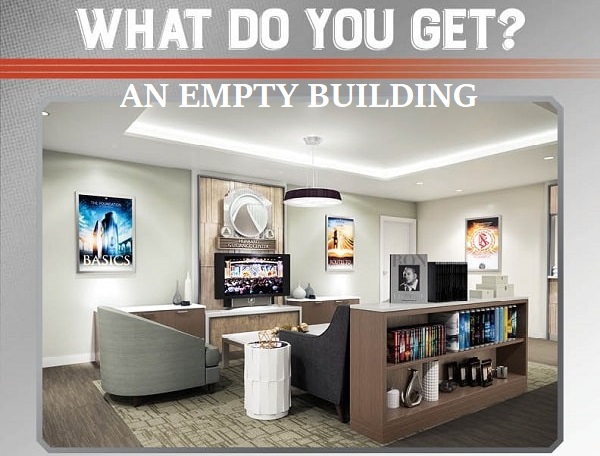 Here we have it, straight from the horses mouth – an ideal org is supposed to have 268 staff.
Along with their usual foolishness, the Flag OT Committee announced that Chicago has "finished its fundraising" (right….) and that they can now concentrate on getting the staff they need.
They have 29 staff now…
Which is probably more than a lot of orgs. INCLUDING the ideal ones. Walk into Orlando or Salt Lake City or Malmo or Basel or Perth and see if you can find even 15 staff. I guarantee the MAJORITY of "ideal orgs" have less than 25 staff.  The images they constantly use to represent "ideal orgs" that have no people in them are the only truth in advertising scientology engages in.
268 staff? Even the subsidized Tampa org doesn't have this many staff. Nor does the "model" ideal org in LA — which is SEA ORG.
These "OT's" are completely disconnected from reality…
There are a couple of other doozies among the normal rah-rah "we are clearing the planet and the universe" and taking over the world.
Apparently, Hubbard has some words of wisdom about age (didnt seem to apply to him…) that indicates you are never too old to pay money to run around a pole.
Also that "some OT's after reaching the top of the Bridge get bored" — in this case, "bored" is a euphemism for "apathetic" or "disgusted" or "disaffected." But even bored is bad enough. This is the result of years of devoting hours a day and handing over hundreds of thousands of dollars? Bored? Wow.