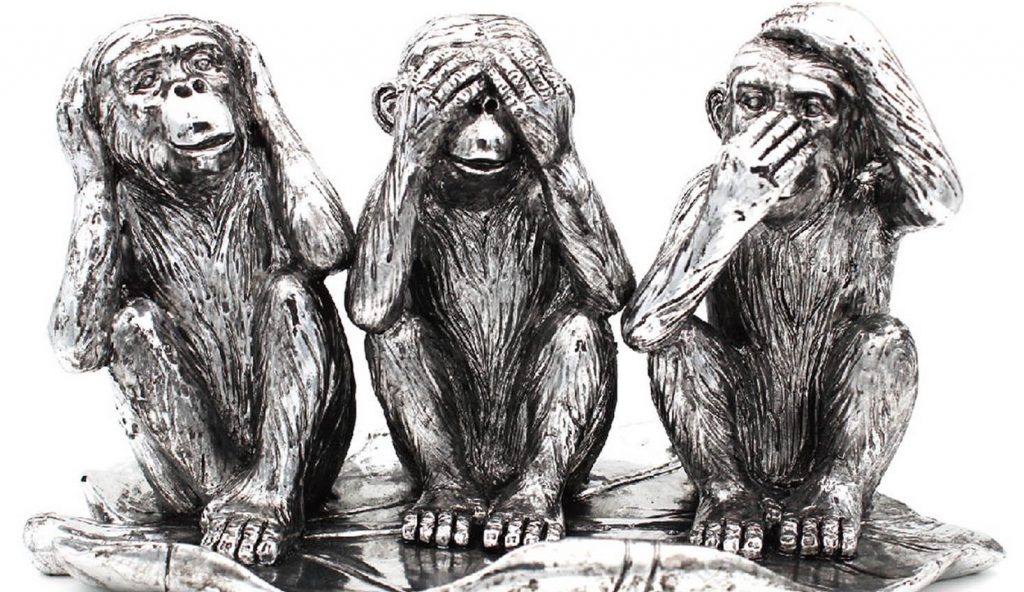 "Entheta" is a term in scientology which is a contraction of "enturbulated theta" — enturbulated means upset and theta means life force.
In simple english, entheta is bad news. It is not something that is untrue, just something you don't want to hear. Anything that will cause upset (or in the case of scientology itself, doubt about it).
Hubbard says that entheta is the work of "chaos merchants" (suppressive persons), and when the entheta concerns scientology, it is an attempt to "destroy mankind's only hope" and is entirely lies. His "logic" is that scientology is only good, so anyone saying otherwise is lying and is bad.
In general, scientologists dismiss "entheta" as lies without even looking at it or knowing what it says. Though Hubbard tells everyone they should "look, don't listen," that in fact means to look at what I say you should look at and reject without looking those things classified as entheta.
In the private world of scientologists, this is what happens. Many outside the Sea Org DO have access to the internet and cable TV and newspapers. But if it something about scientology, they avoid reading/viewing as if it not from an official scientology source, they already know it will be entheta because it is something peddled by the chaos merchants. This is "fake news" before before that term was even invented.
But what about celebrities who are increasingly being confronted with the "entheta" in media interviews? How do they deal with it?
Here are two recent examples of how they deflect — and also admit that they refuse to look.
'Ant-Man' Star Michael Peña Says Scientology Made Him a 'Better Actor'
Here is the relevant part from this interview with Michael Pena (husband of Brie Shaffer, Danny Masterson's Assistant)…
The actor noted that he doesn't take the criticism of the religion to heart, and doesn't follow any media that is openly critical of Scientology.
"I don't read that stuff," Peña said. However, he admitted he's at least aware of the backlash against the controversial religion. However, it doesn't impede his relationships. "Yeah but – OK, imagine we're friends, you and me," he said to the interviewer. "Buddies. And there's a tabloid story about you. There's no way I'm going to read some f****** tabloid story about you." He also called such articles and programs "misinformed."
While saying he doesn't read it, and wouldn't believe it, he also categorizes every criticism of scientology as "tabloid."
And here is one of the other handful of celebrities who will even allow reports to ask about scientology, lifelong scientologist Elisabeth Moss: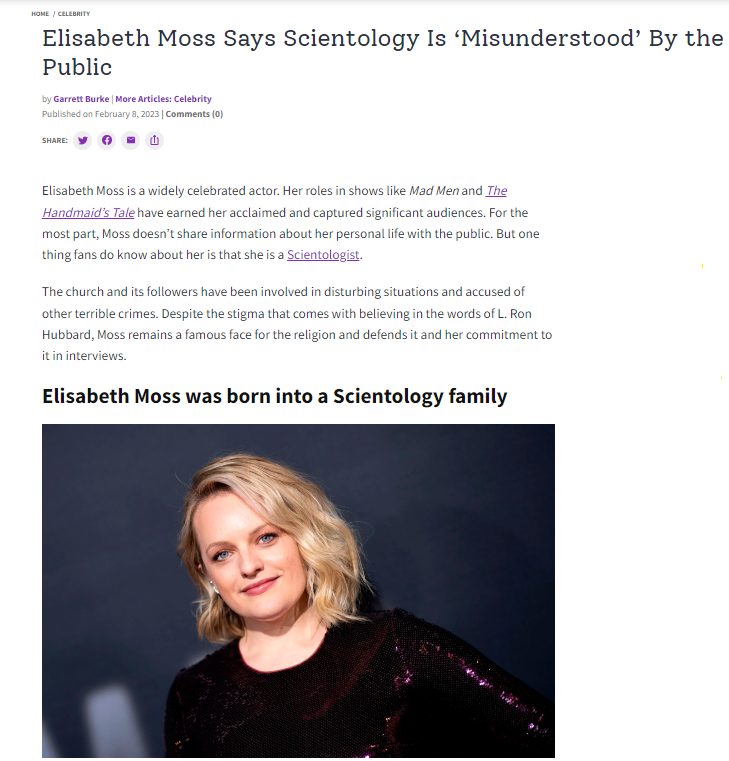 This is what Lizzie said in a recent article in Showbiz Cheat Sheet
But one thing fans do know about her is that she is a Scientologist.
The church and its followers have been involved in disturbing situations and accused of other terrible crimes. Despite the stigma that comes with believing in the words of L. Ron Hubbard, Moss remains a famous face for the religion and defends it and her commitment to it in interviews.
Moss tries not to talk about Scientology in public to keep viewers focused on her performances more than her background. But on this occasion, she saw fit to defend the church. She claims it's more wholesome than its public reputation suggests.
"It's not really a closed-off religion. It's a place that is very open to, like, welcoming in somebody who wants to learn more about it. I think that's the thing that is probably the most misunderstood," Moss said.
It's hard to square her religious affiliations with some of her most well-known work. The reported conduct of Scientologists towards any sort of questioning — threats of violence, counter-accusations against critics, forcing members to disconnect from their friends and families — has a lot in common with the acts of Gilead in The Handmaid's Tale. Again, Moss firmly disagrees with this comparison.
"I would just encourage people to find out for themselves," she says, a line she apparently repeated several times during the interview. "I've certainly been guilty of reading an article or watching something and taking that as gospel. And obviously, something like religious freedom and resistance against a theocracy is very important to me."
Again, the deflection, never actually responding to what is really going on. It's the old lie "scientology is really open," followed by "come on in and find out for yourself" or "get a book and read it."
For an organization that claims its members are "more able" and can "confront and shatter" suppression and have superior communication skills — there isn't a single one of them that will actually confront reality and communicate freely on the subject to provide any convincing reason why the numerous stories of abuse and destruction in scientology are not true.
It's easier to just pretend it doesn't exist and deflect. That's the scientology way.