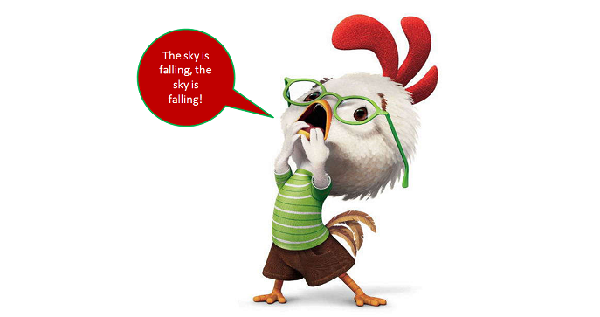 Tom Cruise's brother in law, nominal "head" of "Criminon International" and IAS fundraising shill has poured his heart into his latest letter beseeching people to come hear him speak on behalf of the IAS (so he can collect his FSM commissions).
This letter is fascinating on many levels:
He starts out in Chicken Little mode: look how bad things are, everyone is against us and it is terrible. But with it comes the scientology twist: all this PROVES we are winning. The "hysteria of the SP's" – ie the constant stream of bad news that pours in the door — from media coverage to legal losses and government prosecutions — is just "our indication of win!" This sort of (il)logic may keep the sheeple believing things are copacetic, but it also keeps them thinking there is no need to change and they should carry on. And thus, they barrel ahead on a path of total self-destruction. But I must say, it is nice to see so much mention of their "detractors" and "SP's" and the "growing pains" – obviously it is being noticed that things are not going quite as smoothly as predicted.
Somehow, it is now the IAS (and not the Sea Org) that is the "only group ACTIVELY guaranteeing the future of scientology." It tells you everything you need to know about the state of scientology — regges are the new auditors. The most valuable beings on the planet are now fundraisers. If you ask the IAS what they DO — nothing other than collect funds and occasionally distribute them. They don't clear people. They don't manage scientology organizations. They don't "keep the tech pure."  They don't deal with the media. They don't even distribute free booklets. They perform no actual functions other than their internal administrative to keep track of how much money they have and pay out commissions and hold events to raise money. This is what today is "guaranteeing" the future of scientology.
And finally, the big clanger: "Scientology has expanded 60X in the last 2 years!" Wonder where he gets this number? And does he even realize he is contradicting David Miscavige who has proclaimed the expansion is 47X?
60X of what one may wonder? "Scientology" of course. But what is that? Orgs and Missions? People? Money? None of those things have increased 6000%…
Not even the old standby of "square footage of new marble" could qualify — the SP building opened in 2013 and the number of new "ideal orgs" since then has been dismal… It's a down trend, not a 60-fold increase.
The only thing it could be measuring is number of ridiculous, unsupported claims made, or cubic feat of hot air emitted from scientology's butt. As the ship sinks, the lies grow bigger and more frequent.
BTW Mr. Ed of Criminon — how is the permeation of the South African prisons with the WTH going? Or salvaging the prison system in Israel? How come there is NO NEWS about Criminon anywhere, not even in the Impact magazine, and they can turn 3 people in yellow t-shirts in a relief force that saved a country from the ravages of the worst typhoon/earthquake/nuclear disaster/tornado/flood in history. Is it becuse you are too busy shilling for commissions for the IAS to do anything with Criminon? Or have you determined Criminon is simply a lost cause?