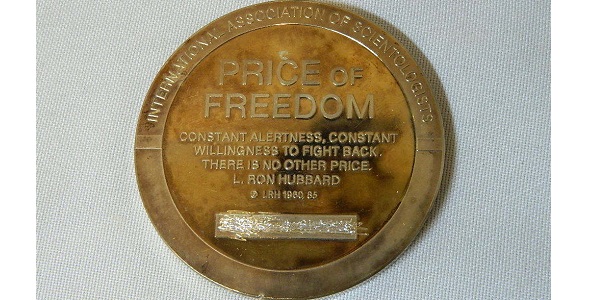 Someone sent me this letter from Audrey Cabrera, who is apparently on tour to get people to hand over more money to the IAS.
Her claim to fame?
Bringing peace to Venezuela with the Way To Happiness?
And this is STILL being pushed as the reason to give more money to the IAS. Today, Venezuelan society is in a total meltdown, making headlines daily with massive violent protests, inflation spiraling out of control, starving people and a collapsed economy.
After having already "won" in Venezuela some years ago, she is now pitching the "anti-social personalities" she is up against as a NEW reason to hand over cash. It never ends.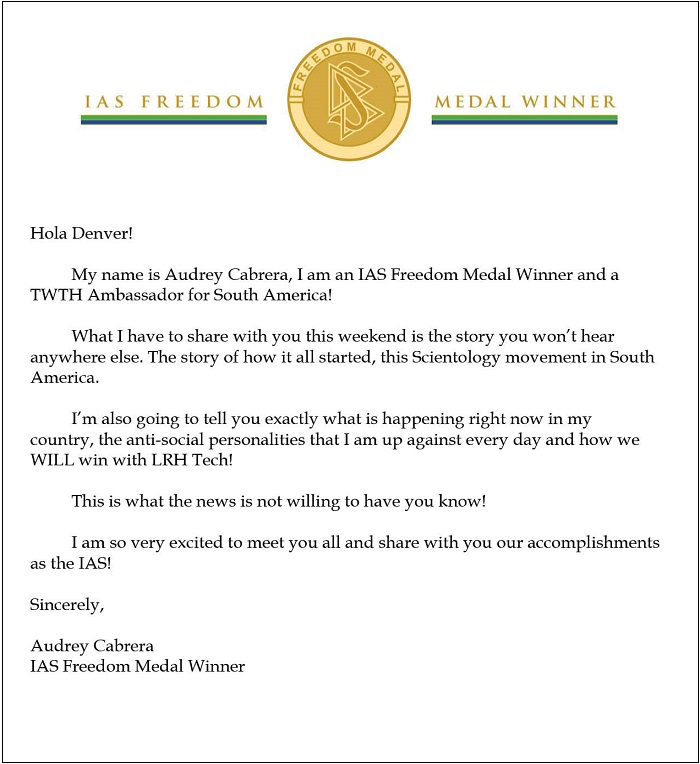 Below is a posting I did on this subject more than 3 years ago — I have bolded one particular paragraph:
Freedom Medal Winners
Every year, Miscavige bestows IAS Freedom Medals on individuals who have "eradicated psychiatry" or  "brought peace" to "entire nations" through their "tireless efforts" to implement LRH tech and distribute the Way to Happiness as a "calming influence" on society.
But one only has to look at the real world to see how contrived these "accomplishments" are.
In 2005 (coincidentally) he lauded dedicated IAS members for their work in Venezuela and Ukraine. If you glance at the news, you will see both of these nations undergoing massive internal upheaval and civil unrest.
Yet, if you go back and look at the videos or read the Impact mags at the time you would be quite correct in assuming from those hype-filled depictions of their accomplishments that these "Medal Winners" had single-handedly changed conditions and brought peace and a bright future to their countries.
Here are a couple of Shermanspeak quotes from the Impact magazine that mentions them. I cannot be bothered to go back and look at the event itself, I am sure it is WAY more over the top than the single paragraph they got in the mag:
At a crucial time in Ukranian history, with over half a million people in the streets protesting a rigged election and the denial of their democratic right to a government of and for the people, IAS members Valery Kokura and Anatoly Tretiak applied a battery of LRH technology, bringing calm and greater awareness of human rights. So substantial were the positive effects….
Using the Way to Happiness, Audrey Cabrera and Ruddy Rodriguez were instrumental in defusing a potentially catastrophic national situation in Venezuela. They moved swiftly to bring The Way To Happiness to both side of the conflict, making he 21 precepts a point of common agreement…. Audrey Cabrera and Ruddy Rodriguez have given the people of their nation a new road to peace.
The issue is not whether what they did was good, bad, adequate or insufficient. It is what was SAID about it in order to create the false impression that "IAS sponsored actions" are changing the world.
Every year there is some "anti-psych crusader" who is awarded and Miscavige details how psychiatry is being obliterated/annihilated/destroyed/smashed/driven into the sea/exterminated etc etc.  This is "proven" and the "effectiveness of the IAS" is demonstrated with much fanfare about the number of "psychs jailed this year."  In fact, all that happens is CCHR has some people who do Google searches to find psychs who have been incarcerated and then Miscavige announces that there has been a "massive roll out of our psych obliteration campaign" (a lie) and we are "seeing the results" (another lie), "as a result of your support of the IAS" (more lies) there have been "X psychs put in jail in the last 12 months and they threw away the key!" There may have been that number of psychs who were jailed, but it had nothing to do with CCHR and certainly even less to do with the IAS.
It's how the world of RCS "PR" works.
I don't doubt Audrey Cabrera and Ruddy Rodriguez distributed some WTH in Venezuela.  Or that Valery Kokura and Anatoly Tretiak used some LRH tech in Ukraine. But there is no direct correlation between their actions and what is claimed as the result.
Think about it:  If there WAS a connection, then someone should publicly take away their Freedom Medals as they have stopped what they were doing and are allowing their countries to regress into chaos and violence.
There are only two possible explanations:
1. They stopped their actions after getting the medal (kind of like a Nobel Peace Prize winner giving up their work once they are honored with the award….)
2. Their actions were not the causes of bringing peace and human rights to Venezuela and Ukraine.
Or both.
Bad news either way.
And while on the topic, there are a LOT of earlier IAS Freedom Medal winners who have disappeared from the stage — Ann Roberts , Dennis Dubin, Joan Lonstein, Nicky Hopkins, Isaac Hayes, Lawrence Anthony and perhaps some others I don't recall have died.
Jane Allen became very ill, Dennis Clark also became very ill and last I heard he was reaching out to anyone (including me) to help him as he had been abandoned by the church and the IAS.
Wendy Honnor publicly departed the church.  Joy Westrum is no longer active. Rick Pendery the same.
Peter Schless and Rena Weinberg were banished to the Hole.
Augie Pinto is the only person who ever had his medal taken away, by Captain Miscavige personally in the lobby of the hotel in Lausanne.
Others are just MIA — Don Moore? Julia Migenes? Gabrielle Segala? Keith Code? John Duff? Gary Smith? Martha Ballesteros? Javier Ramirez? Boris Levitsky? Bud Riechel? Felice Cantu? Rohn Walker? Paul Rood? Michel Raoust?  And probably plenty of others I have forgotten.
It would seem that if the hype that accompanied the accomplishments of these "Freedom Medal Winners" were true, by this time there would be some sort of evidence of their impact in the real world. By that I mean some sort of media or UN report or scholarly study or SOMETHING about how the drug problem has been solved in Mexican prisons and Colombia, peace has been brought to the Congo and Pakistan or education tech has changed Papua New Guinea and The Gambia "the psychs" have been shut down in France and Russia and Italy, or Criminon is now used in all prisons to great results in South Africa and Israel etc etc.
The truth is, the accomplishments of these often well-intentioned people (leave aside the Michael Roberts and Jeff Pomerantzes) are so over-hyped and blown out of all recognizable proportion that many slink off into the sunset because they cannot live up to the unreality of the image that is presented of them to the Scientology world. They are embarrassed.
And without doubt, once the "big push" is over with the Gold Shoot Crew staging shots and twisting facts, the best they can do is revert to what they were doing before and it really doesn't have much impact on anything.
The harsh reality is that the church/the IAS/Scientologists are NOT engaged in any "planetary salvage" or "changing conditions on the 4th dynamic" or "clearing the planet." They are in a bubble of unreality. And the ONLY source of information about their incredible accomplishments are what they are fed at their internal Miscavige Rallies.
Is it any wonder they forbid cameras and phones or anyone who does not have a valid OSA certified photo ID from these events?
***
And finally, here is Audrey Cabrera's official home page. Why she omits WHO her "Freedom Medal" was presented by is no mystery. Scientology's reputation is horrendous.
But why she is off around the world raising money for the IAS when her country is in ruins (even though she had apparently defused the potential national catastrophe with WTH) is another question. Of course, she is making commissions, but has she abandoned her "humanitarian" role in Venezuela altogether while she travels the world following her "passionate purpose"?