The latest edition of Impact magazine, the propaganda and fundraising rag of the IAS is devoted almost exclusively to the "Volunteer Ministers" and the "massive" international relief efforts they engage in "thanks to the IAS."
Of course, those who are not blinded by KoolAid know this is a scam, that virtually NO money is spent on any of these things, and in fact the "relief efforts" are miniscule. Always just enough to get a photo or video or a person or two, and then everyone loses interest and moves onto the next fundraising effort. Nobody hears anything about the Philippines or Vanatau any longer, they are yesterday's news.
Recently there was a massive earthquake in Nepal. Within 12 hours, the money grubbing began. See below.
Hello,
Yesterday an earthquake with a magnitude 6.7 occurred near Kathmandu in Nepal.  
The death toll has now gone up to over 2,300. The resque services have started.
We do know that SOMETHING CAN BE DONE ABOUT IT, and that we are doing something about it.
In order to bring effective help the IAS has just approved a grant which will cover VM actions including 14 Los Topos members who are a very well known and very effective earthquake rescue team. 
We need your help. The whole resque operation needs to be funded within the next 5 days. This will be one of the biggest resque operations we've done recently. So we need your donations to the IAS.
Think big, and think about those who are currently in need of your help.
Following is a call for help from Bijay Babu, a young Scientologist in Kathmandu: 
"Me and my family are safe,but helpless hands are raised asking help..sounds inside from  broken walls are asking our help. So time has come to serve for humanity.
Sir Its 1:15 am here and I am writing you from ground where its raining and we are getting some shake again and again..from morning to till now earth have shake about 60 times.
Hope to hear you"
Do your donation on www.iasmembership.org/uk in the comment box write: I HELP UK – NEPAL EARTHQUAKE. 
We count on you. Bijay and his family, and the many people from Nepal are counting on you.
Let me know what you did.
ml, Ann  
The question this brings to mind is: How does someone have time under the circumstances to beg for money, rather than ORGANIZING the thousands of VMs who should have been mobilizing?
The latest IAS mag was published BEFORE the Nepal disaster. The pitch throughout the mag is that "we are able to do the good work and instantly mobilize relief efforts thanks to your donations to the IAS" — and a lot of super hype about the number if disasters around the world and how the VMs are a "massive relief force."
This is a headline from the lead article which starts with a two page spread showing a tornado (as we have earlier documented, when tornadoes struck Oklahoma and Kansas and other areas last year, about 10 VM's showed up) "INTO THE FACE OF ADVERSITY"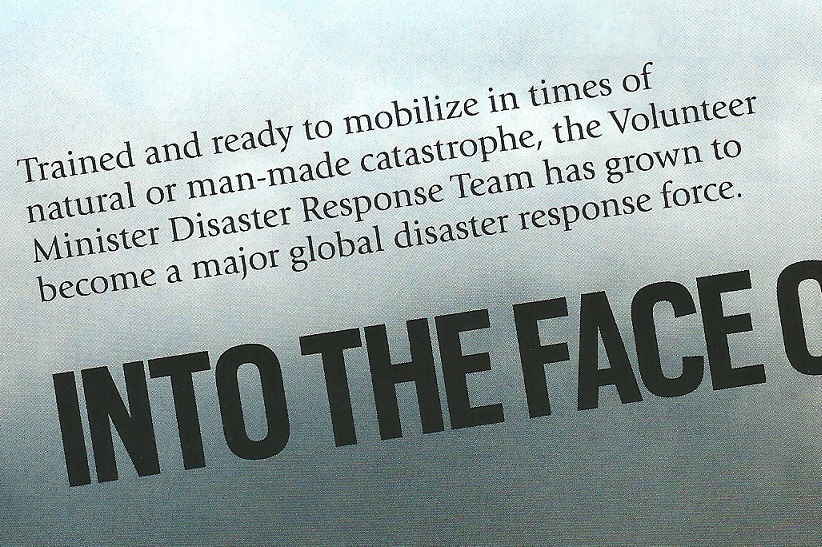 It does not say ANYWHERE in the Impact mag — "when a disaster strikes, BEFORE we can do anything, we have to raise funds." Surely with a BILLION+ DOLLARS available, they don't need to beg for more money before they DO ANYTHING to help in the wake of a disaster.
But of course, the "disaster capitalism" begging has been relentless since then.
Here are just a couple of recent examples from MANY that have been sent to me. The deluge of demands for dollars has been relentless.
VMs in Nepal – Update
Nearly 100 VMs are now in Nepal helping to rescue people as well as bringing them food, mats, etc…
Over the last few days three VM groups have been dispatched by UN Kathmandu HQ to outlying districts where there was hope there were still survivors. One group was attached to a Canadian K-9 corps called CASDDA (Canadian Search and Disaster Dogs Association). Another was the Los Topos team from Mexico.  All the teams were headed to villages four hours out from Kathmandu.

VMs and Los Topos and other Rescue Organizations in the UN HQ in Nepal

Los Topos in a remote village carefully digging under the rubble in search for survivors.

Foodbags being delivered to the people in remote areas.
Get the full report on blog.volunteerministers.org
We still need experienced Volunteer Ministers and people with medical training: doctors, nurses, paramedics, etc… to go and help. The amount of injured people hugely outnumbers the amount of medical personnel on the ground. So our 100 VMs out there including medics, is not enough. we need at least 300 people.
If you can go let me know on ihelpuk@ihelp.org
We still need your donations for the Nepal fund. Go to www.iasmembership.org/uk and do your donation today. Write in the comment box: for Nepal. Please do think big. Those people need your help.
ml, Ann
You see a grand total of TWO VM's in these shots. (BTW, though they imply otherwise, Los Topos are NOT VM's — they are a Mexican search and rescue team that has WORKED WITH VM's in the past — coincidentally, Tony Ortega reports this morning about the fate of a Mexican journalist who joined the Topos in Nepal, only to be stranded there because there was no round trip ticket).

No VM's at all shown in this piece, but plenty of "merchant of chaos" style horror facts…
They flew in 20 people, "including 16 members of Los Topos." Who knows what this really means. Maybe they did pay to fly 16 Los Topos people (with one way tickets?) and 4 "other" VM's to Nepal. But compared to the horrifying state of affairs they present at the outset, this reads like some sort of joke… Seriously, 20 people?
And of course, the REAL reason for this is a pitch for money. And you note they are VERY careful. They say "raise your status" rather than "give money to help Nepal" because if they solicited directly for Nepal then someone that gave money SPECIFICALLY for that purpose may be able to cause them problems in the future if they believe their money was NOT spent on Nepal. They stopped that sort of "direct" fundraising. But certainly the implication is that money you give to the IAS today is going to be spent to help in Nepal. The IHELP UK lady apparently isn't quite sophisticated enough to understand this and just says what is REALLY happening.
But hold on a second, there is something very odd about this.
If you will recall the tsunami that struck eastern India a few years ago you will probably recall the hype that surrounded the fact that the VMs who flew in 'trained X thousand NEW Volunteer Ministers" in India at the time. If I could be bothered I would go back and look it up. But rest assured it was in the thousands if not tens of thousands.
And those thousands of "trained VM's" in India are no doubt counted in the "largest private relief force on earth" "stat."
If they are all in Eastern India, the ONLY thing needed to get them to Nepal would be transportation.   But in fact, scientology is incapable of "mobilizing" any relief force for two reasons:
1. There is no relief force in the first place
2. They won't spend any money even if there was
These pleas for money and their magazines and "promotional" pieces are worse than the "merchants of chaos" they rail against. At least the media only tries to get you to buy their newspaper or magazine. These guys spread the bad news to try and convince you to give them ALL your money.
They say a picture is worth a thousand words.
And this is picture that says it ALL about the REALITY of the "largest private relief force on earth."
This photo was taken THIS WEEK.
This is the "ideal" Pasadena Org "VM van." The "soon to be SH size" "ideal org" in the "largest concentration of scientologists on earth."
Located in a parking lot 5 miles from the org, the flat tire says it all. Ready to "mobilize" at a moment's notice…
The VM's of Pasadena stand ready as shining examples of the largest private relief force on earth.