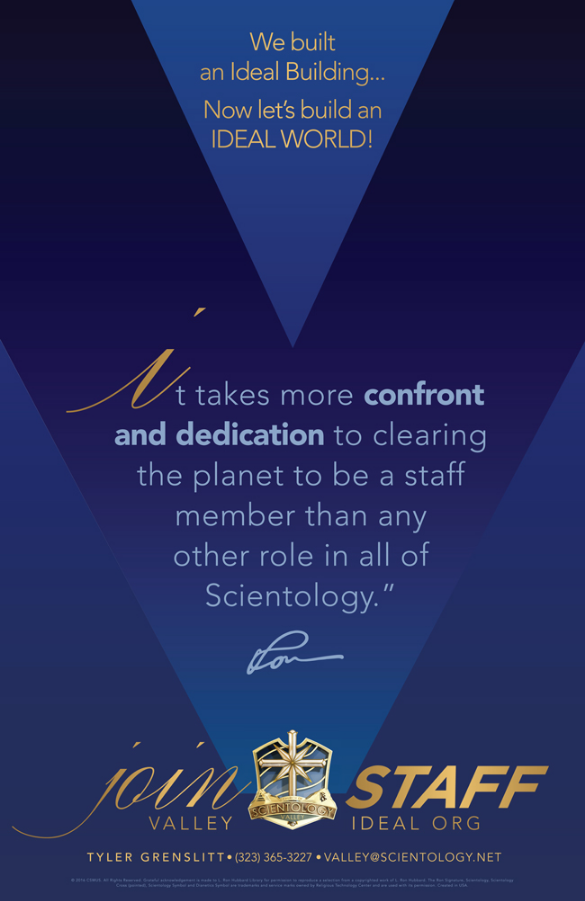 This latest piece from Porn Valley ideal building reminded me what a horrendous self-serving scam this is. You will note the "ideal Valley" is missing a few things — like about 100 staff (in order to have one for each room) and of course their filing is decades out of date.
So, why is there so much effort (extracting of funds) put into these ideal nothings?
The answer is simple: Miscavige is frantically trying to keep the veneer of expansion from peeling off the moldy walls of his shrinking kingdom.  He uses these "ideal orgs" to convince his sheeple (and tries to persuade the outside world too, but that stopped working after Going Clear) that scientology is "expanding like never before." He shows them videos of ribbon cutting ceremonies and impressive looking "fly-throughs" of empty office spaces, auditoriums and reception areas. Always empty. And they now equate that to "expansion."
He uses the magic of video to prove to his flock that he is in fact leading scientology in a "golden age" of "unprecedented expansion." It is all as real as Matt Damon being stranded on Mars. When you go to the movies you suspend disbelief and willingly buy into what is being shown on screen. Same at Miscavige's "international events."
In fact, the ONLY expansion that is happening is the balance on the church's assets statistic.
The "ideal org program" is one of the great real estate scams ever. It is part of the double pronged attack on the wallets of scientologists all over the world.
The first prong is the IAS. It pretends to be doing good work over the world and cons people into giving them money they never spend on humanitarian objectives. They spend money to make videos that are nothing more than fundraising smoke and mirrors and they spend money to buy buildings that remain on the balance sheets of scientology.
Miscavige then added a second prong to the money machine with the "ideal org" program. He has convinced the sheeple that "planetary clearing is being made a reality" with his "ideal org campaign" and they have handed over hundreds of millions of dollars to buy buildings that are then renovated, opened with much fanfare and sit empty thereafter.
Nobody in any of the cities where one of these ideal orgs has been opened wants to admit THEIR org is a failure. They are told "every ideal org achieves 10X expansion" – a complete lie they ALL know is a lie. But they perpetrate the lie because they don't want to be seen as the only ones who could not do their part to salvage mankind. The emperor is not only wearing beautiful bespoke clothes, he has a string of beautiful palaces too.
And in his deviousness, Miscavige added another incentive to BOTH the IAS and Ideal Org scams. The OT IX and X carrot.
He has convinced the sheeple that without the IAS having the means to "protect scientology" and "create a safe 4th dynamic" there would be no way OT IX and X could be released as the environment is too unstable to risk this invaluable (and non-existent) technology in.
And then he added a second kicker: without ALL ORGS being "ideal" it would be a waste of time releasing OT IX and X as the massive expansion it would cause would not be able to be satisfied without every org being "ideal."
What a con — convince everyone that they must "get to the top of the Bridge" to "achieve eternal life" and then withhold from them (non-existent) OT levels that will finally fulfill Hubbard's promises. And put the onus on them — only if you hand over enough money will we make these (non-existent) OT levels available. Of course, there is no limit to how much money is needed by the IAS. And there are still 100 or so "ideal orgs" to be done — at $20 million a pop that is a couple billion dollars needed. And he has actually managed to pull this off and convince people this is real.
The ideal org con is a particularly brilliant sleight of hand.
Miscavige has positioned his "ideal orgs" as something L. Ron Hubbard wanted, He uses the title of one of his writings. He has made it sound like his "ideal org" program is some sort of "LRH strategy" that scientologists should support. The craziest thing of all is that scientologists don't know what that Hubbard reference actually says.
It has a passing mention to the physical premises — just that there would be "enough space in which to train, process and administrate without crowding." "It would be clean and attractive enough not to repel its public."
That is it. Nothing about huge buildings with marble floors. Not even remotely. But a lot about what would be going on within this "ideal org" something that is NEVER mentioned in the stampede to extract the lucre from the whales and sardines alike.
Here is what Hubbard actually said that everyone inside the bubble pretends does not exist:
As I said, the deception he has managed to pull off can really only be described like hypnosis. He has the sheeple clucking like chickens when he snaps his fingers and they don't even know why. He has convinced them they are riding on a magic carpet to eternity – and what is so disturbing about it is that these people are handing over cash and they have been convinced they are happy about it.
Hats off to one of the all-time long cons – especially when you consider it is all being done behind the cloak of religious freedom. And if anyone points out people are being ripped off, the bleating cries of discrimination and bigotry, and "you're just trying to make money from saying things about us" come loud and often. It's the perfect scam.
Building an ideal world? Not so much…