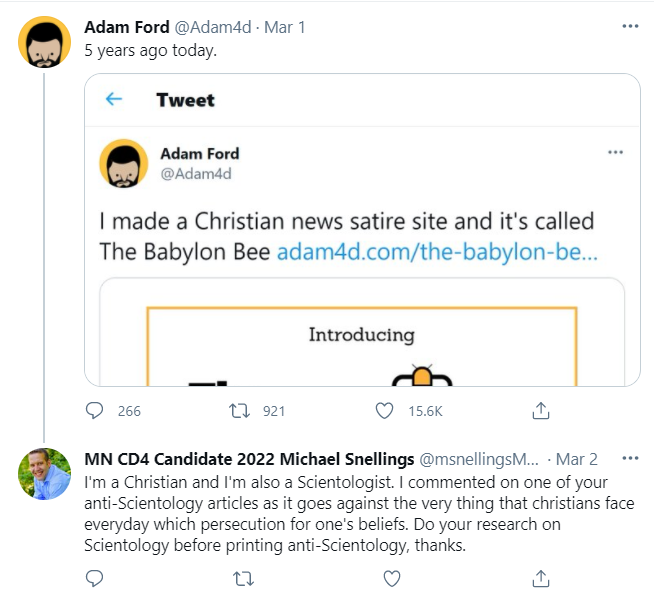 This guy is running for elected office in Minnesota.
He appears to be a legitimate, if unreal, candidate for Minnesota's 4th Congressional District. It's been a democratic district continuously since 1946, the current incumbent has been re-elected every 2 years since 2000. He is a Republican.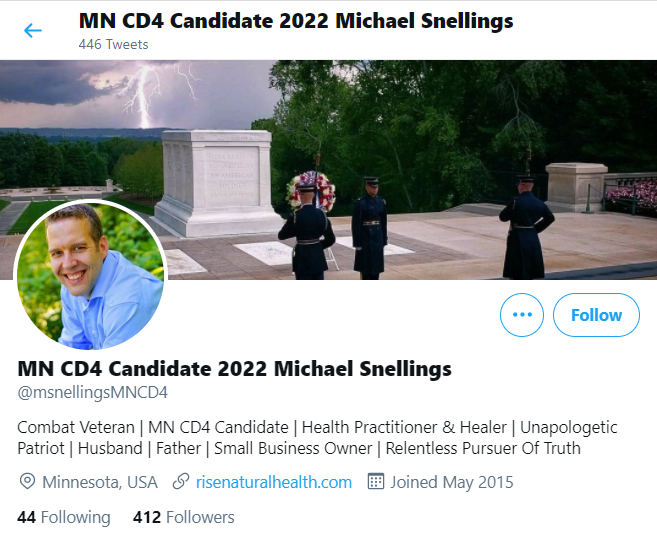 This guy, like the now forgotten Joy Villa, is a Donald Trump superfan and conspiracy theory supporter on everything from fluoride to vaccinations. And like Joy Villa, he is trying to have his cake and eat it too. He wants to appeal to the Christian right who generally vote Republican, but there is no hiding the fact that he is a scientologist. So, he claims to be both. But as every good scientologist knows, that is a lie.
But before we get to the lie, his strategy here seems off. He is announcing himself as a scientologist to attack a Christian website (that satirizes the left and non-Christians) that apparently said nasty things about scientology because this is "the very thing christians face everyday which [sic] persecution for one's beliefs." All around a strange pitch if you are trying to get christians to vote for you? And who else can he be courting? There might be a grand total of 3 scientologists able to vote in his district and he likely already has their votes.
But what about this old PR line about being a christian and a scientologist?
To say it clearly: it is a LIE.  Scientology is antithetical to christianity.
I have written about this before L. Ron Hubbard on Christianity and Can Scientologists be Christians or Jews Too?
In these articles, you will find numerous disdainful quotes from L. Ron Hubbard on the subject of Christianity, Christ, religion in general and the requirement to be a 100% scientologist and not go off into "other practices."
But the final word on this comes from scientology's "Response to Final Series of IRS Questions Prior to Recognition of Exemption of CST Under Section 501(c)(3) As a Church on October 1, 1993. " This is the official scientology position presented to the IRS in order to gain tax exempt status:
Footnote 6: Although there is no policy or Scriptural mandate expressly requiring Scientologists to renounce other religious beliefs or membership in other churches, as a practical matter Scientologists are expected to and do become fully devoted to Scientology to the exclusion of other faiths. As Scientologists, they are required to look only to Scientology Scriptures for the answers to the fundamental questions of their existence and to seek enlightenment only from Scientology. Thus, a Scientologist who grew up in the Jewish faith who continues formal membership in his synagogue and attends services with his family violates no Scientology policy or tenet. On the other hand, such a person is not permitted to mix the practice of his former faith into his practice and understanding of Scientology so as to alter orthodox Scientology in any way.