Aaron Smith-Levin just pointed out to me that scientology has a blogsite that is mikerinderblog.org, apparently hoping to capture people who make a typo in inputting my url.
They have my name in big bold letters, right at the top. I am not sure if it because I so often go to my blog site, but the search engine put up a notification asking me if I actually meant to go to my real blog which I found amusing.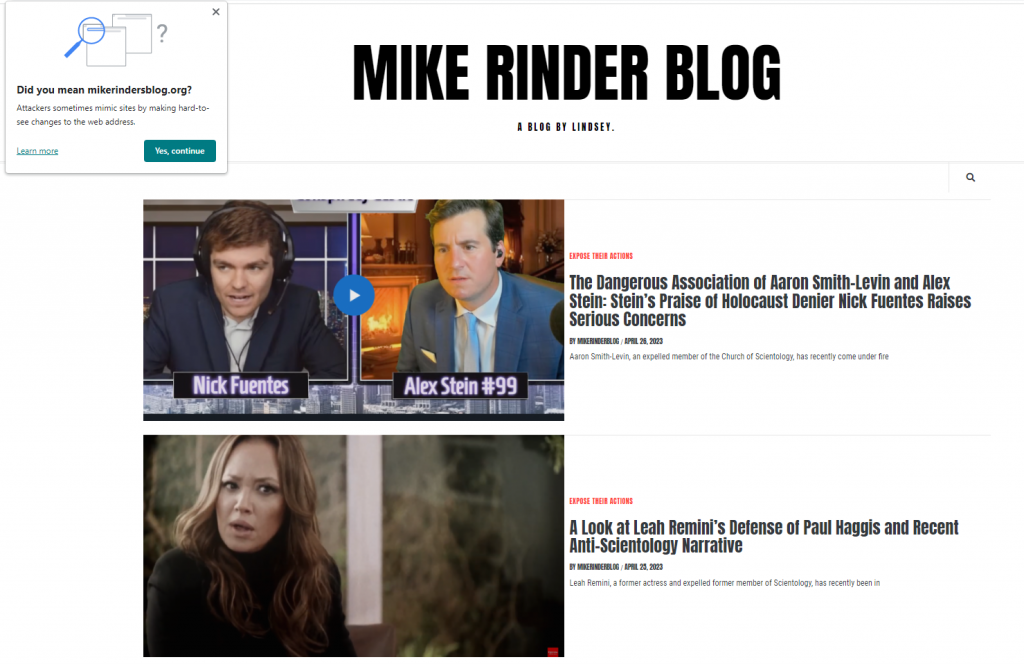 The content is pretty ironic.
Aaron Smith-Levin did a YouTube video with Alex Stein and because Stein is a "holocaust denier" it "raises serious concerns." Of course it raises NO concerns that scientology has done far more than a YouTube interview with Tony Muhammad the notorious anti-Semite. They gave him their highest award, laud him and use him to promote giving money to scientology. That doesn't raise any concerns for "Lindsey."
And Leah Remini defended Paul Haggis. But no mention of scientology trying to influence the LAPD and the courts to save Danny Masterson from CRIMINAL RAPE CONVICTION. Oh no, that's just fine. They didn't testify under oath as Leah did, they have tried to use intimidation and back door tactics to defend Masterson. Of course, that's not a problem…
This website is just one of dozens of sites devoted to smearing me and any other scientology whistleblowers.
This is what US taxpayers are subsidizing with scientology's tax exempt status. This is scientology Fair Game in living color.
It is time for the IRS to take action.