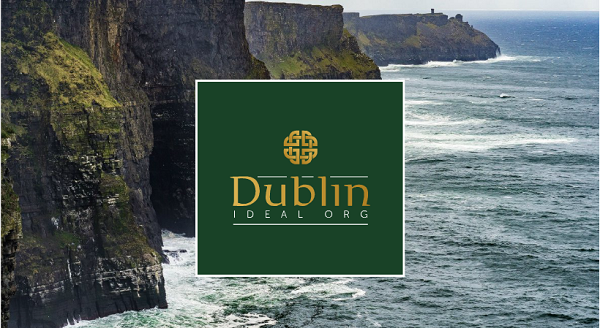 For the latest proof that the "ideal org" strategy has NOTHING to do with "clearing the planet" but is simply a real estate, money making scheme and PR campaign for internal scientologists, look no further than the "ideal org" of Ireland.
Here is a new pitch they sent out which I have highlighted to note some significant points.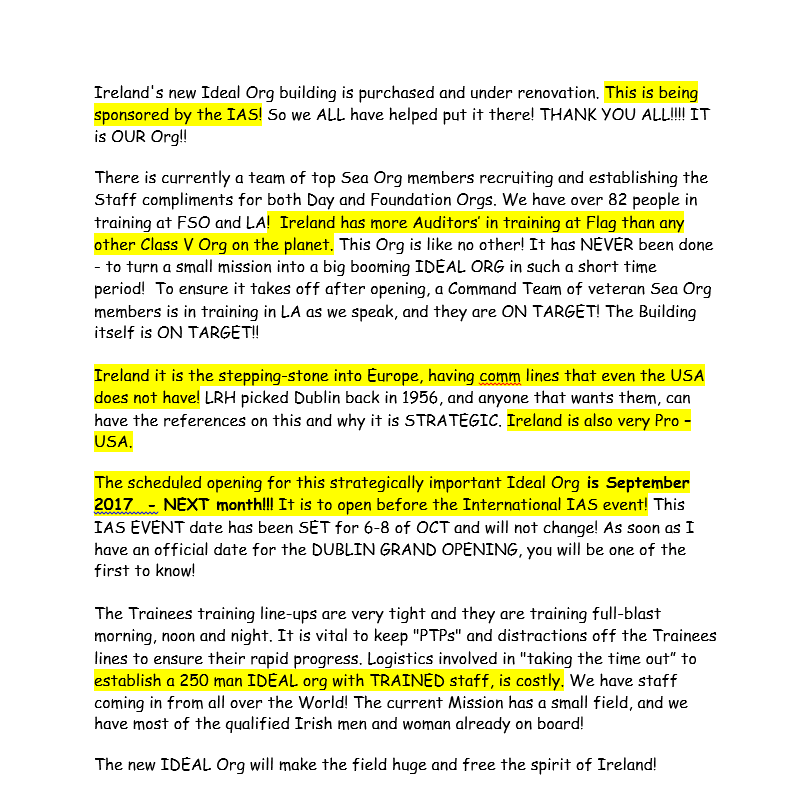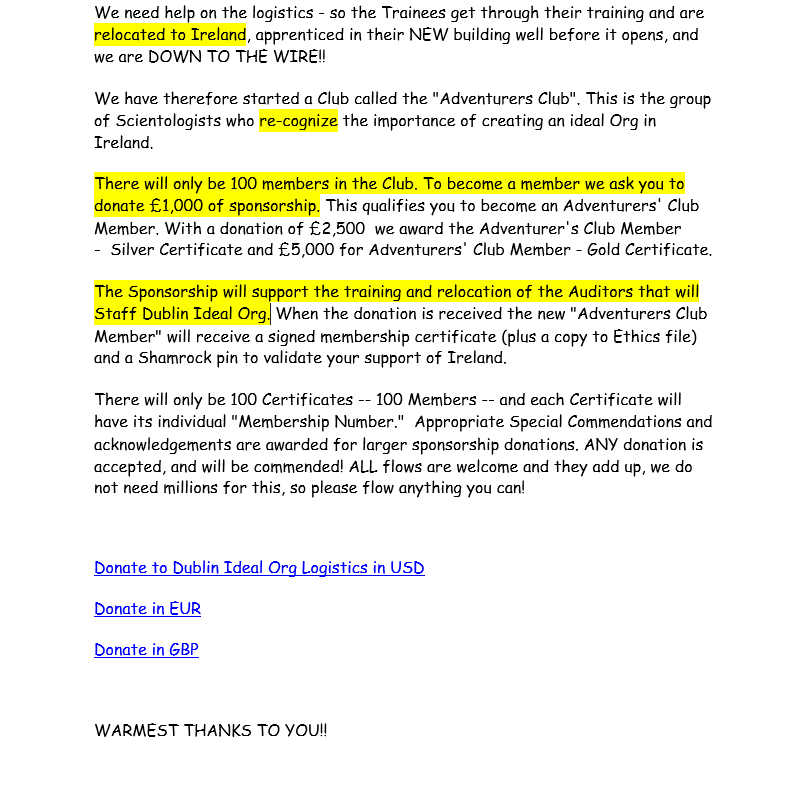 First thing to note: this "org" is being sponsored by the IAS — they must need to invest in some more real estate to satisfy IRS requirements.
But that "sponsorship" is ONLY to buy the building and renovate it. NOT to "set up" the "ideal org" because this letter is a pitch to get money to fund moving people from other countries to Ireland so they can be on staff…
They state this is being done in a country with ONE small and failing mission with a small field.
Yet this never before existing "org" has more auditors in training than ANY OTHER ORG ON EARTH. Wow… Doesn't say much for the other places. Including the high profile ones like Boston that has been around forever and is the original "St Hill Size Org"…
There is clearly NO demand for scientology in Ireland. In fact it has been a VERY hostile environment for scientology for some time. There was a lawsuit there that was equivalent to the Christofferson/Wollershiem cases in the US. The press in Ireland has been routinely hostile. Scientology has to open their books to the public there (which is going to be VERY interesting once the "ideal org" opens).
Obviously this is being done so Miscavige has SOMETHING to announce at the IAS event. It is being rammed through faster than any org in history — supposedly going to be done in September so he can pop in with a video team and yank the ribbon and then "announce it" at the IAS event. I doubt he will be able to muster 500 people for his yanking — from all over the UK and Europe. You can bet virtually every SO member with 1000 miles will be there to try and boost the crowd.
For some reason there is a fascination with Ireland — they opened a "PR Office" there and now an ideal org? Why? Certainly it is NOT because Ireland is the "stepping stone into Europe". How absurd is that. Scientology already exists in every country in Europe. No need for a "stepping stone" — how about an ideal org in France? Or Portugal? Austria? Norway? Finland? Netherlands? Greece? All of these countries ALREADY have orgs and are IN Europe, but don't have an ideal org?
Maybe Tom Cruise is planning on shooting a movie in Ireland in the near future? Maybe David Miscavige is planning on setting up his office there (he could justify it as this is what Hubbard did in 1956)? Ireland does have some of the best plaintiff's libel laws in the world — Miscavige hired an Irish lawyer to try to prevent the airing of Going Clear. Maybe it is because the IAS does banking there (it used to, though that may no longer be the case — Germany had negative influence on Luxembourg and Liechtenstein and Switzerland so money was shifted elsewhere). Maybe there is no reason at all other than it was somewhere he could PR.
Here is what scientology says as to "Why Dublin?"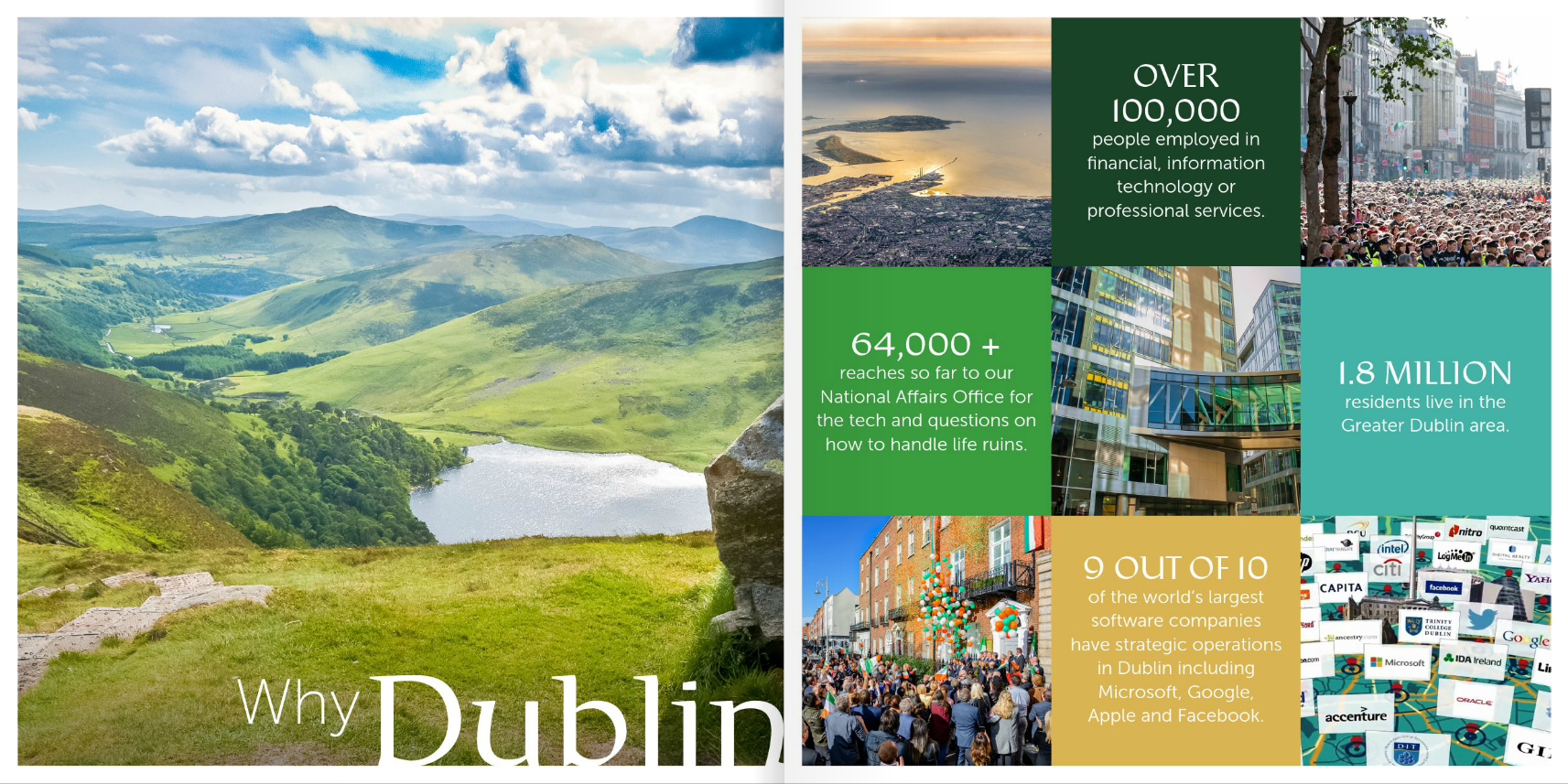 This explains absolutely nothing. By this thinking they should be investing in Mumbai — that is 20 times as big and has a lot of high tech.
There is no logic to this — like so much else in scientology.
UPDATE:
Hurricane Harvey relief efforts in full swing on L. Ron Hubbard Way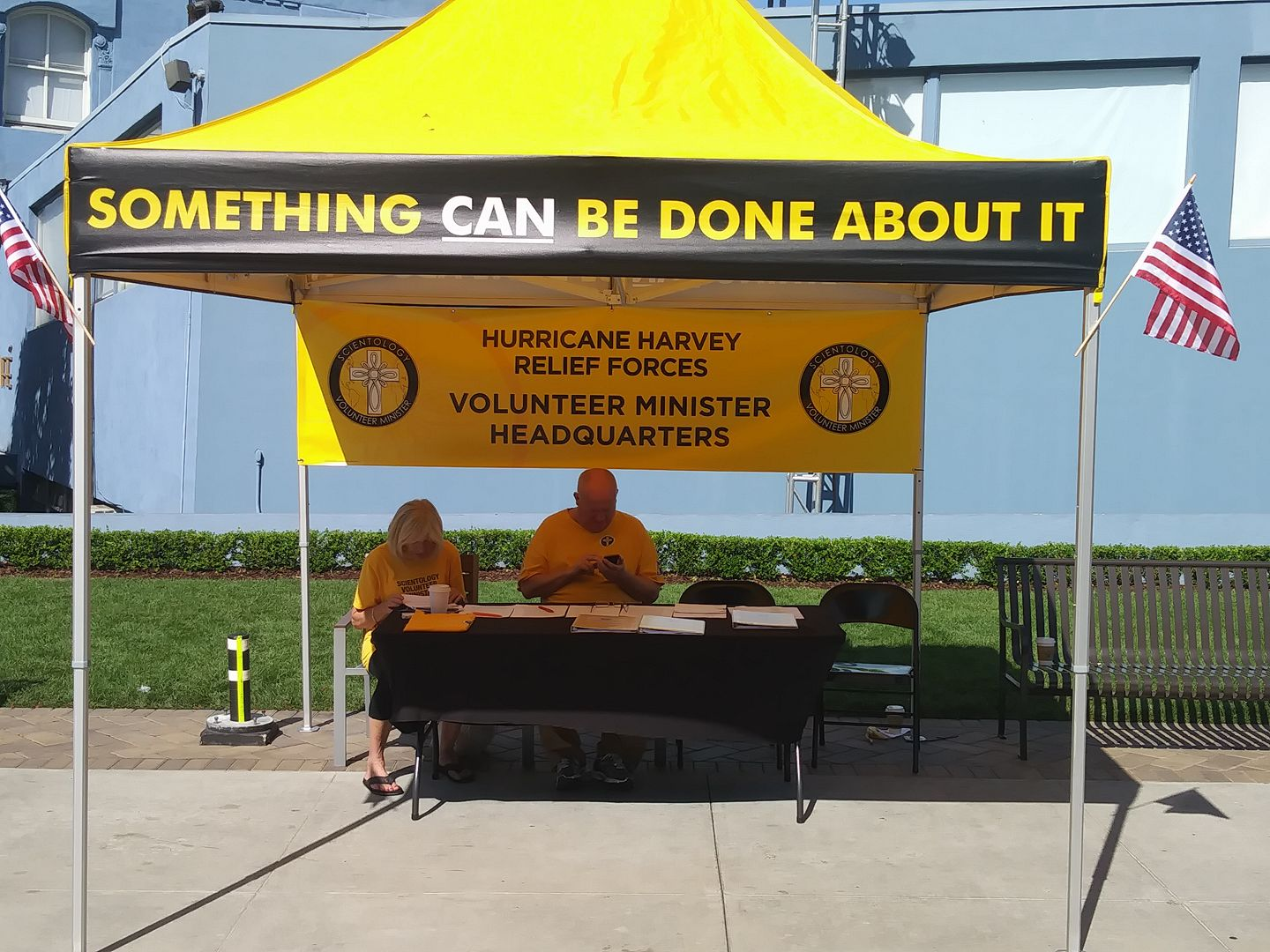 UPDATE II:
Here is the latest from the Massive Force waiting to spring into action in Austin – as usual, held up waiting for donations. They seem to have a lot of extra shirts…
Maybe after the constant ridicule they have decided not to pass out Way to Happiness booklets about keeping yourself clean and brushing your teeth?  Haven't seen mention of them yet, and one can only hope. But I keep my expectations low as these people confound the rational with monotonous regularity.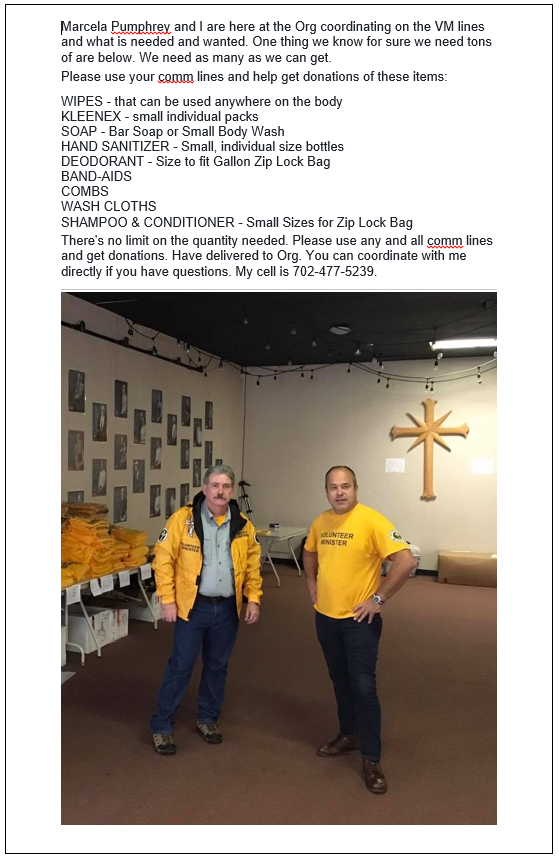 Just one thing guys — where are the 1000 VMs?