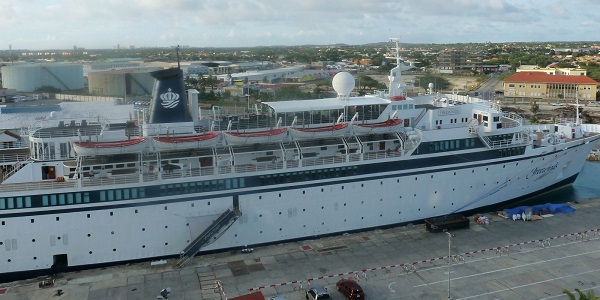 David Miscavige is fond of talking about how his "Ideal Org" program is creating "islands of sanity"… It is prominent in his official hagiography at scientology.org

The idea that "OT's" are the ones "changing the planet" and creating "ideal orgs" is a "truth" scientology. It was one of Miscavige's strokes of genius to make the "OT's" responsible for creating ideal orgs. That way, they could not complain that they were not able to do OT IX and X, because Miscavige set an arbitrary that all orgs had to be "ideal" before this could happen (it actually began with all orgs St Hill Size, but when that was recognized as unattainable and therefore not a usable carrot, he changed it to "Ideal Orgs")/
The Flag OT Committee harps on fundraising for these ideal orgs as if their ethics clearance depends on it. Of course, it does. Or at least, healthy contributions to the ideal org fundraising is a great when sitting in front of a scientology ethics officer or chaplain.
It's an image scientologists love to invoke — their ideal orgs are "islands of sanity" in the sea of wogdom. Hubbard even went on to say how these islands would grow and become one monolithic sane continent…
So, here is something from the Flag OT Committee that highlights just how unreal the "we are making it" and "we are changing society" and "clearing the planet" really is.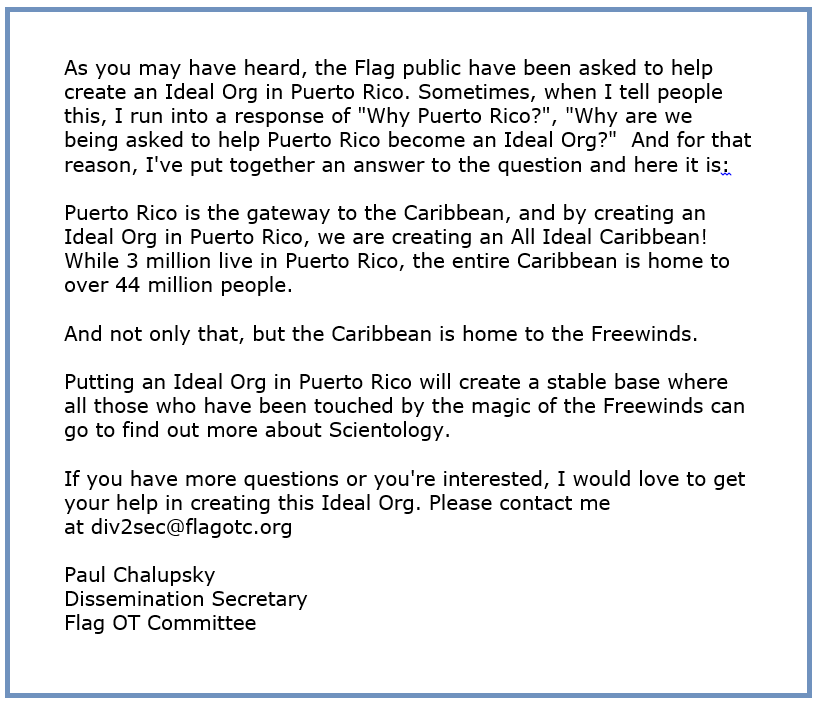 Of course, the other thing about the Caribbean is that it is home to the ultimate in OT cause and effectiveness, the Freewinds. If there was going to be anywhere on earth where the true demonstration of OTness would manifest, it would obviously emanate out from the Freewinds.  After all, these were the very beings that brought down the Berlin Wall and shattered criminality and drug violence in Colombia.
And of course, ideal orgs are the embodiment of precisely what is needed to bring sanity into a zone. They say this all the time.
So, isn't it just a little odd, that there is not a single one of these "islands of sanity" in a region of the world that is literally made up of islands. 7,000 of them in the Caribbean that are part of 13 sovereign nations and 12 dependent territories.
NOT A SINGLE ONE has any scientology except Puerto Rico. Not an ideal org. Not even a normal run of the mill small and failing org. No ideal missions. Or even small and failing missions.
Yet they constantly conduct seminars on the Freewinds with the tech to handle anything, from your personal life to your business to even changing nations (the latter is specifically how they promote their "PR tech" seminar).
But, in the entire Caribbean there is not a thing to show for it? Nothing? No interest in the tech? No groups or missions or orgs to "fulfill the demand?"
Nada. Bupkiss. Zilch.
So much for the power of OT's at total cause over Matter, Energy, Space and Time.