The hype is rolling out for Maiden Voyage…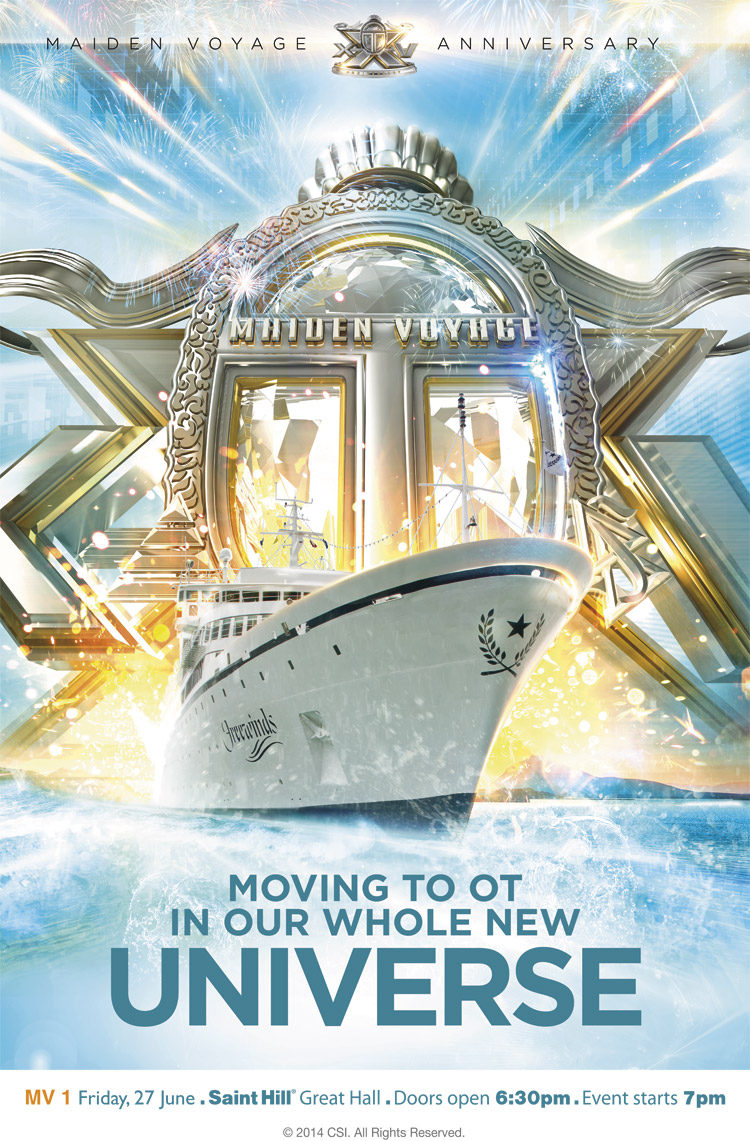 Our Whole New Universe is the one that only we can perceive I guess. The one where scientology is saving the world and clearing the planet and flourishing and prospering like never before with the real LRH tech available for the first time ever…
And now, some reports from on the scene, with a liberal sprinkling of "awesomes," "incredibles," and exclamation points and a very large YUK factor.
Date: Wed, 18 Jun 2014
From: I HELP UK <[email protected]>
Subject: Maiden Voyage events. More feedback from those who are there.

MORE FEEDBACK FROM THOSE WHO ARE THERE. 

Here is more feedback from those who are on the ship for the Maiden Voyage events. Read this and get ready for your local events.

"This is my first Maiden Voyage and it is awesome! It's just being in that intimate space with COB. It's over the top and if that was all there was to it I'd be happy. Seeing all of the accomplishments after the Golden Age of Tech Phase II release really shows that it is happening! The part on the Freewinds is awesome!… There are so many Ideal Orgs and you hear of them one by one but to see them cumulatively is incredible. I didn't realize it until now. It's in high gear."

And another one…

"The event was just incredible, I loved it! I am completely inspired by the whole event. Considering the number of people on the planet, the sky is the limit and we are completely unshakable. This is really Scientology and it is so exciting. I am impressed by the magnitude of the Ideal Orgs that are now done and what still has to get done. I am going to be seriously working flat out on the Ideal Org projects and this is now my job.

Watch this space for more news from the live events.

Use the above to get your PCs, selectees, friends and family confirmed for the MV events either here in Saint Hill or in their local org or mission. Remember there are commends for those who are confirming 5 people or more.


I have to admit, there is nothing quite like just being in that intimate space with COB. It's an experience of a lifetime!

Date: Tue, 17 Jun 2014 
From: Celebrity Centre International <[email protected]>
Subject: From Mr. Dave Petit, CO CC Int

Dear Celebrity Centre Students, Preclears and OTs,

We are about to embark upon the 2014 Summer of Events and with that, the 25th Anniversary of the Freewinds Maiden Voyage. In fact, the Freewinds has already set sail and the feedback from the Opening Night is outstanding. I am personally inviting every one of you to attend and to be part of this historical year of accomplishments.

The summer starts off with the Flag World Tour on July 21st at the Hollywood & Highland Dolby Ballroom. With the release of Super Power and the Cause Resurgence Rundown, this is a whole new era for Flag. You will see two brand-new videos for these services and you will hear of the spectacular impact these rundowns are having for Scientologists the world over. The event starts at 7:00pm, with free parking at CC Int and regular shuttles leaving to the venue starting at 5:00pm.

Following the Flag World Tour, each Saturday will host the four Maiden Voyage Anniversary Events:

NIGHT 1: OPENING NIGHT – 28 JUNE 2014
Chairman of the Board RTC will present the grand overview of OT accomplishments across the planet, which will include the flair and insouciance of our international Ideal Org drive that is truly over the top!

NIGHT 2: IDEAL ORG NIGHT – 5 JULY 2014
This is an in-depth Ideal Org briefing on how the delivery of Golden Age of Tech Phase II in our Ideal Orgs has resulted in a new universe for Scientology. Get a behind-the-scenes look at our mammoth dissemination facility and a future glimpse of what's to come.

NIGHT 3: AUTHOR SERVICES NIGHT – 12 JULY 2014
Author Services Night takes you into a universe of pure aesthetics and tells you how LRH solved artistic creativity and came to define the subject of art. This event is for anyone with a creative spark inside. And that is every one of us!

NIGHT 4: IAS NIGHT – 19 JULY 2014
The final event is a culmination of what it means to call oneself a Scientologist and a member of the IAS from our fourth dynamic salvage campaigns touching the lives of thousands in urban societies as well as the farthest flung reaches of the world.

All Maiden Voyage events start at 7:00pm every Saturday, located on L. Ron Hubbard Way. Free parking and complimentary childcare will be provided.


Interesting they moved the events to the Dolby Theater. Holds 3400 rather than the 6300 at the Shrine Auditorium — so the number of empty seats will not be so apparent.

Date: Tue, 17 Jun 2014
From: Flag OT Committee <[email protected]>
Subject: MV 2014 – The First Event

Dear Members,

At this first event you will witness the meeting of our history and our destiny as never before. 

Thus Chairman of the Board enthusiastically, and often humorously, validated our 25 years of amazing accomplishments and set the stage for a year of unparalleled expansion. 

A very special acknowledgment to the Freewinds Executives and Crew for their contributions far and wide to making this a better, safer planet brought everyone to their feet and the applause lasted for many minutes.

OT Ambassadors from around the world were featured in an Ideal Org extravaganza that had us alternately gasping at the stats and laughing uproariously at the lengths Ambassadors will go to get the job done. And yes, your own OT Committee and Ambassadors were given special attention!

Emotions ran high throughout the event as we all readied ourselves for the week ahead, the Ideal Org briefing and our new programs.

We, as public, are a vital part of International Management's strategy to Clear Earth. So, mark the dates, June 28th for the first Maiden Voyage event, and then June 29th in Flag's Crystal Ballroom for a celebratory dinner and the unveiling of our OT Ambassador Program. 

Stay tuned for more updates as our week rolls out.

Much love,

Kaye Champagne & The Entire Executive Council of the Flag OTC

Aboard the motor vessel FREEWINDS, somewhere in the Caribbean
Either Kaye has attended a Shermanspeak seminar or she copied this down on a little notepad during the Dear Leader presentation: "you will witness the meeting of our history and our destiny as never before".
The gibberish that is spoken at these events is incredible, amazing and worthy of many exclamation points!!!!!!!!!!!!!!!!
UPDATE:
This just in this morning, a somewhat fuzzy shot of some of those happy, satisfied people sharing an intimate space with COB.