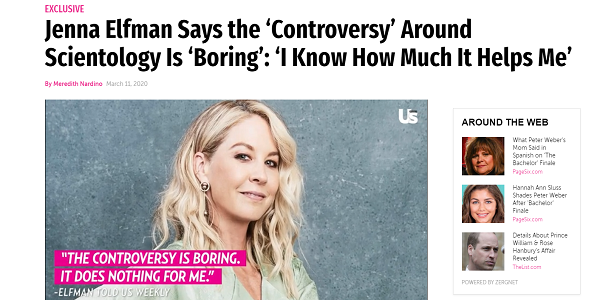 A recent article in US Weekly quotes Jenna Elfman about "the controversy" around scientology.
She is a shining example of how a good scientologist acts and speaks. Foolishly.
While scientologists proclaim they have "the tech" to protect them from suppressive influences and they learn to "confront and shatter" this sort of thing, in fact, they avoid "suppression" at any cost. And by "suppression" they mean anything that is negative or even questioning about scientology. When they are confronted by such things, they run from it. Close their eyes. Hold their hands of their ears and hum to themselves to avoid hearing anything.
Scientologists CANNOT confront "suppression." They cannot even confront "Suppressives." If I walk by a scientology organization, they close their doors and keep their people inside until the danger has passed. If I walk into a movie theater and there are scientologists there, they leave (that HAS happened). If I am on a plane and 3 people from the Office of Special Affairs are in line to board the same plane and see me, they do not board (that HAS happened).
Scientologists are terribly afraid of suppressives and suppression. They will NOT confront "suppression" head on under any circumstances.
Hubbard painted everyone that didn't agree with his views as "enemies". The psychs. Medical profession. Government agents. The media. The list is long.
Scientologists are taught not to listen to anything "negative."  Not to read the press (they are enemies of scientology and the enemy of the people — "Merchants of Chaos" is how Hubbard termed them). They know that anything negative is an "enemy line" (which is anything that doesn't go along with the "party line" of scientology) and the consequences of buying into "enemy lines" is a visit to the thics officer and the purchase of more sec checking and/or book packages…
They live in a bubble world where only news fed to them by scientology is to be believed. People like Jenna Elfman are all too happy to simply accept the bs they are fed (scientology is expanding and is doing all sorts of wonderful things helping billions of people every year) despite the evidence before their very eyes. There are none so blind as they who chose not to look.
So, she proudly spouts off an idiotically tone-deaf statement: "The controversy is boring."
Boring?
Of course, we know why it is "boring" — because this is the "tone level" of 2.5 on Hubbard's Tone Scale. And every scientologist knows that to "control" someone you operate half a tone above them — in this case 2.0 is "Antagonism."
So, those who self-proclaim themselves great humanitarians are entirely oblivious or just don't care about the human rights abuses of their own organization. They either pretend it is all lies, or know that it is not lies but deflect any discussion of it with "I don't care" or "it's boring to talk about" or "I know what it has done for me" (and everyone else be damned).
Often they cite some personal "success" to explain how wonderful things are and as a sort of "dissemination" pitch. Cruise and Travolta used to do this when they actually spoke about scientology. Elisabeth Moss too.
Jenna Elfman's pitch was how scientology has has helped her "stay grounded" (she doesn't seem altogether grounded to me) and "Well, I've been a Scientologist for 28 years and that's a huge part of what helps keep our [with husband of 25 years Bodhi Elfman] communication going in our relationship. we've never cheated on each other, we've never broken up. We hang in there." Jeez, how come that hasn't worked for Tom Cruise? One or the other of you is either not applying the tech or lying.
And then she pulled out another old chestnut from the standard scientology PR responses: "I think that anything that works tends to get attacked." This is like Hubbard's "we know we are succeeding because the squirrels are screaming" — in this case the proof that we do nothing wrong is that we are new…
What you NEVER see is a scientologist addressing forced disconnection, or people being regged into bankruptcy, or cover up of crimes, or physical assaults by Daviud Miscavige, or the disappearance of Shelly Miscavige and the top echelon of scientology management personnel.
This is why I constantly refer to the "scientology bubble" — these people live in a cocoon of lies they all agree upon. The outside "wog" world is ignorant, uninformed and bigoted against them.
It's scary to watch otherwise intelligent and talented people so blinded to the obvious.