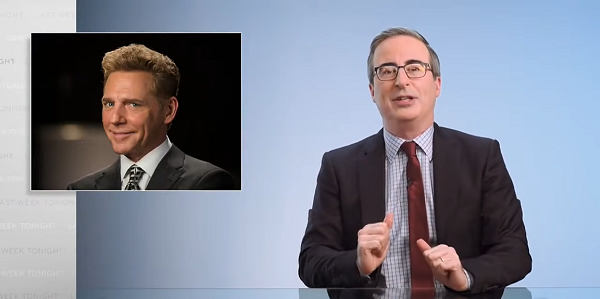 John Oliver consistently focuses his unique brand of comedy/satire/social commentary on David Miscavige and scientology.
Last week he threw another barb, which you can watch below at the 2 minute mark of his opening segment.
All of last season he included "Where's Shelly" (in Spanish) in the opening montage of the show, and included numerous references to all things scientology.
In season 5, he did a piece in his final episode that wrapped up his year long secret "advertising campaign" for scientology that he demanded they pay him $650,000… and then ultimately $700,000 for.

For no good reason timing wise other than another recent jab, I wanted to take a moment to recognize and thank John Oliver and his team of writers and producers for staying the course and always keeping David Miscavige and scientology in their thoughts.
If you don't yet watch the show, please do so.
This sort of exposure and constant reminders of the dangers of scientology would never have happened a decade ago. Scientology is routine fodder today for comedians from Stephen Colbert and Billy Eichner to Chelsea Handler and SNL. Scientology has in this regard, become "mainstream" but I don't think this is quite what David Miscavige has been striving for all these years.