This promotional item was distributed some time ago, I am just getting around to publishing it.
Scientology continues to try to raise money for the "L. Ron Hubbard Hall" — another white elephant that will eventually be paid for by "Sea Org Reserves" as a means of using excess accumulation of funds. But it will be milked for everything possible until then.
It is interesting that scientology has continued to use the Ruth Eckerd Hall in Clearwater, a venue that seats 2300, for nearly 3 decades. No graduating to larger venues to handle the massive growth and increases in scientologists in the area. And their plans for the L. Ron Hubbard Hall, where all events will be held, do not anticipate any increase in the size of the audience. What an admission that is.
Someone is enjoying "getting away" from Sea Org life by organizing these boondoggle trips.
This one no doubt focused on the tall tales of Hubbard's exploits under the Explorer's Club flag he cherished so much — because it added credibility to the stories of his exploits.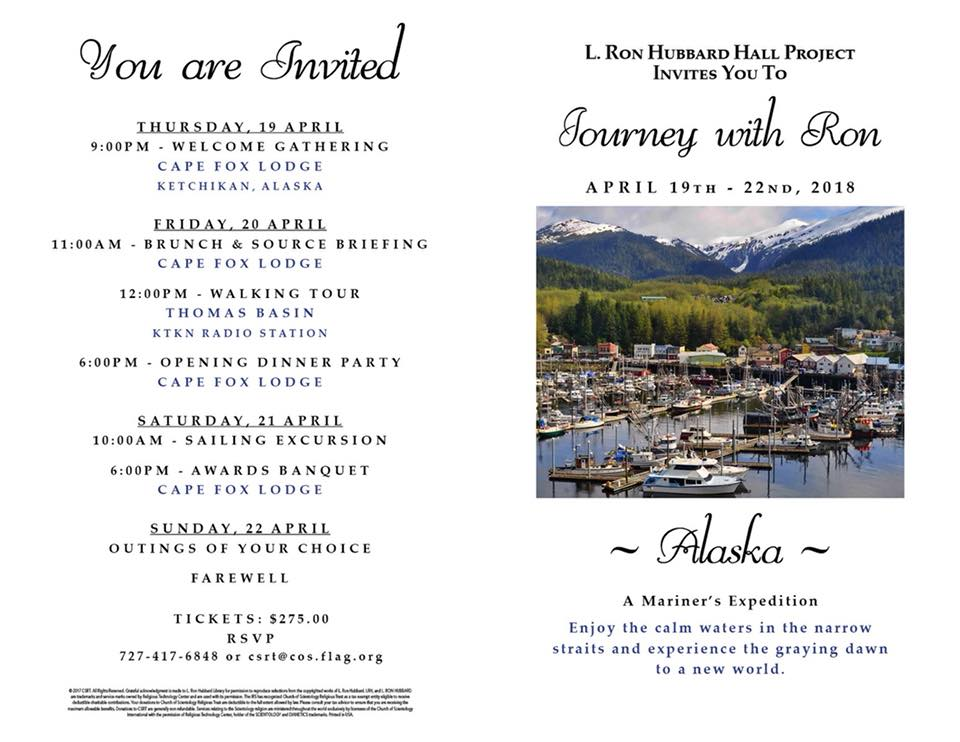 For some education, here are pages from Bare-Faced Messiah that provide the real story. You can bet the name "Polly" (Louise) Hubbard was NEVER MENTIONED to the whales on the boondoggle. Polly, of course, was Hubbard's first wife and mother of Nibs (L. Ron Hubbard Jnr) and Katie (Catherine). They got no mention either. Nor his second wife (Sara) and third child (Alexis). Even Mary Sue has been written out of scientology's history…
You can be sure Miller's description of what happened, taken from interviews with family members, is a far more accurate picture of the true events than L. Ron Hubbard ever provided. He was charitably an inveterate story-teller who invariably portrayed himself in the best possible light. He wrote a Flag Order talking about single-handedly wrestling bears in Alaska, among many other amazing (and untrue) exploits.