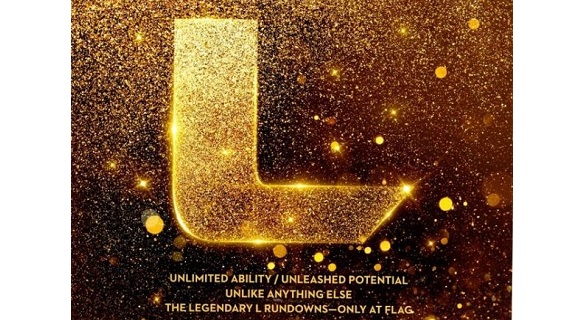 Here is some extra special hype about the "Flag Only L Rundowns."
Hubbard made a LOT of money selling these things, promising "stable exteriorization" — though not a single person EVER has accomplished this "end phenomena." Not one. Not ever.
And what is amazing — everyone KNOWS this and carries on with the charade. The next person who finishes L12 will come up produce a "glowing" success story about how astonishing this "tech" is and pretend stable exteriorization is something that HAS been accomplished! Their future promotional pieces will continue to make the same false claims.
And all the while, Miscavige has been telling people at Int for DECADES "the L's are totally out tech" but he "doesnt have the time to fix them" — he pulled KTL, LOC, the Briefing Course, Class VIII course, OEC and other things from circulation and sale because THEY were out tech, but he has never pulled the L's. Because they are HUGE moneymaker. L's are sold as one time payments — $40,000 as I recall. If it takes 5 hours or 20 hours (beyond a certain point you have to pay for extra hours at "Class XII Rates" which are the highest possible).
Here is a promotional email Flag sent out to pitch L 12. If this were a normally regulated money-making operation, they would be prosecuted for blatant false advertising and fraud.
L 12 is the OT Executive Rundown
In a reference of 3 June 1971 LRH said this about L 12:
"This is the most startling breakthrough in auditing since 1967"
This is the only rundown in all of Scientology that has as part of its end phenomenon stable exteriorization. While delivering it as a research pilot to the Flag Executive Briefing Course trainees on the ship LRH nicknamed it the "Immortality Rundown".
There are 3 steps to L 12. The first step is a very OT address to the body. Realize, before you can stably exteriorize someone you must first fully extrovert them from their body. This will only happen if they are fully comfortable in the body. So a very rapid OT handling is done to handle any discomforts of the body.
The second step of L 12 is usually the lengthiest. On this step you address valences, beingnesses and identities of the past. This includes identities and beingnesses the PC himself has been or those of others that are charged and have influenced his past.
There is an auditing technique used only on this step of L 12 and nowhere else in Scientology. It is so utterly impinging that to avoid making case gains you couldn't just refuse to answer the auditing command. You would have to actually leave the room.
Remember from your TRs courses "buttons"? These are defined as: "Restimulators, words, voice tone, music, whatever they are… can cause him discomfort, embarrassment, or upset, or make him laugh uncontrollably."
It is important for you to follow this concept here in order to get the flavor of what we are accomplishing in L 12. A thetan so much wants to be himself and not dramatize other valences and identities. To suddenly "fly off the handle" or go into uncontrolled grief, or gleeful giggles whatever, is resisted by the thetan.
People use different handlings to try to just be themselves such as "counting to 10 before responding", "taking lots of Vits and Bl", getting extra sleep, just avoiding high pressure situations etc.
L 12 has a means of sudden impingement that snaps these valences and identities right into view. (It has all the subtlety of cold water in the face) The idea is to rapidly identify the past beingness or valence and then blow it. Yes, blow it completely and forever. The velocity of case gain in this action can be breathtaking.
On this second step of L 12 you blow many, many past beingnesses and identities and you are not done with this step until the PC is exteriorized.
This brings up the question, "Why does LRH call this the OT executive rundown?" To understand this and to really get the full concept of what this L is really accomplishing we need to look a bit closer at this concept of exteriorization. It is defined as: "The act of moving out of the body with or without full perception."
Given the confidential aspect of the L and the importance of getting this key idea across to you I am going to briefly use a personal anecdote.
When I first got into Scientology years ago I heard about exteriorization and thought it sounded great. My initial concept was of possibly moving up to the ceiling and looking down on the body. Well not long into my auditing that exact thing happened. I was looking down on my body. The first thing I realized was: "I am going bald"
It is a silly personal anecdote but I mention it because it shows how my idea of exteriorizing was to swap one Mest viewpoint for another. If one considers exteriorizing into a wall or a TV or a ceiling or any other Mest viewpoint he would probably be just as well off to remain in the body location. The body is at least mobile.
Years ago having exteriorized up to the ceiling I soon had the new problem: How to get off a ceiling.
One can consider exteriorization strictly on a first dynamic and a self determined basis. But it is a very limited look. Conceive if you can, being exterior on more than one dynamic – playing life as a game from an exterior view.
In the same period that LRH was researching the Ls he was making discoveries on a parallel line of research in management technology. It is called the "multiple viewpoint system" of management. Ron describes it like this:
"Something new is added to the world with the multiple viewpoint system… You have to be pan determined as daylight to even conceive of such a system. For it's a true OT system. Every situation is viewed from the viewpoint of the branch office, or the regiment on the firing line, or the squadron in the sky."
Consider again that L 12 is the "OT Executive Rundown". It gets you into an exteriorized and pan determined view of your life and dynamics. Does this concept of getting exterior on L 12 take on more meaning for you now? Good.
With the PC exteriorized we are ready for the 3rd and final step of the L. It is quite a technical breakthrough and is very confidential. Therefore what I can tell you is limited. Suffice it to say that Ron made an important discovery about certain energy phenomenon that can factually destabilize a thetan. Once handled the PC is able to attest to being "a stable thetan exterior who's abilities have been greatly increased, and who is not liable to become PTS to anything. (The final step gives this stability.)"
In closing I am going to give you an LRH quote. Let me set the stage a bit first. There is a Sea Org term LRH uses: "midrats". This means midnight rations and is a meal served in the galley around midnight for those who are up and working late.
The location was in the research room aboard the Apollo and the date was June 7 1971 late in the evening. LRH had just made some final breakthroughs on the L Rundowns and he had the Sea Org auditors gotten to come to his research room and he gave them a briefing that lasted over 2 hours. The material is confidential and now heard only on the class XII course. Here is how Ron began:
"You have that process right as of this minute. Now it utterly alters your viewpoint in the HGC as to your expectancy and your production. Alters it completely. And that is why I'm talking to you at the expense of your sleep and your midrats and so forth… But I knew definitely that I did have to talk to you and did have to get you this information and give you some scope of what this means. Because it almost totally re-targets what you're engaged upon."
What follows is several hours of remarkable data. Finally in closing LRH says this:
"We've got it made. We really got it made… And I have confidence that you can handle this very easily. So I wish you lots of success with it. It looks to me like we've just opened the doors of the world to Freedom."
So there you go! This is a Class 12 Auditor briefing on L12.
I want to help you get there. Please call me or write anytime.
Love,
Barbara Dews
Even the Class XII auditors offer up complete mumbo-jumbo about bald spots and "exterior on all dynamics" and that this is not just "about MEST"…
Exterior DOES mean operating outside your body, no matter how these people try to dance around and redefine it.
This has been one of Hubbard's most enduring promises for scientology. And one that has been repeatedly proven unattainable. But that has never deterred the promises from being made.