I had not seen this until perusing the scientology.org website today.
Don't focus on the wonderful passage of classic Shermanspeak — legendary times on the front porch of infinity indeed.
No, try to put that out of your mind and note the claim — apparently in response to the repeated exposure of the dwindling numbers at his events — that the event was attended by a "record number" pegged at 6700 lost souls from 70 nations.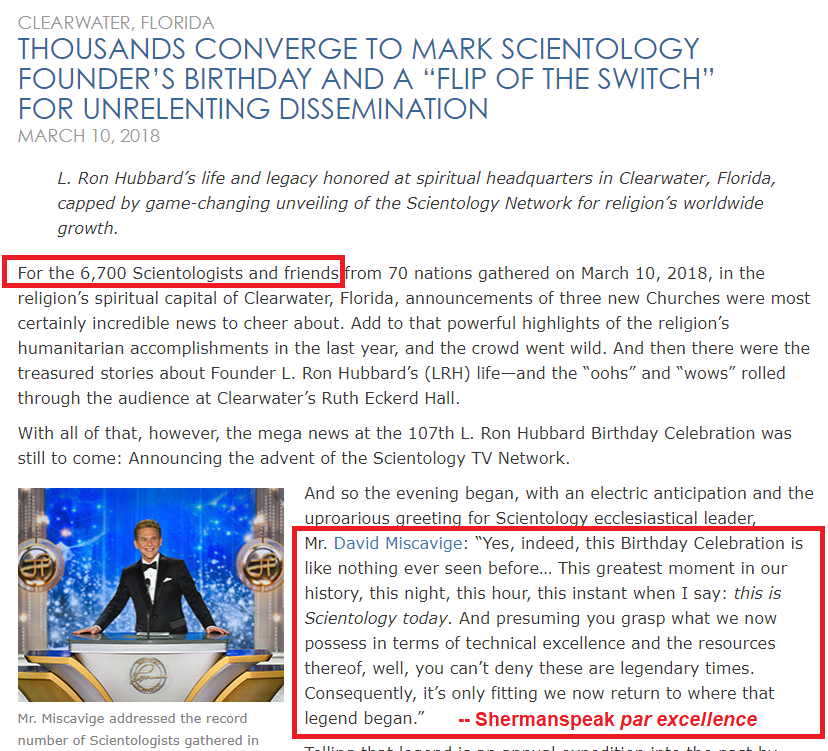 Of course, this is quite a feat, given the capacity of the venue is Ruth Eckerd Hall that seats 2180 (slightly less with all the cameras and sound equipment used to capture the full COB experience).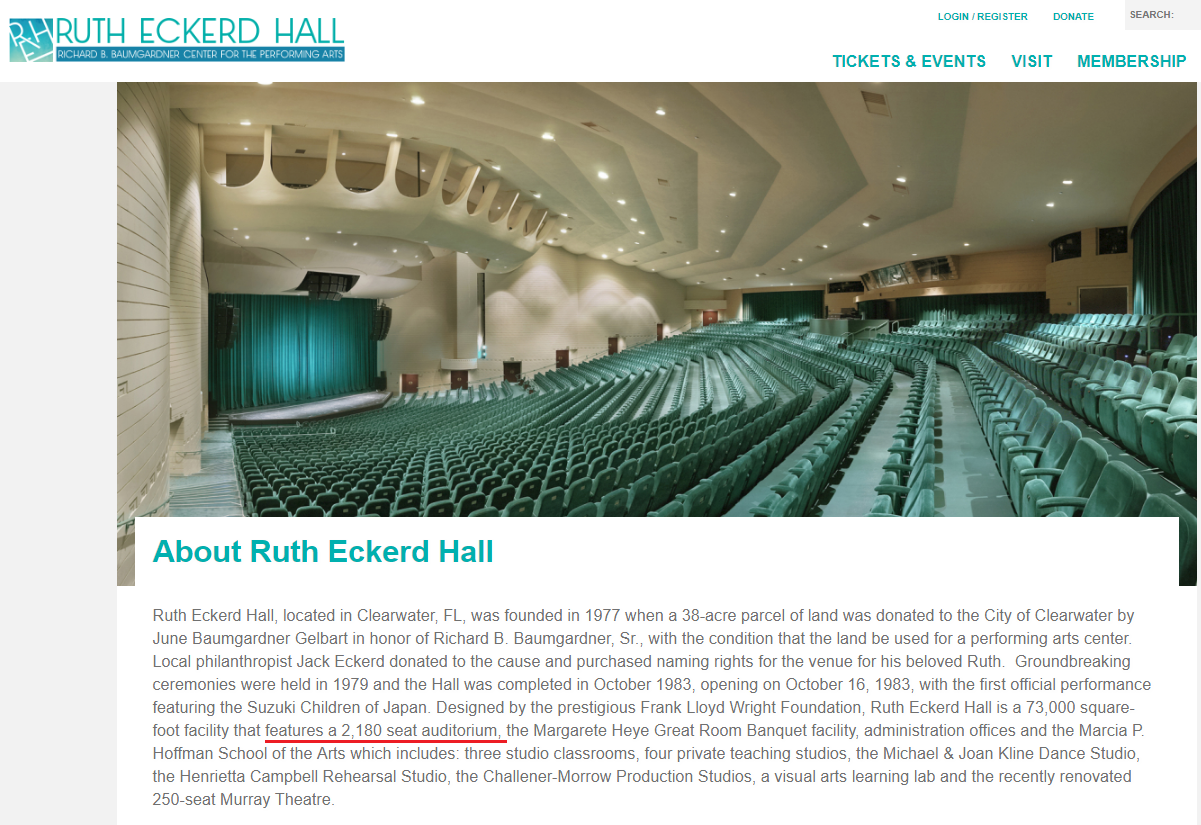 Scientology would no doubt claim there were another 4600 people in the "overflow" facilities. Hahahaha.
If their planning is really so poor they choose a facility that holds only 1/3rd of the attendees, when there are PLENTY of other facilities in the area that are far larger, they deserve to be failing as miserably as they are.
But of course that is NOT the explanation. You can be absolutely sure if they could get 6700 people to an event it would be held in a larger facility so they could show images of the crowd and announce it loud and proud.
The reality is that Mr. NPD (Narcissistic Personality Disorder*) cannot stand any slight on his manhood — especially when the handful of bitter apostate liars on the fringes of the internet point out his empire is shriveling. So, he simply announces that this was the biggest and bestest in the history of biggest and bestest, knowing full well that nobody will ever be called upon to explain or justify this claim. Scientology does not speak to the press or respond to outside requests for information. They will never have any official in a position where they have to try to explain this. Miscavige has no Sarah Huckabee Sanders to send out to take the flak, and he won't do it himself (give Donald Trump credit, he does front up to the press on occasion). Miscavige can say anything he wants and nobody will ever have the opportunity challenge him.
And why does he need that when he has Freedom Mag and the CSN — the only truthful media — who will surely support his every claim.
In the immortal words of Mel Brooks: "It's good to be the king" (fortunately he is immune to criticism or questioning in his kingdom, but that is in fact a small bubble existing in a much larger world that doesn't agree with his rules).
* From Wikipedia: People with narcissistic personality disorder (NPD) are characterized by their persistent grandiosity, excessive need for admiration, and a personal disdain and lack of empathy for other people. As such, the person with NPD usually displays arrogance and a distorted sense of superiority, and they seek to establish abusive power and control over others. Self-confidence (a strong sense of self) is different from narcissistic personality disorder; people with NPD typically value themselves over others to the extent that they openly disregard the feelings and wishes of others, and expect to be treated as superior, regardless of their actual status or achievements.  Moreover, the person with narcissistic personality disorder usually exhibits a fragile ego (self-concept), intolerance of criticism, and a tendency to belittle others in order to validate their own superiority.
The DSM-5 indicates that persons with NPD usually display some or all of the following symptoms, typically without the commensurate qualities or accomplishments:
Grandiosity with expectations of superior treatment from other people
Fixated on fantasies of power, success, intelligence, attractiveness, etc.
Self-perception of being unique, superior, and associated with high-status people and institutions
Needing continual admiration from others
Sense of entitlement to special treatment and to obedience from others
Exploitative of others to achieve personal gain
Unwilling to empathize with the feelings, wishes, and needs of other people
Intensely envious of others, and the belief that others are equally envious of them
Pompous and arrogant demeanor