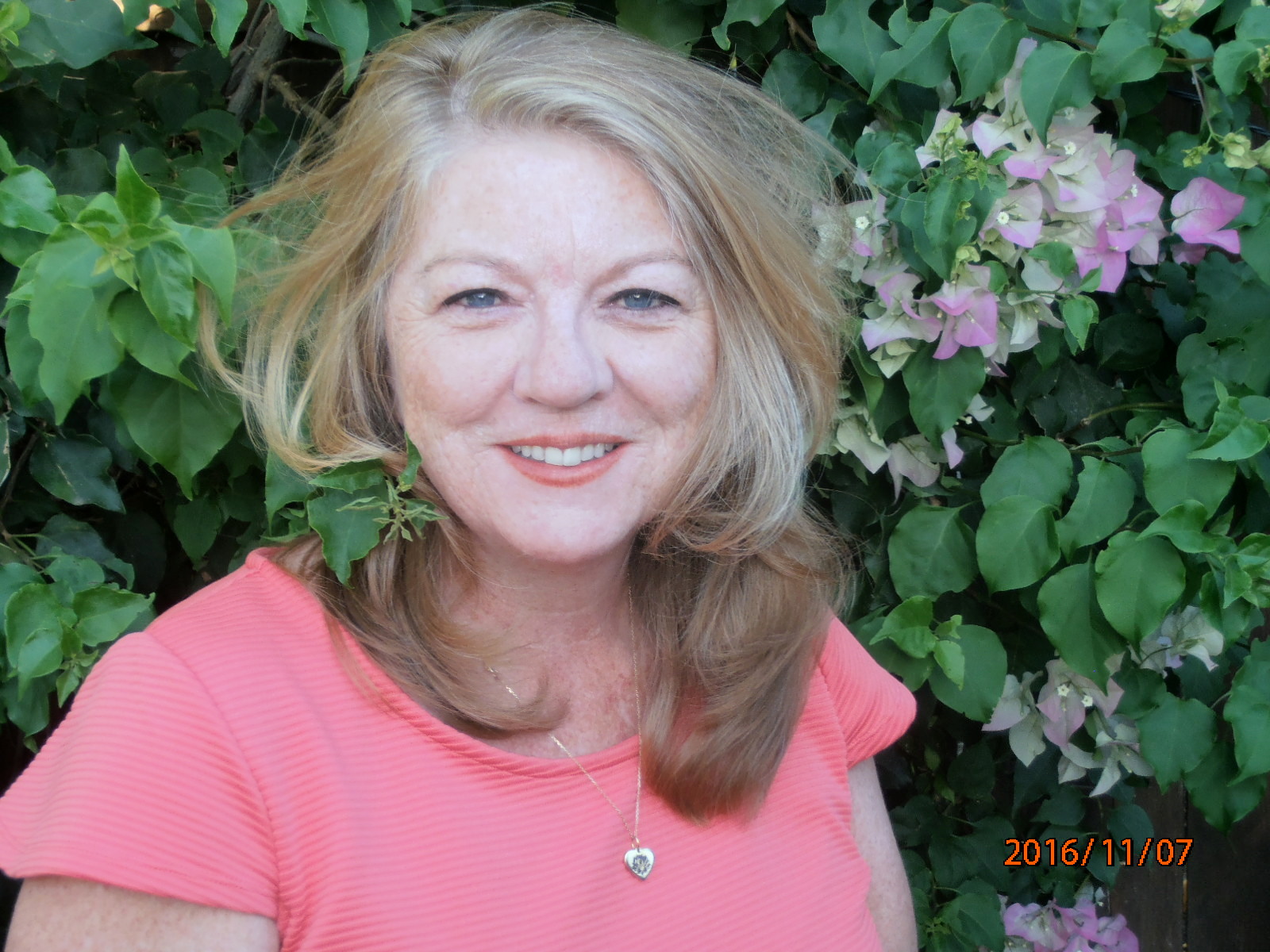 PART 4 – MY LIFE WITH LRH – 1977
1977 Started off really great with my marriage to Gary.
Gary Reisdorf and I started going together from the time we arrived in La Quinta in 1976 and planned to get married as soon as we could, but due to my age I needed parental approval. We had to wait for quite a few months for that approval from my parents due to the slow lines between the US and South Africa. In the letters to my Mom I constantly asked for them to send the approval papers. I was also describing the wedding, my dress etc. I even drew pictures of what the dress was going to look like. I sewed my own dress on the sewing machine LRH had bought for us messengers. It was quite beautiful and was pretty good sewing for a 16 year old! I still have it.
In addition to asking my parents for approval to marry me, Gary also had to ask LRH and obviously he got it. I also asked LRH to give me away, but he and Mary Sue decided to stay at home alone and send the evening watch instead. This was the first wedding held in La Quinta.  There were only about 50 people at that time, everyone was there. It was a great wedding but I missed having my whole family there. Due to the fact that we were in a secret location they could not come. If I had been at Flag in Clearwater, they would have come without a doubt. I was lucky to have Kima Douglas looking after me as she was able to write to my Mom before and afterwards describing how well it went. These 2 letters from Kima were included in the package of letters my Mom kept. From Kima's letters I was able to discern that my Mom was distraught at not being able to be at the wedding, especially since I was her eldest daughter.
"Mom, you made me cry when you said you went into grief, you can never not contribute to the wedding. Your beingness and love is very valuable to have. I love you so much, it can't be said in mere words, and I know you will be here in spirit. I just love you terribly."
From Kima Douglas to my Mom:
"I fully understand how your feelings are, not being able to be here, I have a 15 year old daughter of my very own and I would hate not to be able to do her wedding when the time comes so please believe I understand but also know that I will do all I can to do your job as much like you as I can."  further she wrote " I am the CO HU (household unit) and am busy but when one of my children get married I make the time. You may not not know it but I am basically house mother for all CMO as I handle all of their medical, make sure they are wearing their woollies on cold days and yell at them for not cleaning behind their ears, all kidding aside the CMO guys are really my special kids and it is very important to me that they are well and happy. I am a reasonable listener and my own growing up was not that far away so I can do and help whenever."
Kima was exactly that for us messengers. Many times there were situations with LRH being so mad that we could not handle him and we would call her to come and calm him down, she was always good at that.
On the morning of my wedding, Kima had put my hair in curlers and we were getting the Palms home ready for the wedding. A messenger came to the house and told me I had to go and see LRH immediately, I was frantic as I had curlers in my hair, but she told me to just come. When I got to LRH's house, he took me for a walk around his property of the Rifle house. It was very sweet and he said that first off he cannot give me too much advice as he himself did not have a good success with the 2D. That shook me a bit at the time as I thought he was perfect at everything! But overall his talk was sweet and he told me that he thought Gary was a great, handsome young man and he was happy for us. It was a special time for me.
Arthur Hubbard was one of Gary's best friends and he was Gary's best man. Gale and Dede Reisdorf were my 2 bridesmaids.
My letter soon after the wedding:
"We had the most beautiful wedding, my dress came out so well, and it really is very pretty. Gary was in a dinner suit so was Arthur. My two bridesmaids were in the same dress, and made them, themselves. LRH was not able to make it to the wedding, but he and Marysue gave us $100 and a pure silver tray, with two silver goblets, they are so gorgeous and are sure treasures…….."
We were madly in love and still are today – Gary and I are soon to celebrate our 40th wedding anniversary.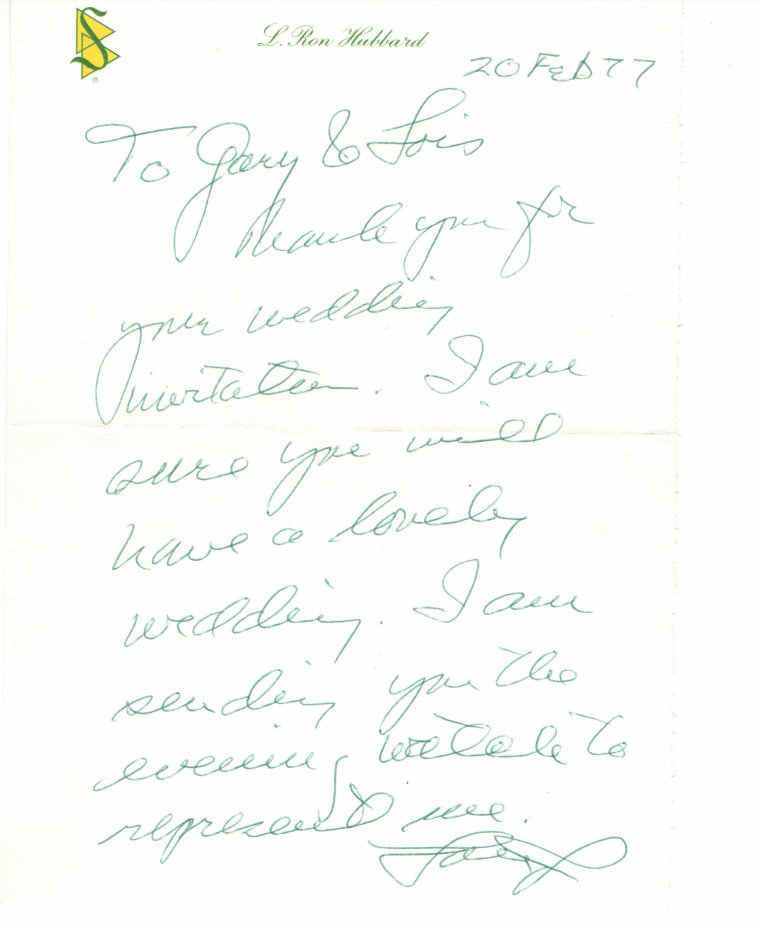 The early part of 1977 was quite smooth and LRH seemed quite content and happy even though Quentin had died just a few months before. There were a couple of incidents that I remember:
The messenger duties were expanded to now include dictation by LRH for all his telexes, dispatches and whatever else. We would carry with us a yellow legal size pad and pens and a small recorder. So even if he went for a walk we had to have these items with us. But mostly he dictated to us in his office. We developed, between us messengers and LRH, a sort of crude form of shorthand, which all of us understood. Even if we had learned shorthand, he would not have understood it. So when he started dictating we would start writing but you also had to remember to turn on the small recorder or else you would be in big shit if you could not keep up. It could be stressful at times. One also had to be fast as he would speak very fast. When we started doing this I was very slow with my handwriting and after a while he just got so mad at me that he took me off watch for a few weeks and had another messenger who had great handwriting teach me and change my handwriting — Clarisse Barnett (Shelly Miscavige's older sister). Clarisse had beautiful handwriting and was very fast. For weeks I had to start over learning how to write as though I was in kindergarten. My handwriting changed completely, from perfect cursive and small, to very large and a mixture of print and cursive, which is how my handwriting is today. As soon as I was good enough I was back on watch. But honestly it was a very stressful time as LRH would dictate and then when he wanted to see what he had just said, he would grab the pad from me and then read and boy was there hell to pay if he could not read what I had written or had not completed it. Once you had finished taking the dictation we would then go into the messenger office which adjoined LRH's and we would sit and type, listening to the tape to ensure it was perfect. That was also hard as sometimes you could not even hear what word he used. When you were finished your watch, you could not leave until your dictation had been typed. This included PL's and HCOB's as well as dispatches and telexes. We started off with non-electric typewriters but eventually got IBM electrics. Of course carbon copies had to be made. How life has changed with technology. We got good with whiteout too…..
In 1977 the Asian Flu hit the US with a vengeance and it did not spare us at La Quinta. I remember being in "isolation" with a bunch of other messengers with this horrible flu and we would all have high fevers and were hallucinating. It was terrible and we were in "iso" for almost a week. It was bad. I wrote to my Mom about this and said how I had not been sick for so long, "but I found out the SP on my lines and got it handled". I have no idea what SP I had found. I also wrote about how I was doing a car mechanic course and learning about every part of the car and all of its systems. All I can say is that I still do not know how all parts of a car work. I was about to get my drivers license in La Quinta at 16 years old. I learned how to drive in a Buick station-wagon, which we called "Beauty" at La Quinta. I finally got the license and one day I remember driving LRH in Beauty around the property and he got so mad at me that he kicked me out of the drivers seat and took over, I was never able to drive him again. I must say that I am a very good driver now, and in later years learnt how to drive a shift stick.
David Miscavige arrived at La Quinta in early 77. He started learning how to be a messenger and was soon "ghosting" senior messengers on watch. However he was soon assigned to be a Traffic Messenger and that involved sitting in the messenger office adjacent to LRH's office and screening any and all traffic to LRH which mainly included telexes. The traffic messengers would put the traffic in order and take out anything that was not really appropriate. He occasionally stood an actual watch but these were few and far between. He was not a great messenger and would frequently irritate LRH. When he first arrived we all called him "Kid" or "The Kid" and this included LRH. After a period of time of not doing too well as a messenger LRH determined that we all had to stop calling him "Kid" and rather Dave or DM. LRH determined that he was dramatizing the name Kid and acting too much like a kid. As I mentioned before most of the male messengers did not do well as watch messengers, but DM was actually worse and in fact, Pat Broeker who also sometimes stood watch, would irritate LRH quite frequently. At one point, both DM and Pat ended up digging ditches together at a time when we did not have the RPF going. They soon became firm friends.
During early 77, LRH had bad stomach problems (ulcers ) and due to this, we organized for a drafting table to be installed in his office and that way he could work standing up and it could tilt. When he was done working/writing he could then sit in his comfortable chair and read but most of the time he stood up.
In July of 1977 the FBI raid occurred and I cannot recall exactly how we heard about it. I am presuming frantic phone calls and telexes were coming into Marysue from the GO. This would have happened on the day of the raids. MSH immediately told LRH and he decided to leave La Quinta.
Here is a brief description from Diana Reisdorf (Dede) who went with LRH along with Claire Rossouw and Pat Broeker. Pat was specifically picked to go due to his prior time in the normal world.
"We left La Quinta when it turned dark in the station wagon Beauty. LRH, Pat, Claire and I. We left La Quinta and headed to San Bernardino to spend the first night. He immediately had Pat go and buy hair color. I don't recall what Pat and Claire did… I know I went black, and LRH went dark brown. Claire helped him dye his hair and eyebrows and he touched up his chest hair and whatever else in the shower. Claire, I think, also literally put a towel around his head like a bowl and cut his hair. The next morning we loaded up and took off. 
So, one of the first priorities when we got to Reno, before instituting the rule of only 2 together at any one time, was to get him in to see a doctor. Pat was off looking for an apartment to rent and Claire and I found an internist in the yellow pages close by. The three of us went directly to the doctor's office. While Claire and I were speaking with the nurse receptionist, LRH sat in the waiting room holding his stomach and moaning (purposefully dramatizing). We explained that our uncle was in a lot of pain. He had been recently traveling and his wallet had been stolen so he didn't have any ID. But of course, we had cash. His moaning convinced the nurse to bump him into rotation and he was fairly quickly taken into a waiting room. Claire and I were keeping up the story of the worried nieces when we shortly heard him telling the Doc stories and lots of chortling and laughter. We joked (just us with Pat later) about how stupid we felt with the dramatic entrance and all, and then minutes later he is in there laughing away.
I recall that they did an endoscope into his stomach and found out that he has ulcers. He got a prescription for antibiotics (I think) and felt better shortly thereafter.
During this time, Pat found a place in Sparks, Nevada. I was told that he and Claire went so far as to get "married" with their fake names and they rented the place as newlyweds. They rented it for the two of them – if asked about seeing others in the unit, they were to say that Claire's uncle (or sister if that was mentioned) was visiting.
We quickly got into a routine. He woke in the very early morning (4-5 am or so) and had a session, and ate a snack we had prepared the night before. Then back to bed. We weren't woken for this usually or that I recall. So we'd be up before he was finally up for the day. Claire did most of the cooking, Pat ran all the errands and purchased supplies, etc., and I was his companion for any trips outside the apartment and helped with cleaning, laundry, etc. The place was directly down the line of the air force base. I don't recall him complaining and we all just got in the habit of stopping conversation whenever jets were overhead…continuing where we had left off when they passed.
There was never any question that without the drama and noise of the Sea Org and Scientology orgs on his lines, he was a different person. Claire and I dusted the place like normal people do; we washed the clothes in the laundry machines with normal soap. Never a smell complaint or problem with dust. Claire even almost burned down the place! She was making French fries and the oil caught fire. Rather than covering it, she tried to carry it out to the balcony while in flames. But when they got to the balcony (we were on the second floor) a bit of flaming oil spilled over the edge and caught the umbrella of the neighbors below on fire. Pat smoothed things over with them but wow…that could have been bad!
The days were spent with him writing right up to dinner. After dinner in the early evening he and I would go for a long walk. Often down to K-Mart to just wander around. But on these walks he often made up songs and would sing. He was actually happy most of the time. Once, on a walk into K-Mart or the grocery store, he was goofing around with me. This was Nevada. Every store had a carpeted, roped area where there were one-armed bandits to entice people to put in a quarter and pull the handle! All these areas had big signs warning that you had to be 21 to play; I was not quite 20. So he decided he'd push me into the carpeted area and then start yelling (jokingly) that I was gambling! Then he'd laugh and laugh hysterically. I actually had many good times during our walks.
After our return, we'd usually watch movies. Since we watched late into the evening, and the neighbors complained about the noise, Pat got us headphones and we'd all plug in to watch. I recall watching a Mel Brooks movie – High Anxiety (or maybe Young Frankenstein) and the 4 of us were laughing so hard and loud…but with the headphones there was no other noise. We were trying to be quiet but just couldn't.
After the movies we'd do the "retiring" routine. Normally he would sit at the end of the bed, talking and smoking. Pat and Claire at his feet and I was behind giving him a shoulder- and backrub. In the early months, the talk was all about what the hell had gone wrong to get us there. He would always end the conversation that it was all MSH and the GO's doing…that he didn't know what they were up to. "Right?" The three of us would often nod but look at each other kind of in surprise. Was he saying this to convince us? To convince himself? Or did he suddenly have no memory of conversations with MSH? Over time I think he worked himself into a belief that he was the innocent victim of all this. But that was usually the case – not his fault.
By October or November (?) he was starting to think about how to get back…he had been writing the Tech films, and had completed RTS (Revolt In The Stars). He needed to communicate again with the GO to find out what was happening post-FBI raid. And he needed to be sure we had enough cash. He was anxious to get RTS being shopped in NY/LA. He also wanted to get word back that the tech films were to be shot upon his return…so by January when we did come back, he wanted a base ready to be able to build sets and shoot the tech films.
He spent a number of dinners teaching Pat about the tricks of traveling incognito. How to change his look at every airport in the restrooms, including cotton in his cheeks. Pat then started the trips back to California to do the drops with the other messengers. Pat was perfect for this – he loved the cloak and dagger stuff.
I remember Christmas…we were all getting a little homesick and probably a little stir crazy by then in our little 2-bedroom place. Pat went out and got us presents from LRH and put them under the tree. Besides useful things (I recall getting luggage and a warm coat), he had two rings made for Claire and I. Gold bands with a little baby diamond, ruby and sapphire stone set. He said that we needed to have our first gems ☺
I think by then he had pretty much figured out that he'd only be safe at W if Mary Sue wasn't there because of the trial, etc. Knowing that we would be going home soon, I feel, he started getting cranky again and got himself sick. I recall he was going [to a doctor's appointment??] and Pat had gone out to get Beauty out of storage (we never had the car at the apartment the whole time). He was supposed to return, pick up LRH and take him to the appointment. After a half-hour passed, LRH still was standing outside waiting for Pat – he refused to come back in and it was winter! And cold! Pat finally showed up sometime later – the car had flat tires so he came back in a taxi. But in any case, when we did get back to Int, Pat was assigned a condition for almost killing LRH (he said he got pneumonia waiting at the curb) and for not checking on the car frequently enough (if at all??) the 6 months we were there." Diana Reisdorf
While LRH was gone from La Quinta, MSH took over the running of the place and to be honest, she lightened our schedules for all crew and we had a relatively stress free 6 months.
One of the first projects we had to do once LRH had left, was to immediately do an all-hands project to go through all LRH documents and redact names etc. So it showed nothing from LRH. We used black markers and even blades (like box cutters) to cut out his name. This project went on for months and after we were done, one night we drove out to another property we owned (but no one was there) – to bury all these documents among the lemon groves. This property was called Silver and I have no idea if it is still owned by CofS. But we did this burying at night.
After a few months, we started receiving packages from LRH and this was the start of the movie script Revolt In The Stars. We got instructions on how to type a script and then parts of the script came every now and again. Some of us messengers were put on the project to type and proofread the script. I enjoyed this time period as obviously the story was good and exciting and science fiction. Earlier in the year we had all seen the great movie Star Wars which as everyone knows, was the greatest movie ever made up until that point. I had not done my OT levels so had no idea that RTS was the OT III story (minus the BT's). It was extremely detailed and way more detailed than the OT III materials, with real characters. Each time we were done, we could not wait for the next package. Later when LRH came back he worked with his son Arthur on all the renderings of the costumes and everything else. He would describe it all to Arthur who would then do the drawings in color and LRH would make changes or approve them. Again, very detailed. BTW- The loyal officers were in sea org uniforms. He told us that this movie was a "clearing the planet movie as it would key people out".
LRH had not only written the RTS script but had also been writing Tech Film scripts and he started sending instructions to get ready for filming, this involved a lot of recruitment to La Quinta for this purpose – people who could build sets/do lighting/camera work etc. But to tell you the honest truth, most of these people were Sea Org members and when we started filming pretty much no one knew what to do. Our staff at La Quinta soon swelled to well over a hundred people.
In November of 1977 Gale Reisdorf married Steve Irwin and here is a photo from their wedding. And they too will be celebrating their 40th in 2017.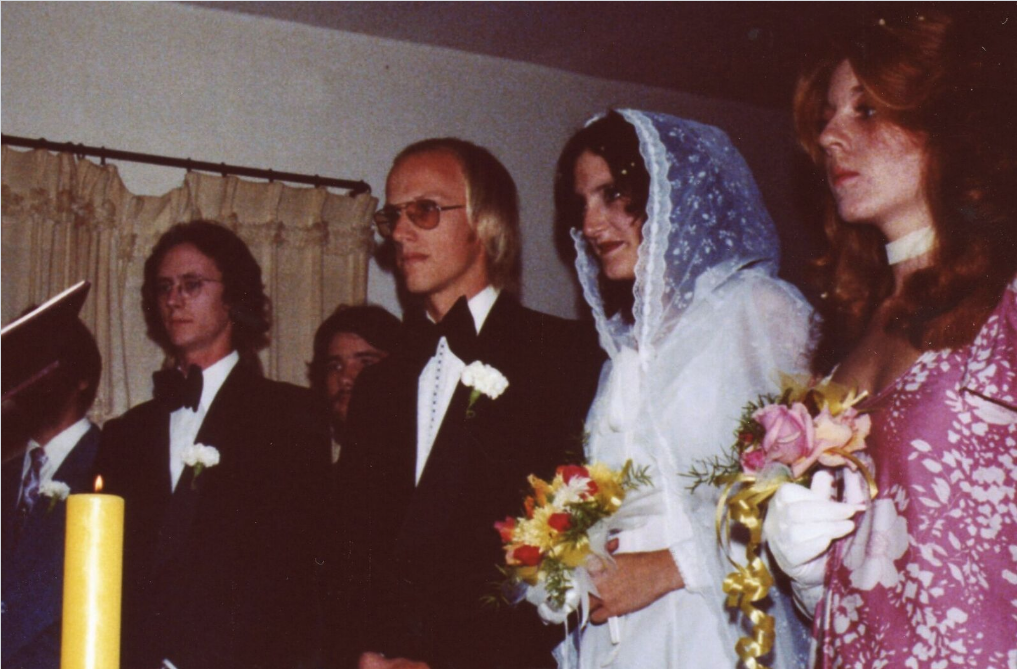 By December 1977 we received word that LRH was coming back but MSH had to be off the property due to her upcoming court case.  It was decided to move her to Beverly Hills. Gary and I were given the project of getting her house ready. So off we went, not having a clue how to set up a house with furniture and everything else. But with lots of cash we managed to buy everything for the house and then set it up for her. We were up straight for 4-5 days cleaning/setting up furniture etc. It was grueling and I remember having to clean each piece of glass on a big chandelier. We spent NY eve at this house and returned to La Quinta by January 2nd.
Everyone at LQ was excited to have LRH back and the fact that we were now going to start filming the tech films. So we now go into 1978 which was another tumultuous year of the forming of Gold and LRH getting very sick and going into a coma…………..