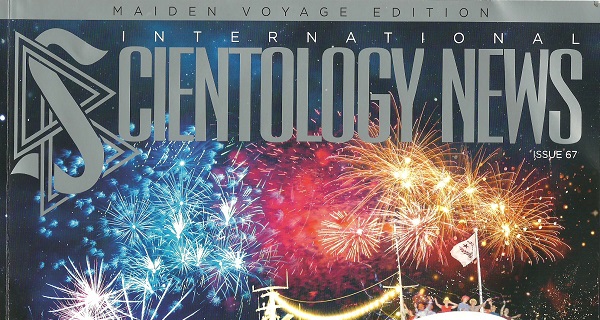 The 2016 edition of the International Scientology News Maiden Voyage edition has hit the mailboxes of thousands of disinterested recipients.
I will do a series of posts covering the events of each night, starting with this overview of the ISN and the Maiden Voyage itself.
In a word, the whole thing was underwhelming. Monumental, epic underwhelm.
The MV (and thus the magazine) was mostly rehash. As always, the ISN is printed on oversize high-gloss (expensive) paper with what has become the norm, a DVD attached to the back page. This is EXPENSIVE "promo" that is really just hype to try to keep the sheeple convinced that all is well in Dave's Kingdom. The DVD once again shows the grand opening of the SuMP – which as far as anyone can see has changed absolutely NOTHING – there are no new TV or radio shows flooding the airwaves, not even any new ads. The golden age of dissemination seems to constructed of fool's gold.
What is amazing is that out of 86 glossy pages, there is only a single page description of each of the "nights" – I supposed they have finally learned that if they reprint their outrageous speeches they leave themselves open to being fact checked. But without the hype, why print and distribute the events in printed form?
Between the glossy cover and the DVD there are 16 pages (19%) devoted to rehashing the SuMP ribbon yanking to supplement the DVD. There are 4 pages of rehash of the BPI printing plant and "international dissemination center" that makes signs and posters – thing that were announced years ago as the dawn of the Golden Age of Dissemination (until SuMP became that). The Atlanta ribbon yanking gets 11 pages.   The Golden Shower Age gets 18 pages (21%) of rehashing how marvelous everything is in the world of scientology now that all is "fully on Source." Lots of smiling, good looking women scattered across these pages, subtly implying that the Golden Shower is perfect for the "beautiful people." Flag gets a special promotional section of 4 pages, so too the Freewinds. There is a single page LRH article. So, with an overview and then a page a piece for each "night" accompanied by a full page photo of the featured speaker (more on that in future post), that is about all there is in this gilded turd.
But even a one page summary of each event contains some serious hype.
Here is the "overview" – they got things off to a roaring start with some vintage Shermanspeak. This is truly one of his finest accomplishments. Complete nonsense masquerading as brilliant prose spouting forth from a great man. Oy vey.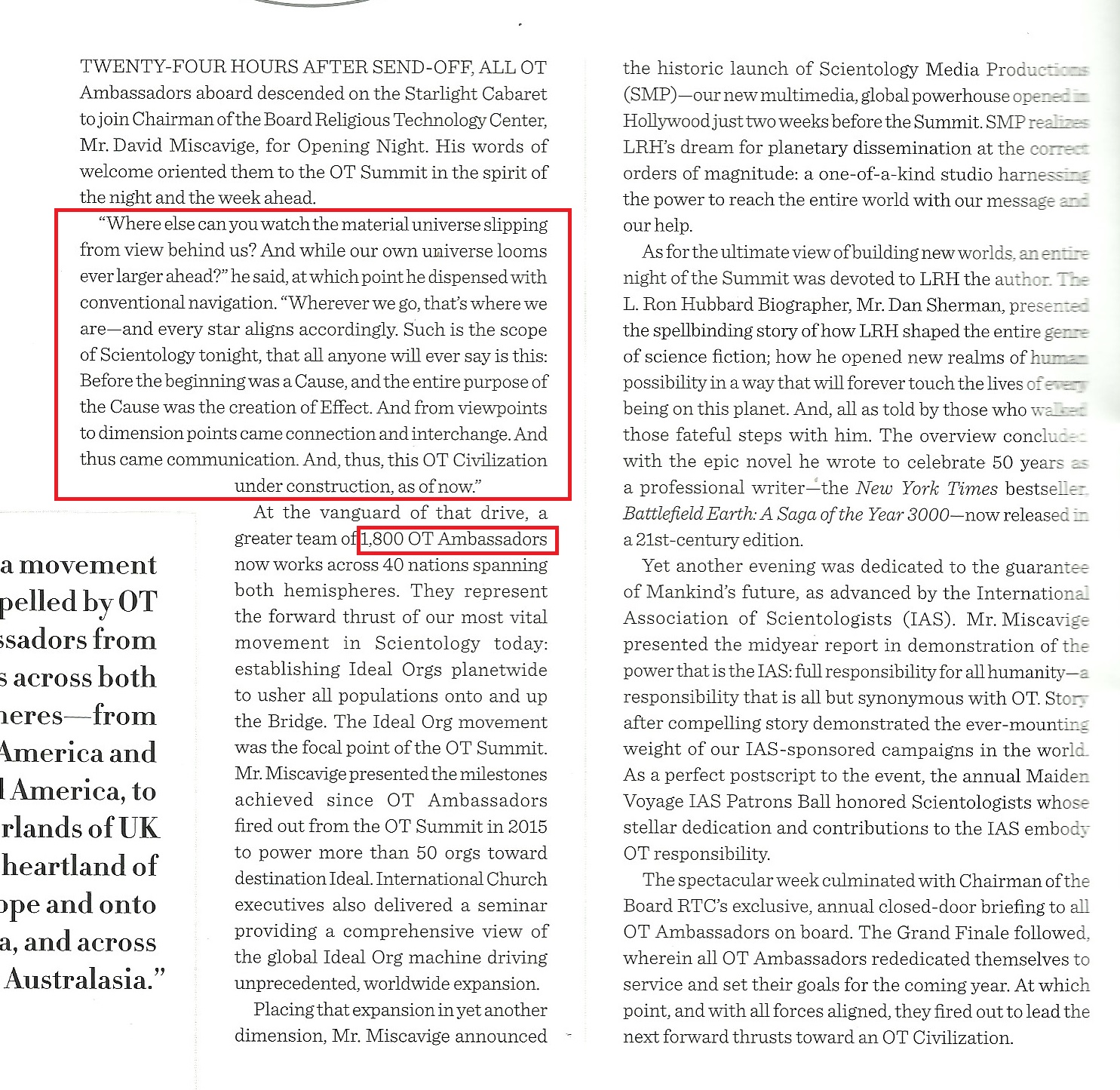 Fascinating they actually publish a grand total of 1800 OT Ambassadors in the world. As non-OT's are expected to participate in their local OT Committee, this is a pretty accurate reflection of the real hard core of scientology parishioners that remain active in any way. If only one in ten parishioners are members of the OT Committee (probably a conservative estimate because if you cannot be counted as part of an OT Committee it pretty much means you have disconnected from your org) this makes a massive total of 18,000 parishioners worldwide. Add 7,000 staff and you end up with 25,000. Which in my estimation is a pretty good guess as to the active membership of scientology internationally.
In the middle of the SuMP coverage there is this photo. Doesn't really fit with any of the individual "night" postings so am including it here.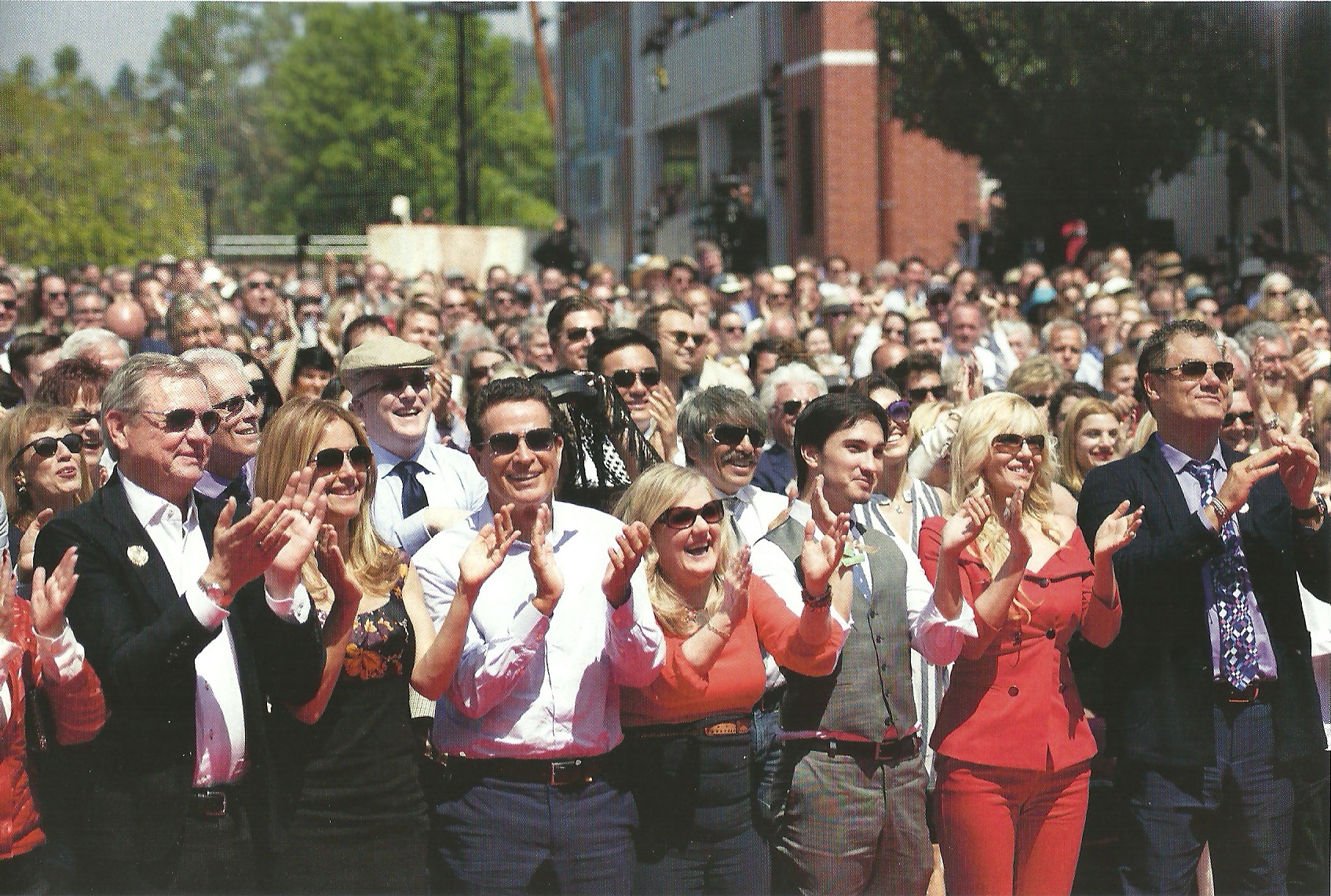 These are the "VIPs" at the SuMP ribbon yanking. No idea who the first guy on the left is, but then in black is Kelly Preston (without John Travolta), Bob Duggan (without his wife), Nancy Cartwright, her son Jackson, Victoria and Tom Cummins.
No Tom Cruise. Kirstie Alley. Anne Archer. Jenna Elfman. Laura Prepon. Erika Christensen. Danny Masterson. What's up with that? Even a rare appearance of the Dear Leader himself couldn't coax the LA "celebrities" out to applaud him? He is losing his touch.
And then there is this as the "wrap up" and again Shermanspeak runs riot.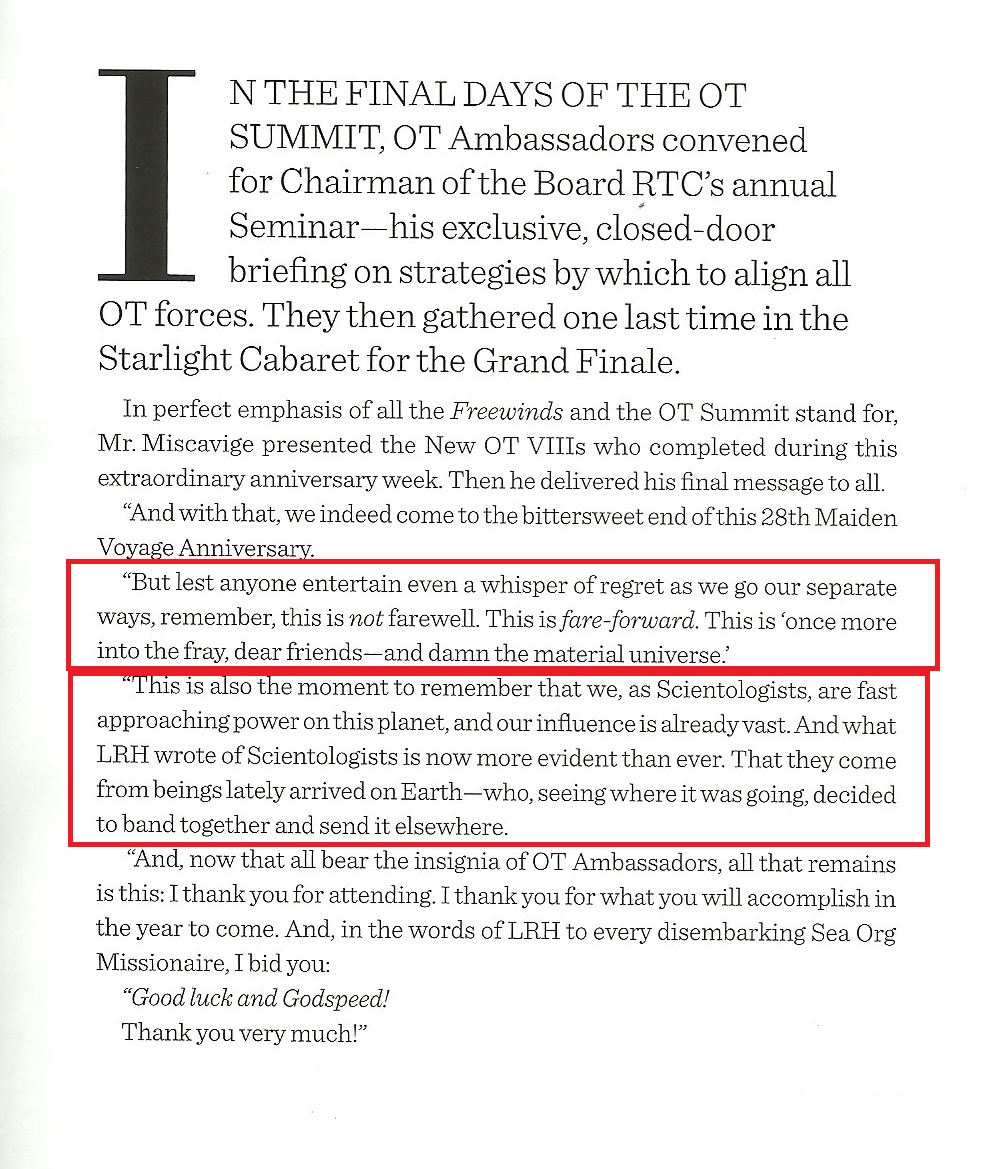 He actually managed to say we "are fast approaching power on this planet, and our influence is already vast" with a straight face?
For that piece of stagecraft alone, Miscavige should receive an Oscar.