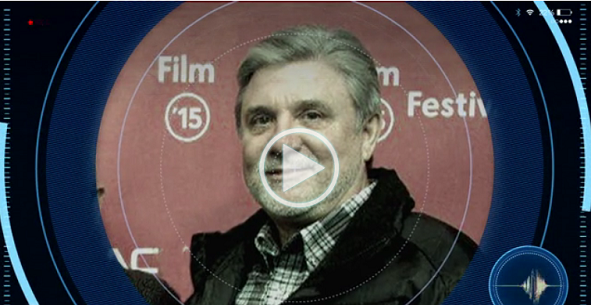 The latest video from scientology attempting to 'dead agent" me is quite amusing.  Though, if I was David Miscavige I would be screaming bloody murder claiming I was the subject of terrorist threats and hate crimes because they frame me in "scope sights."  This is especially concerning after David "Let Him Die" Miscavige hired PI's with an arsenal including assault rifles with silencers to tail his own father. If anyone put up this sort of video with David Miscavige framed in armament sights it would take about 3 minutes for the stuck pig squealing to begin.
Tony Ortega covered some aspects of this video in his blog post yesterday, but there were a few thoughts I wanted to have in one place, so that those looking for the "dead agent" of the 'dead agent" could find it easily.
The most striking thing about their video is that the collection of people they have snarking about me are almost exclusively NOT the people I worked most closely with during my 34 years in the Sea Org. Only Sue Wilhere and Mike Sutter could fit into that category for certain periods of time, though for the last 5 years or so I was at Int Mike Sutter was putting CD's into boxes. His post was "Box Stuffer IC Gold." Sue Wilhere had been kicked out of RTC and was in the Hole.
All of the stars of this video are Sea Org members (except Jason Bennick, who now runs a car repair place in Clearwater yet somehow remains a competitor in the DM brown-nosing derby even outside the SO) and can be commanded to do whatever they are told. This was not a volunteer assignment. Refusal to participate would be tantamount to consorting with the enemy and having "mutual out ruds" with the biggest SP on the planet. So, no doubt, people clamored for the opportunity to demonstrate their loyalty to Dear Leader. I am depicted to them as being dedicated to the personal destruction of "COB" and he rails about how "nobody is doing anything to stand up for him" constantly. So this was no doubt presented as an opportunity to "deliver an effective blow" and "show your support for COB."
But, if you are going to bother with a video like this, why not include the people I DID work closely with?  Here is a list of them:
Kurt Weiland the former CO OSA Int and WDC OSA, last seen in the Hole.
Linda Hamel, the current CO OSA Int. But a total ghost and kept out of sight due to her GO Intel background.
Guillaume Lesevre, former ED Int last seen in the Hole.
Marc Yager, former CO CMO Int last seen at the airport with Marty Rathbun, let out of the Hole for a special "confrontation."
Ray Mithoff, former Snr CS Int last seen in the Hole.
Mark Ingber, former CO CMO Int last seen in the Hole.
Heber Jentzsch, former President CSI last seen in the Hole.
David Bloomberg, former ASI Reg and Marketing Exec Int, last seen on leash out of the Hole to video Jenny Linson "confronting" Marty Rathbun at LAX.
Karin Pouw, scientology spokespuppet who has not spoke to the media in years.
Lisa Schroer former CO Gold, last seen as Laundry IC Gold, now apparently out of the Sea Org.
Greg Wilhere, former Inspector General and Tom Cruise girlfriend procurer, last seen in the Hole.
Angie Blankenship, no longer in the SO, living in Clearwater. Paid for her silence.
Jenny Linson, Miscavige pet, didn't make the cut on my video for some reason?
And most notably absent, as he is in ALL public statements — David Miscavige.
And of course, his "wife" Shelly (not seen in public since 2007).
And then there are Marty Rathbun, Tom DeVocht, Amy Scobee, Jeff Hawkins.  They are missing for obvious reasons.
These ARE the people I worked with. So, why use low level or disrelated people that I just didn't have a lot of contact with? Because the list above consists of people who have been "disappeared" and even a cause as vital as saying bad things about me isn't worth the risk of reminding the public that these people are no longer around…. A few of them have cameos in the other Alex Gibney video, but they are not identified by name, just seen walking past the camera in staged shots of their valiant efforts to speak to Alex Gibney (though not ON camera, they just wanted to "tell him how he had it wrong.")
But perhaps the most inescapable fact is this:
I was the international spokesperson for scientology for 25+ years. And I was on the board of directors of church of scientology international from its inception in 1983 until the day I walked out the door. I was never "dismissed," in scientology parlance I "blew."  They used to say I "left without authorization" until they realized it made them out as liars when they said "dismissed for malfeasance".
Now, I will certainly acknowledge that my personality in the Sea Org was not something of which I am proud. The environment at the top echelons of scientology is not noted for its compassion and caring… those are not traits that keep you alive. Though I would like to think I maintained some sense of humor and wasn't just nasty to everyone. But if I was such an incompetent and horrendous example of scientology then what were they doing having ME as the media liaison and spokesperson for all of scientology? Why was I the head of the Office of Special Affairs, or at some point CO CMO Int and WDC Chairman?
The other answer is that maybe this WAS the personality that best represented scientology and that is why I was selected to be its public face?
Either answer is not good for scientology. And in their desperation to get anything out, they seem to lose sight of the obvious.
It is unfortunate for David Miscavige that he cannot deny that I WAS the international spokesperson. So, instead he just pretends it never happened. But my last act in that capacity is documented in Going Clear and that was just days before I walked out the door, never to return.
The only thing this video really proves is that scientologists will lie at any opportunity if they think it advances their position or the position of the church (or at least, if they are told it does). And Sea Org members in particular will lie on command. When it was politically correct to brown-nose me, these same people you see in the video wrote numerous "commendations" about what a great guy I was. Of course, if I ever asked for my "ethics file" the first response from the church would be that it was "protected" and that it was against their firmly held religious beliefs to turn over such material (though not to publicly use it against me as they have already done). If they were ever forced by a court order to turn them over, any positive statements would be "disappeared" just like Shelly and the executive structure of scientology have been.
As Tony Ortega said, this is really weak sauce.
If the best they have is to find some people who hardly knew me to tell stories about how I didn't talk to them, and was reduced to "bringing the coffee" (said by someone who had the POST of spokesperson but never was allowed to speak on behalf of the church because Miscavige didn't trust her, and I was the coffee waiter?), then I would venture an opinion that they have really hit bottom.  In fact, here is Linda Hight, still listed on the Scientology.org media contact page as "Media Relations." How come, after holding this position for 29 years, nobody has EVER seen her? And why isn't she willing to appear on any shows that I have been on, but only in a staged video? I will gladly debate her one on one on any legitimate media outlet…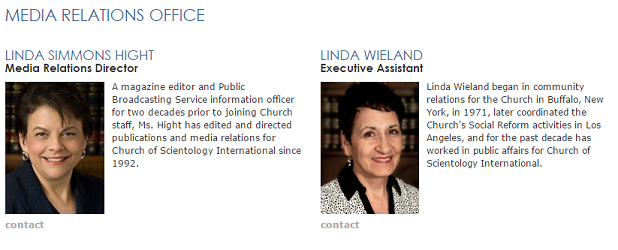 One last thought.
I must say, the make-up and lighting in the video was high quality — proving how little they need ANOTHER studio facility when they have makeup, cameras, studios, editing facilities and everything else obviously not being used for anything important because it could be spared to put together this dreck.
Another scientology "milestone" fail.