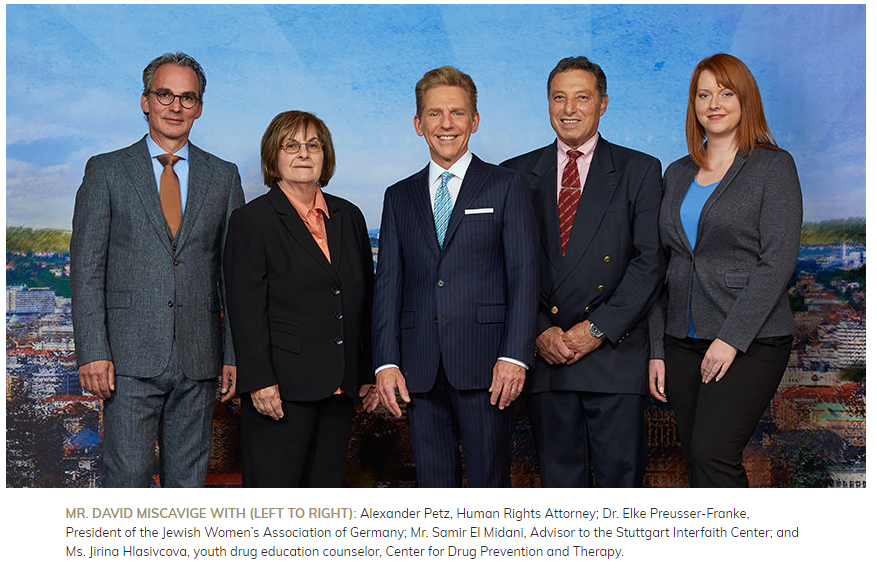 With no fanfare or pre-announcement (scared of being arrested perhaps?), David Miscavige, the True Leader of scientology snuck into Stuttgart and yanked his ribbon. A month ago.
He made a quick in and out dash into the danger zone of the Federal Republic of Germany.
What is most remarkable is that they managed to get anyone at all to speak on a podium at a scientology event in Germany — but the "dignitaries" were less than stellar, though they did present a problem in that three of them were quite tall.  Even with a forced perspective shot of his standing in front of them, size was still an issue. So, it would appear he resorted to his old standby, the applebox. Look at these two images of True Leader and the woman on the right standing at the same podium. The mic moves up and down, but the podium itself and the background elements do not change.  And even in this shot she is standing back from the camera and he is leaning towards it.

But physical stature is not really the issue.
I am sure Dave longs for the days when scientology could persuade Mayors or elected officials to appear on stage for ideal org ribbon yankings. These days it seems they are lucky to find 4 (apparently this is a mandated number) people who will speak at all.
In Germany the roster was headlined by a lawyer who has been paid by scientology for 40 years (he was around when I was in Germany back in the 1980's).
The "President of the Jewish Women's Association of Germany" is in fact the President of the Jewish Women's Association of Germany of Dresden. A city much closer to Berlin than Stuttgart. And a city without an org. They had to import her from half way across Germany because apparently there is nobody in the Stuttgart Jewish Women's Association of Germany branch willing to speak.
Then an "advisor" to an Interfaith Center? Not even an official or the President of the Interfaith center?
And finally, a "drug education counselor." Wow, they could have tapped Narconon for that.
I amsure these are nice people who are well intentioned. But what does their endorsement of Scientology front groups actually signify? Only that they are NOT "changing nations" or even cities. They're just having virtually no impact at all. Let alone scientology itself.
But Germany wasn't the only bummer when it came to the ribbon yankings.
After the IAS event he stopped in to Detroit.
Here they could only round up a crowd that could justify them claiming it was attended by "more than 2,000." Scientology's expansion factor on crowd estimates is between 6 and 10 times, so the crowd in fact was 2-300 (which IS what the photos show — this is scientology's own photo…)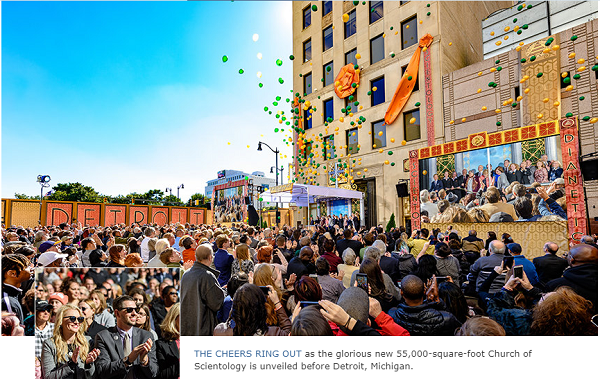 This shot from the Detroit Free Press gives you a better idea of how large this space is (not big — it is the width of a street with a large chunk in the front corner taken up by the video/sound truck and has the video screen on it you can see in the top right of this photo).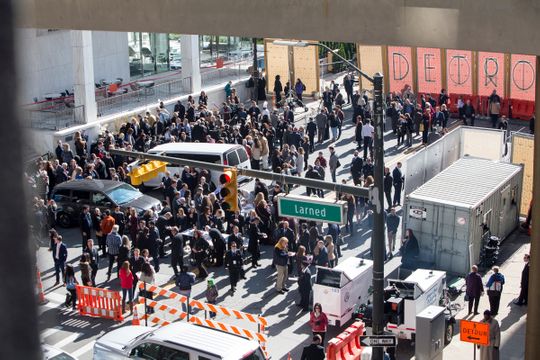 Here you can see the applebox shot from this yanking.
Here again, the roster was less than impressive. Remember, according to Tom Cruise, David Miscavige stands above all leaders on earth, and he knows because he has "met the leaders of leaders, met them all."
So, they rounded up the President of the Michigan Roundtable for Diversity and Inclusion, the  "Mentor Director" of InvolvedDad, a Civil Rights Attorney who spoke about CCHR (she was given a "human rights" award by CCHR a few years ago) and finally a retired Michigan State Rep who spoke about WTH (that NON-religious moral code…).
When scientology holds events away from the West Coast or Florida, things are always VERY thin. They just cannot import enough people from their only remaining concentrations of staff and members in Southern California and Clearwater.
When Miscavige has to put himself in the real world, rather than in a tent at St hill o ron the Freewinds the pretense is exposed and that green curtain he hide some behind is exposed as tattered and see-through.