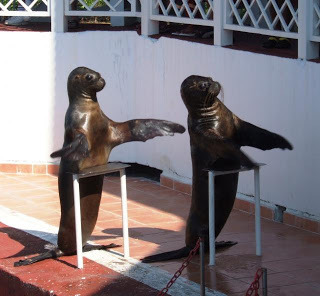 Another report on the glorious wonderment of flag and its incredibly impressive statistics (unless you actually think about them rather than just read the exclamation points and assume it's "amazing").
The clubbed seals are applauding loudly.
This dose of donkey droppings presented as plum pudding comes from Sabine Peschken, once the CO WISE International. She fell from grace many years ago, but I had not heard of her until she reappeared as a Flag money-grubber in Australia.
Here is her gibberish, followed by some comments:
THIS IS THE 1 YEAR ANNIVERSARY
OF THE FLAG BUILDING OPENING

Exactly one year ago Chairman of the Board RTC pulled the ribbon of our new Flag Building and sent us soaring into a world where the results have been exponentially extraordinary.

Within just the first month of Flag Building delivery, 4,000 Scientologists started on a service.

Which made for a total of 1.3 million student points a day!

30,000 well done auditing hours…

60,000 hours of delivery from all of Flag's services…

And the realization that we are on the brink of a new civilization with the doors now open to LRH's vision for World Clearing!

First of all, there's what the Golden Age of Tech Phase II is really all about:

Training!

One year of Training delivery in the Flag Building has meant…

–More than 500 Student Hat completions,

–Nearly 300 Academy course completions…

–And most importantly, fully trained and perfectly standard Flag Auditors who CAN audit!

Let's go to August of 2014 where we saw the very first co-audit TWINSHIP to both travel through the NED Auditor Course and CLEAR each other along the way!

But in total, the Flag Academy has taken this first year of Golden Age of Tech Phase II Training and blown it out the top.

Because they have now completed 310 Grade Chart steps with Academy auditing and already made 9 Clears in time for this celebration!

And with all that, Scientologists continued to flow up the Bridge in the Flag Building HGCs:

Every 5 minutes, it was another Grade Chart completion…

And all towards the glorious state of Clear.

That's why it was no surprise to see waves of Clears being made, at a rate of more than one a day…

And the grand total of Clears surpassing any previous highest ever in Flag's history.

467 Clears made for a tidal wave which stretched over to the Flag AO, where the number of Clears and pre-OTs staying at Flag until they are on Solo NOTs doubled in six months flat.

And with the Golden Age of Tech Phase II delivery in the AO course rooms and the OT Meter in full use by Flag's Solo Auditors it made for a boom at the upper levels.

In which a staggering 1,149 OTs were made and a total of 422 New OT VIIs just since the Flag Building opened and the Golden Age of Tech Phase II was released!

And so we come to what the Flag Building is all about, and that is:

The delivery of the Flag-only Rundowns.

L's delivery reached an entirely new range and saw a full 38 Ls completions in a single week. The Ls HGCs are on an absolute roll, because they've already completed their one-thousandth Ls completion for this anniversary celebration.

The Cause Resurgence Rundown likewise kicked into high gear. Scientologists from 49 nations and speaking 18 languages arrived to experience the first spiritual therapy on the whole track.

Together, they have made for over 90,000 hours of spiritual therapy… And completed over 900 from the rundown in this first year alone!

And if all that wasn't enough, there are the rundowns which put World Clearing within reach.

By September, not only had 100,000 hours of Super Power delivery commenced but 50,000 perceptics drills were completed – and —

10,000 Super Power rundowns were now a total DONE.

And in the here and now, it all amounts to this:

The first 1,164 Scientologists are now DONE with Super Power…

All in the first year of Flag Building delivery.

Just this past week alone, we had:

–Affluence training completions at 114 and highest ever auditors made…

–No less than 22 SRD completions…

–A full 30 L rundowns completed

And another staggering 16 Scientologists achieving the State of Clear…

*****

And this concludes your update of the Flag delivery and what is being accomplished in our new Cathedral. You are all invited to come to Flag. If you are in and around Sydney, come and see the Flag World tour on the 20th of December and find out more.

Regards,
Sabine Peschken
Flag Service Consultant
ANZO & Africa
Based on the first lie she foists off — that there were 4,000 people who started on service in the first month of the building being opened — there are some curious things that follow.
The grand total result of the 4,000 starts (*assuming that not another single person started for the entire year) was 500 Student Hat Completions and 300 auditor completions (of course ALL the auditor completions HAD to be student hat completions).
So, 500 of the 4,000 are accounted for.
They made 467 Clears (though a bunch of those probably also completed the Student Hat).
We can ignore the OTs and OT VII's because they are at the Sandcastle, not the SP Building.
There are 1000 L's completions — but many of those no doubt completed MORE THAN ONE L, and most probably also completed the Student Hat and a good percentage were counted on the Clears. So, just for the hell of it, say there are 300 people that completed one or more L's that did not ALSO complete Clear or Student Hat. So, that leaves 3200 unaccounted for.
There have been 1164 SP completions, though no report on the Running Pgm. And again, plenty of these are duplicative. But even if we count the entire 1164 there are STILL half the 4,000 that apparently blew off and didn't complete anything in a year.
1164 SP completions is 22 per week. For a $200 million dollar building this is a pretty bad return. And they have only gotten 1,000 or so out of the claimed 10,000,000 scientologists through the "most important rundown vital for world clearing."  That is .01%. Or to put it another way — at this rate it is going to take 10,000 years to wrap up the existing scientologists on SP.
And THIS is the good news. Put enough exclamation points and explain how amazing/incredible/monumental it is and they apparently buy it.
But the truth is that the "good news" they disseminate these days is the best evidence of the continuing fail that is the church of scientology. Their OWN FIGURES constantly hoist them on their own petard — but they are told they are raising Old Glory and stand around saluting….
And it is not just the staff who spread this disease of self-deception. The public are contaminated and they are encouraged to spread it to others.
I don't know what Kristin Toth's native tongue is, but you can get the gist. The same "good news" stats are given to the public to put on Facebook.
Tell them it's plum pudding and they eat it up as fast as it drops out the back of the donkey.