Further on the blog post from yesterday (Miscavige Schmoozing City Officials) — some important points I omitted to mention and an update.
First: Why were these 3 city officials at the meeting? As I said yesterday, Miscavige considers Bill Horne and Pam Aiken to be his buddies. But the real reason is that they are not ELECTED officials.  If there were two ELECTED officials in the room it becomes a "public meeting" subject to the Sunshine Act laws. Bill Horne and Pam Aiken are very well aware of this. They were complicit in making sure this meeting was not one that had to be reported.
This is a good reason why the Strong Mayor initiative may have had particular value to Clearwater. With a strong Mayor who actually runs the city, and is also an elected official, you couldn't circumvent the Sunshine Act laws by speaking to the de facto heads of the city in secret. Though the City Manager is appointed by and ostensibly runs the city at the service of the Mayor and City Council, he is pretty much the guy in charge of everything. Bill Horne and Pam Aiken are paid around $200,000 per year. The part-time mayor earns $25,000.
I note how quickly Miscavige summoned the city to appear after Tracey McManus' article ran on 20 October. By 5 November Miscavige had flown into town and had the city leaders sitting before him in his conference room. He hadn't felt the need to make ANY effort to speak to the city for nearly 3 years, all the while properties were being bought at an alarming rate. Now suddenly he feels the need to talk. Confronting and exposing bullies is what brings them to the table, not trying to be nice to them and hoping they will leave you alone.
I also omitted to comment on Michael Delk's naive statement "He [Miscavige] reiterated on many occasions that their objectives were the same as ours: to have a successful downtown."
Unless the City of Clearwater now wants exactly what scientology wants — for Clearwater to be known as the first scientology city — this is an absurdly uninformed comment.
Scientology only EVER wants what is good for scientology. They KNOW, whether "the wogs" understand it or not, what is good for everyone. And what is good for everyone in their eyes is what is good for scientology. Period.
Sure, scientology would love to have a "successful" downtown. They would be happy if there were businesses in downtown, as long as they agreed with everything scientology does and says. Look how happy they were about having Clay Irwin downtown…
And now the Tampa Bay Times — the same Times scientology accuses of being THE block on the development of downtown — has weighed in with a laudatory Editorial Board take on Miscavige's efforts. Note, the Editorial Board and the newsroom are two VERY separate worlds.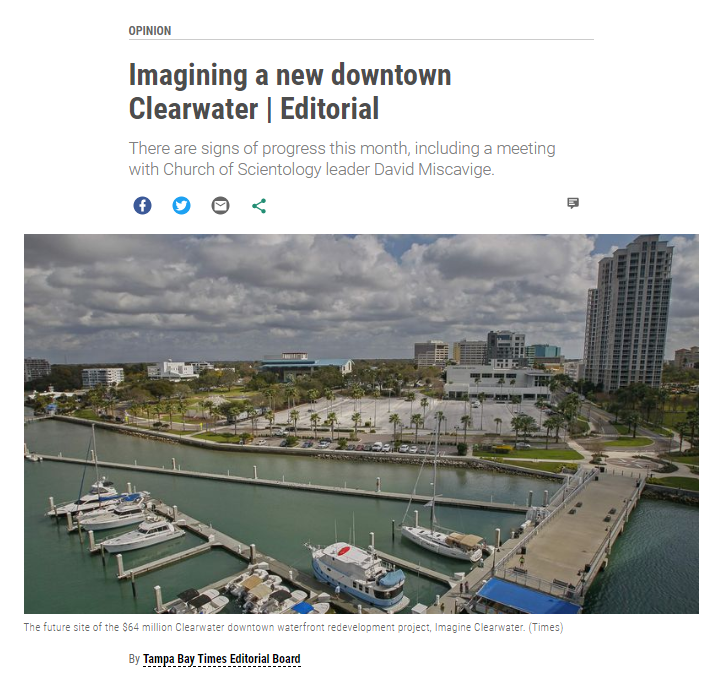 They try to be encouraging about the likelihood of revitalizing downtown, and proclaim: One of those significant steps is renewed communication between the city and the Church of Scientology, which is key to the long-term success of redevelopment of the downtown area largely controlled by the church and its followers.  And they also included the line: Duggan's interest reflects the value of that site, and she should not be discounted because of her affiliation with Scientology. Perhaps the Freedom mag assault had the desired effect after all?
I rarely take issue with the TBT news coverage of scientology and generally agree with their Editorial Opinions. On this one I beg to differ.
They have fallen for the schmooze or the threats or a combination of the two. There is no comment on the fact that Miscavige offered no explanation (or apology) for acting like a spoiled child when he unilaterally abandoned his promised downtown redevelopment and revitalization plans because the city bought a property he wanted. If he had been sincere about revitalizing Cleveland St as he claimed how did not owning a property two blocks away change that? Also ignoring that there are no answers about the intent of the land grab that has taken place since that time is inexcusable (let alone that the city officials didnt even ask).
The reason Miscavige "opened the lines of communication" to the city has nothing to do with the good of Clearwater. He did so because he was exposed and felt he had no option but to try to schmooze his way through the growing resentment in the city. He wanted to shore up his allies. Either that, or he has determined scientology now owns virtually every available property in downtown Clearwater so he is in a position of unassailable strength and can simply start dictating his terms. But as there is no record of the meeting it's anyone's guess. Either way, the reason for this meeting had nothing whatsoever to do with what is good for Clearwater. That was not part of the equation. The only thing it was good for was Miscavige and scientology.
To pretend otherwise is naive.
You don't deal with bullies by thanking them for taking the time to speak with you. Sociopaths do NOT have your best interests at heart even when they smile and act nice.
Again, I reiterate the urgent need to get someone onto the City Council who understands scientology and is not intimidated into silence or tacit agreement by their bullying. That man is Mark Bunker. The only person running for Clearwater elected office that has the track record to prove it. If you want him to be elected, go to his website markbunker.com.