Follow up to post a few days ago OT IX & X: Promises, Promises, Promises where I covered the announcement from Captain Miscavige in 1995 of the requirements for the "release" of the non-existent OT IX and X.
That prompted a reader to send me this letter from 1993 where he had earlier laid out the prerequisites for OT IX.
Class VI or Class V Grad
FPRD Auditor Training Course
Hubbard Senior Security Checker Course
PTS/SP Auditor Course
Happiness Rundown Auditor Course
PDH Detection and Handling Course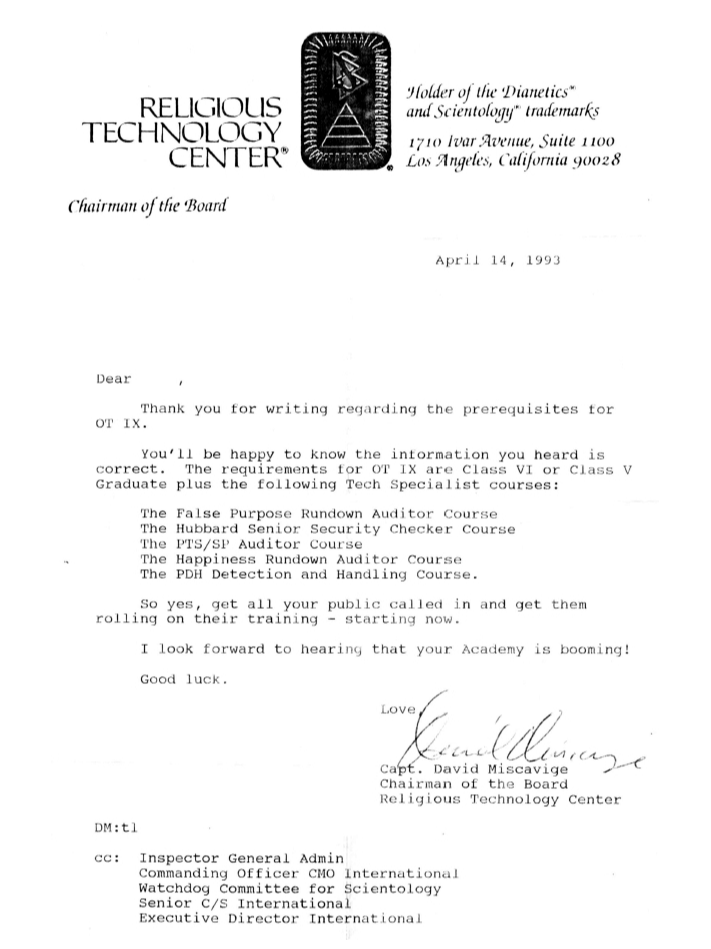 That sounded good at the time.
No public person had done all those courses, so it seemed like it was a safe demand. And of course, it would make money with OT VIII's having to buy training courses (which are cheap to deliver but not to buy).
But within 2 years, Captain Crunch was having a bad realization.
What was he going to do if someone DID finish those courses and inquired about starting OT IX? It could cause dissension in the ranks…
That's when the goalposts were moved. Out of the stadium, out of the city and across the country. No longer would the requirements be limited to individual training, now he would add all orgs the size of old St Hill and a "safe environment."
So much for OT IX and X.
Bait and switch is too kind to describe this.
More like taunt and trick.
And 25 years later the clubbed seals are STILL buying it.
I wonder if they don't ever think "If these are the real OT levels, don't we need some real OTs who can help expand scientology and make a safe environment? Isn't this having to have before you can do?"
Or even given any thought about Hubbard's oft quoted My Philosophy where he rails against "wisdom" being locked away in ivory towers and not made available to the people?
The OT VIIIs of the world are not demonstrating much awareness or ability to think…