Yanking those ribbons has become a staple of scientology internal propaganda. Of course, though this is their proudest moment demonstrating their massive international expansion, no outsiders are ever allowed to attend and there is massive security presence to ensure they cannot.
These are often timed to coincide with events — either a few weeks before in order to include in the upcoming event, or shortly afterwards for the convenience of the Chairman of the Bored (as in Amsterdam, Birmingham and Ireland most recently). Now, with the March 13th standing-ovation-athon done and dusted (one of my favorite British idioms) it is likely Miscavige is in his winter residence in the corner turret of the SP Building right in Clearwater.
It remains to be seen if he will grace the masses with his presence for such a non-event. But then again, two years ago he yanked his ribbon in front of the West Coast Building and the old Lee Arnold building across from the Clearwater library — perhaps the emptiest building in the history of scientology after Bonnie View (L. Ron Hubbard's mansion at Golden Era)…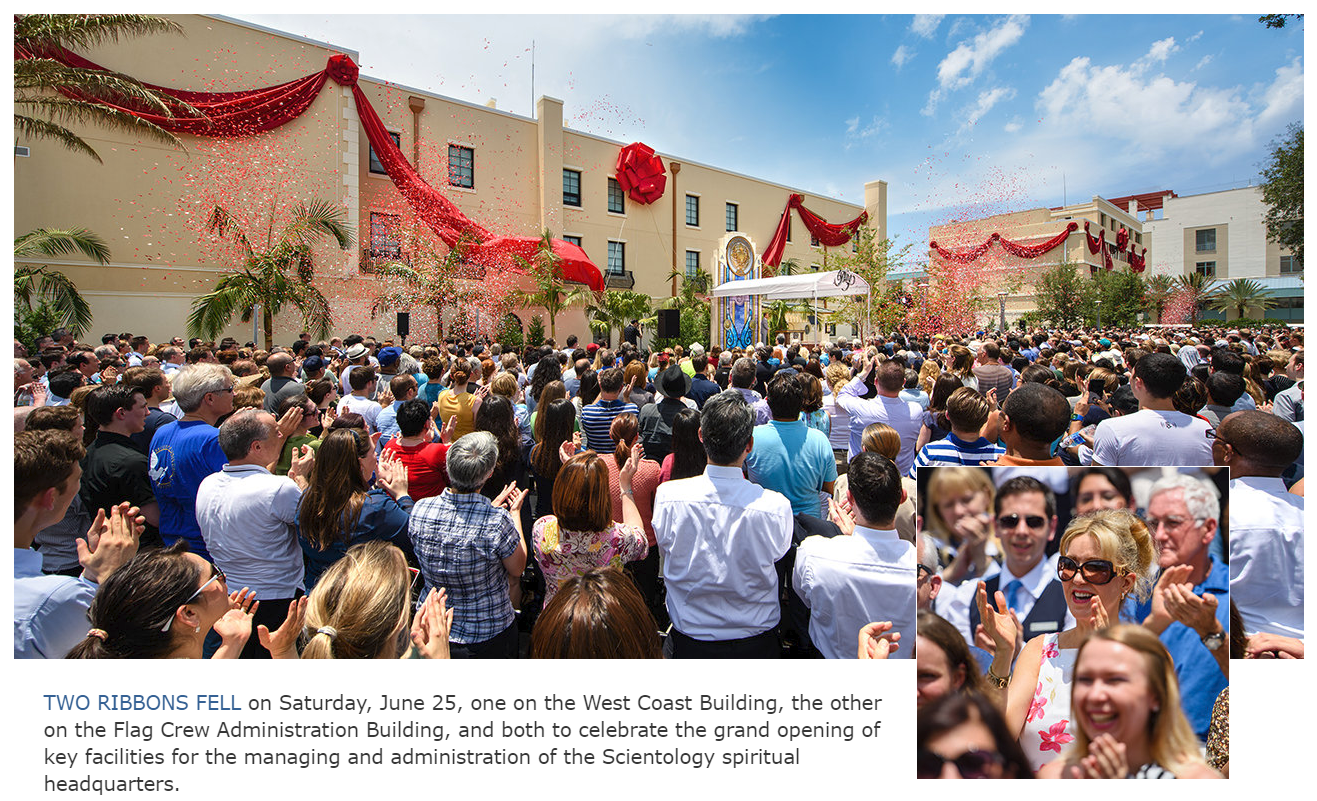 The Lee Arnold building is supposed to house the administrative offices of "Flag Crew" — the hotel and staff servicing organization. This is like putting the administrative offices of the Holiday Inn in a different building half a mile down the street.
The Lee Arnold purchase was a straight up real estate investment to help create more "perimeter" around the scientology empire. They had NO use for it. In fact, nobody was even looking when the ribbon came down on this building. It was tossed in as an afterthought.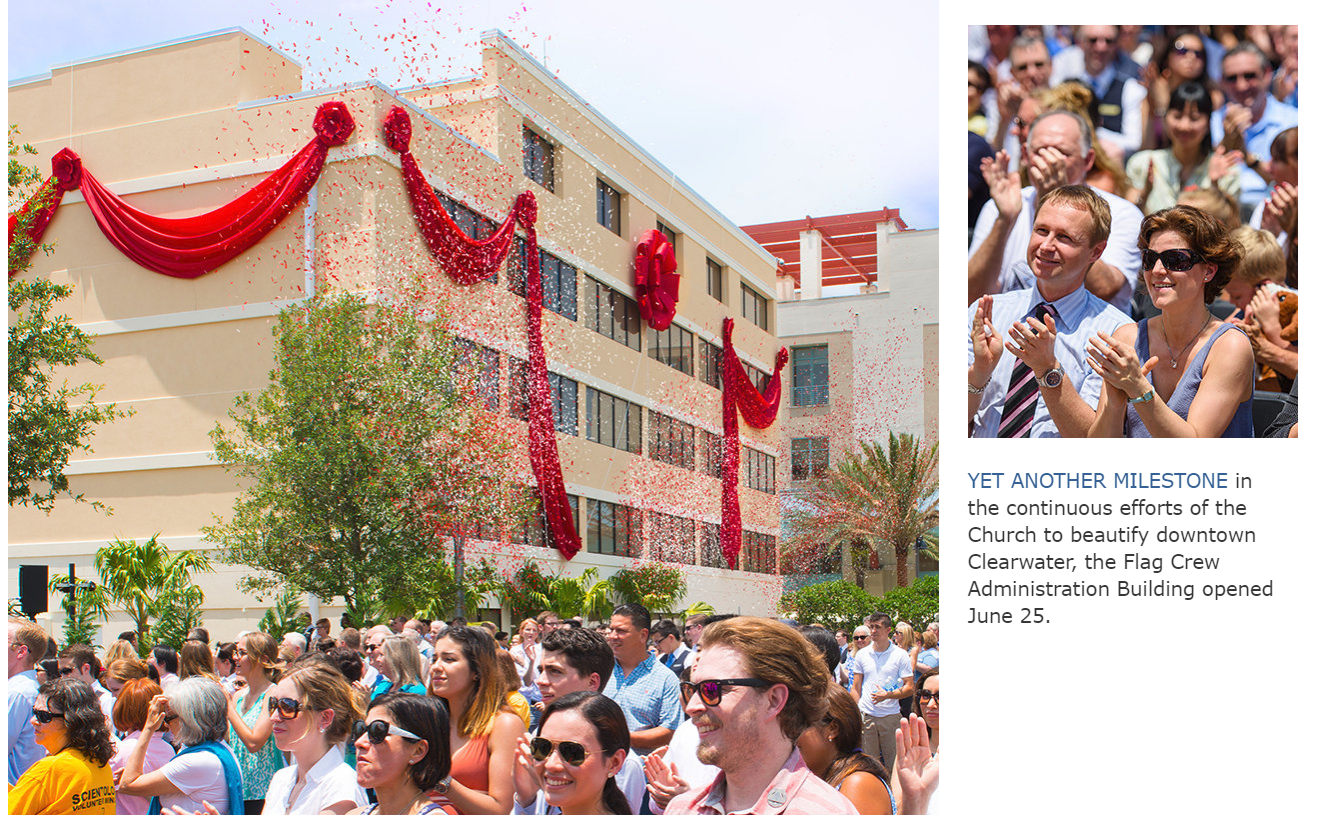 Similarly, they had no use for the "Aquarium" lot though they claimed they wanted to build a swimming pool and playground on it. Or the old Checkers location which is now an empty "park" that nobody frequents. Or the "park" next to the Ft Harrison parking garage. But each was next to property they already owned, so they wanted it. They gussied up the Lee Arnold building with a facade that it is "office space." (If Flag Crew really needed office space that they couldn't find anywhere in the Ft Harrison, they could have skipped across the bridge from the Ft Harrison and grabbed an office or two in the basement of the SP building where they feed the Sea Org crew).
And now comes the next act in the long, slow play to take over every piece of property in downtown Clearwater.
Two more useless buildings being added to the Potemkin Village along N. Ft Harrison Ave.
They have systematically bought every piece of property as it becomes available on N. Ft Harrison and converted them into props for "Social Betterment Activities." These buildings have lights on and a receptionist — but are otherwise bereft of people (the Lee Arnold building doesn't even have that). This is an entire block of empty buildings – albeit with DisneyWorld facades to the street. I guess some might argue it is better than the empty storefronts on Cleveland St. Those are depressing. N. Ft Harrison is creepy — like you landed on the set of the Stepford Wives or The Truman Show. I think the majority of Clearwater residents would prefer depressingly empty than shouting "we are owned by the cult"…
And now, this.
The old law office on the southeast corner of Drew and N. Ft Harrison is now to be the "Community Volunteers" Center? Someone had to think hard what they could call this place. This is literally a made up pretended use for this place. Joanie Siegel IS the "Community Volunteers" and she organizes "Winter Wonderland" in the empty park across the street each December.  They have no more need for a building than the Flag OT Committee. If they really need a place to get together, there is plenty of space in the West Coast or Lee Arnold buildings across the street — or one of the Potemkin Village storefronts along N. Ft Harrison.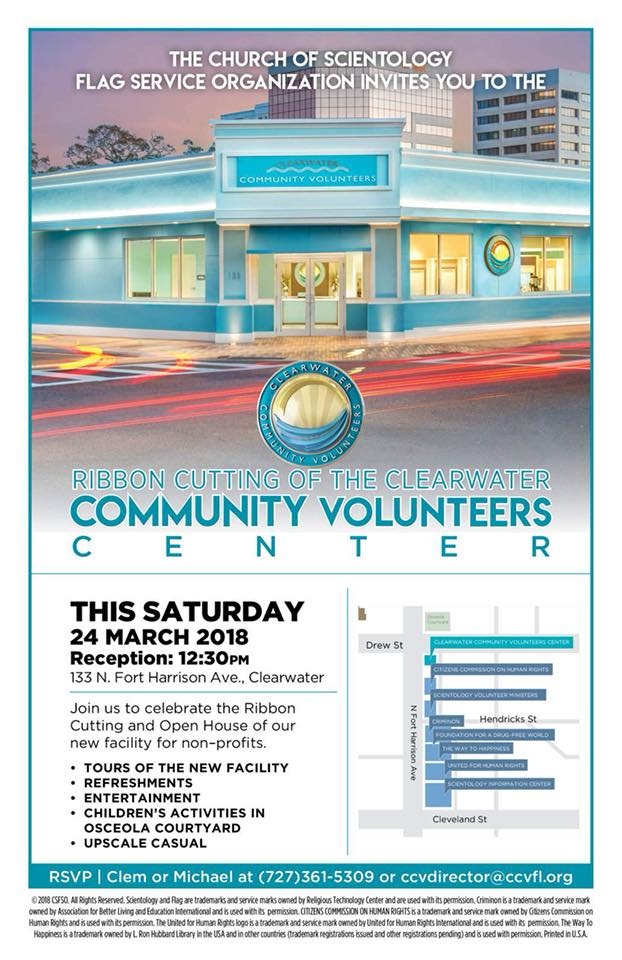 And then some more AMAZING NEWS!!! There is ANOTHER ONE TOMORROW! OMG…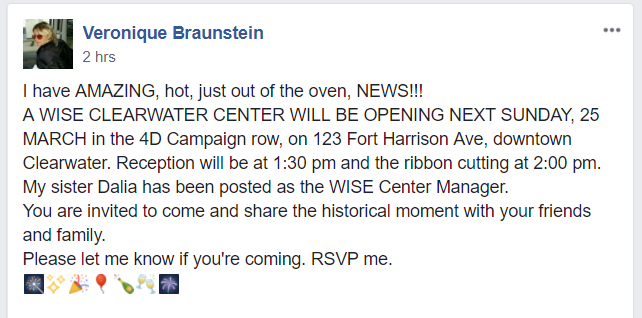 WISE — I assume they are paying rent to someone for this place as this is no church facility. Just to be legally safe. Obviously it is part of the scientology family otherwise this WOULD be the new home of the Clearwater OT Committee or the scientology boy scout troop. Legally, they need to pay rent and that may well plummet them into insolvency.
The question remains whether He Who Shall Not Be Named will put on one of his hand-made suits and grace the adoring crowd with his presence.
It's probably unlikely as I don't see how they can guarantee he will not be seen by the public in either of these locations — and the thought of the filthy masses of unwashed wogs being able to gaze upon his presence, let alone shout out questions, is probably enough garlic to keep the vampire at bay. But you never know. The opportunity to be front and center for a ribbon yanking is a big temptation for sure.
Observers in Clearwater will be sure to keep us informed.
UPDATE: It was extremely disappointing turnout. Not only was Chairman of the Bored nowhere to be seen, neither were scientologists. There were more security personnel and Sea Org members trying to find possible recruits than there were any public who would actually use the "Community Volunteers" building.
Thanks to Rod Keller for this image of the impressive ribbon yanking ceremony…