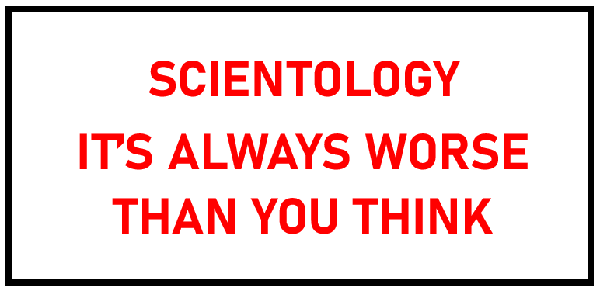 I don't normally use my blog to simply promote other stories by scientology whistleblowers,  but this morning is an exception.
First, last night, Mat Pesch put up a new YouTube video with the latest news from one of his inside sources at the FLB. He has a lot of information about specific individuals, but ends with a bombshell about Miscavige's direct involvement in the "Chase Wave" and how he sent one of his personal staff who was directly involved out of the country. It is quite remarkable the level of detail Mat is getting…
Then this morning, Tony Ortega posted an update on one of the most heinous cover-ups in scientology's history concerning a child care facility in the LA area.
One of the mothers, the ONLY one who refused to follow orders from the infamous Julian Swartz not to report this, has now come forward to tell her story — not just about this incident but how her family has been torn apart. She is someone very dear to me — I have known her since she was little, her mother used to babysit ME when I was a child. She has been refusing to buckle under to scientology pressure for a LONG time (they demanded she stop communicating with me and she told them to take a hike) and because her daughter is now of age she has come forward. It's another round of the oft repeated "Scientology, it's always worse than you think."