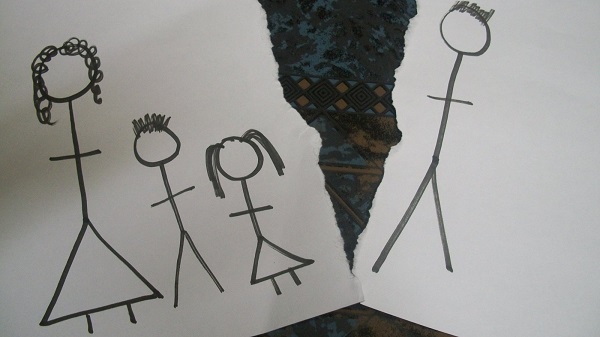 This is right from the scientology.org website under their "Frequently Asked Questions" answer on "What Is Disconnection?"
There is no policy in Scientology that requires Church members to disconnect from anyone, let alone family and friends who simply have different beliefs. To the contrary, the moral code of Scientology mandates that Scientologists respect the religious beliefs of others. The Church encourages excellent family relationships, Scientologists or not, and family relations routinely improve with Scientology because the Scientologist learns how to increase communication and resolve any problems that may have previously existed.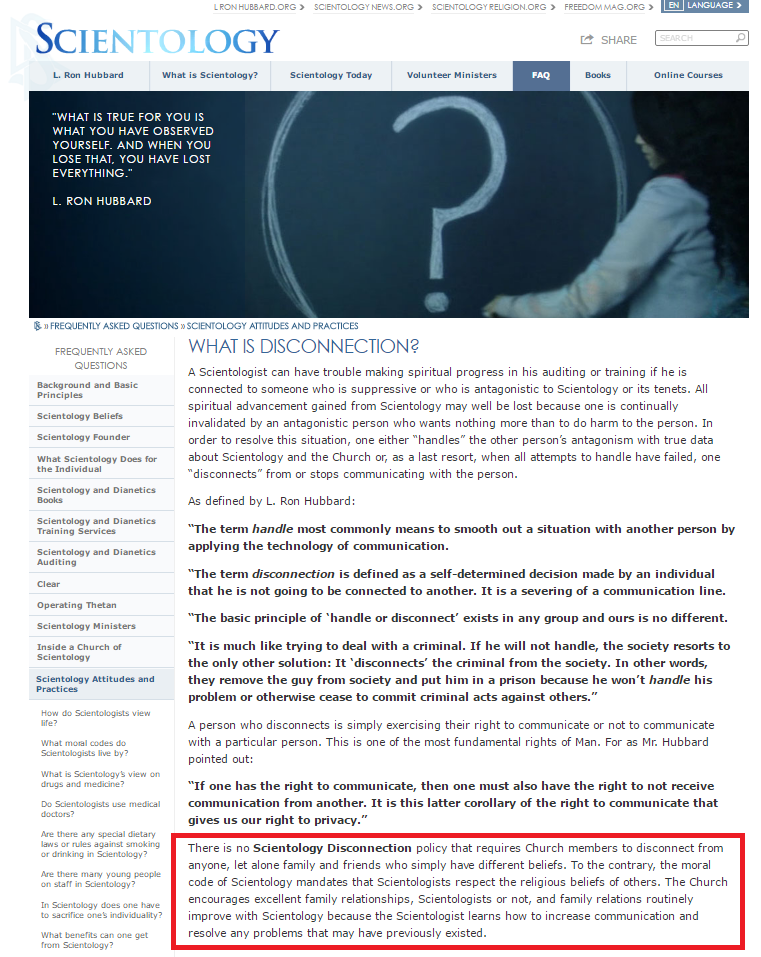 Well, I beg to differ.
There is absolutely FIRM, UNSHAKABLE "church policy" that REQUIRES scientologists in good standing to disconnect from anyone the church deems to be a "suppressive person."
This is what it says exactly in Hubbard's policy letter and in their handbook on all things ethical, Introduction to Scientology Ethics.
These are considered Suppressive Acts:
Continued adherence to a person or group pronounced a Suppressive Person or group by HCO
Failure to handle or disavow and disconnect from a person demonstrably guilty of a Suppressive Act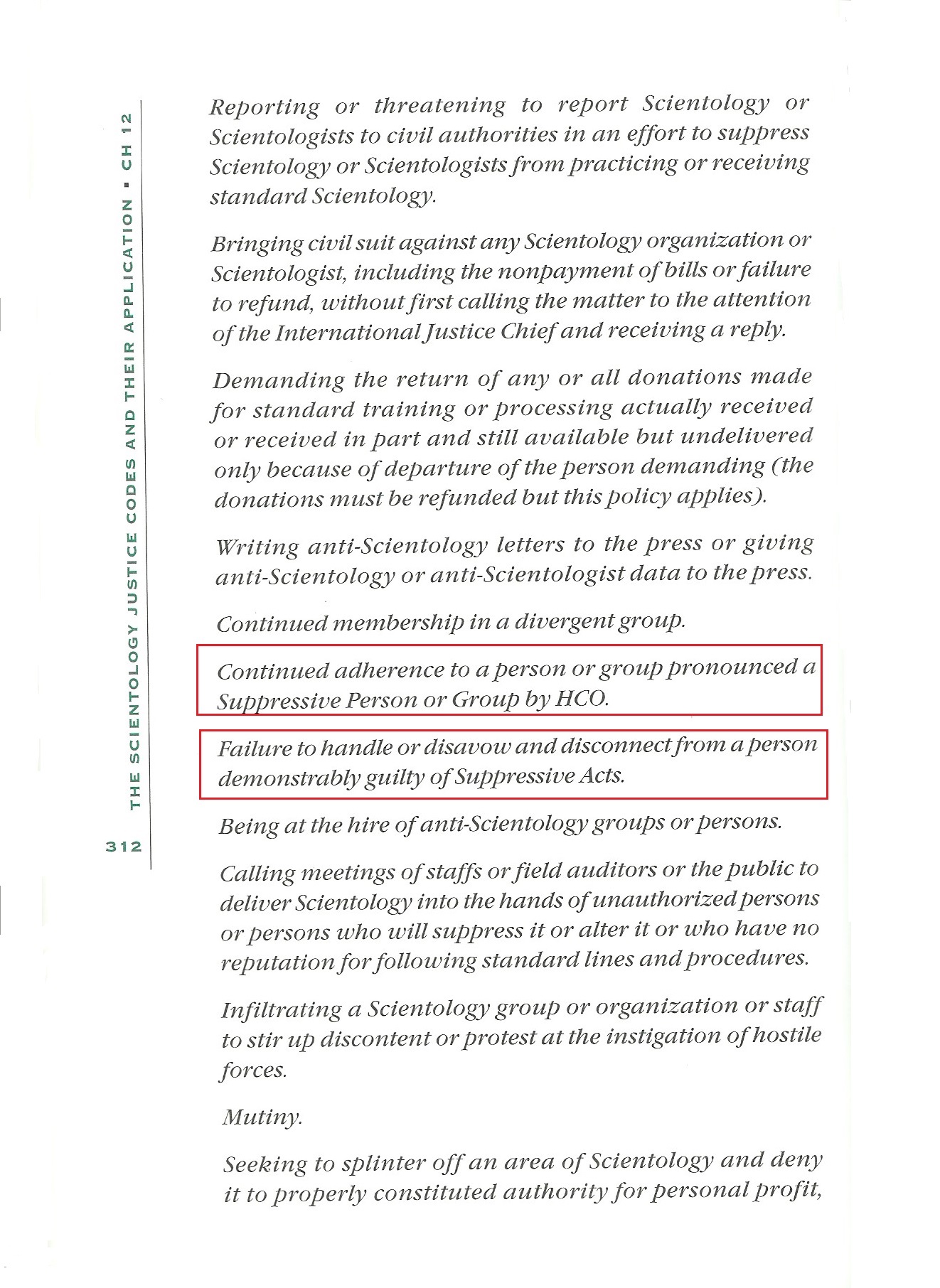 The result of committing a "Suppressive Act" is to be declared a "Suppressive Person" and meet the same fate yourself — scientology will order every scientologist in good standing to disconnect from you.
Here is an example of such an order. This is a MOTHER being ordered not to communicate with her SON. It is one of thousands of examples of this practice, though usually scientology is more careful not to leave any paper trail: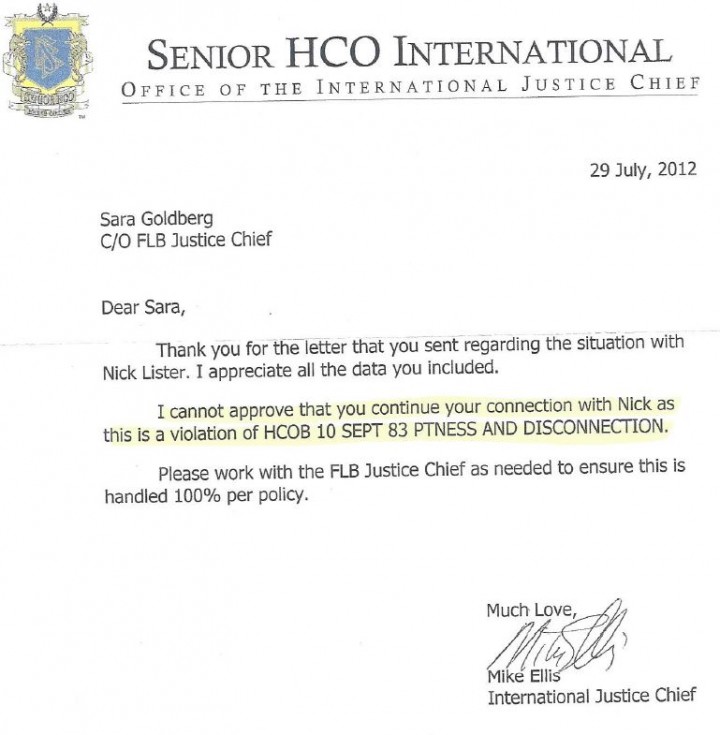 What is amazing is that scientology does not have the conviction of its beliefs.
Why not simply say "Yes, we require our believers to disconnect from those who are critical of scientology and anyone we deem undesirable, because it is our firmly held religious belief that it is spiritually beneficial, and if anyone does not like it they are free to follow some other belief system." And of course, therein lies the crux of the problem. IF scientology made clear to people that they might be arbitrarily ordered to disconnect or might have others ordered to disconnect from them, or that their problems and illnesses stemmed from being infested by body thetans and the story of Xenu, a lot of people would head for the exits. And that would be bad for the bottom line.
Scientology stands on the conviction of its beliefs only when it helps the bottom line. They will fight to the death not to turn over pc folder data if it is damaging to them in a court case, and turn around and use it with reckless abandon if they think they can get away with it. The ONLY true conviction in scientology is to protect potential income. Period. All decision-making is oriented to that single objective.
But even in the face of that, it is still hard to fathom why they think it is a good idea to blatantly lie, in writing, on their official website, when it is so easy to prove the lie?
If they cannot be trusted with such a straightforward "fact" how can they possibly be considered trustworthy respecting anything they say?
They can't.
Additional Note: An earlier post, entitled Why Do Scientologists Lie? is worth re-reading in conjunction with the above. It explains the motivation to lie.