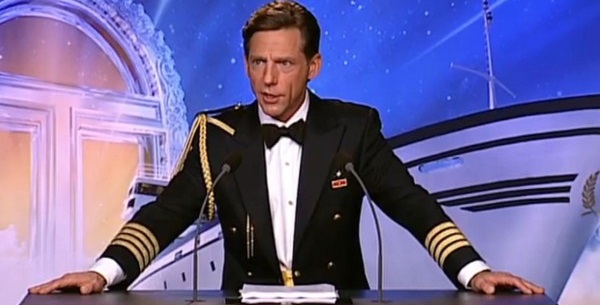 Captain Dave the Hermit, isolated in his Truman Show world, is steadily becoming more unhinged.
The image of the letter below was posted on Facebook.
To begin, apparently he thinks a letter from himself is something of a work of art, all fancied up like one of those dime-a-dozen proclamations Mayors hand out.  I can't really tell if that image inside the "D" is supposed to represent an outline of his profile and bouffant? Whatever, it's pretentious any way you cut it. Like this is some great work of art.
Then there is the "substance" of the letter itself.
Mr. Know-It-All as put into words by the Sherminator. The tell-tale silly wordiness: "Because, after all…" and "…still the stuff of legend" blah blah. But the arrogance of "Don't worry, I won't have any trouble in recognizing the return of a giant!" is pure Miscavige hype. He actually doesn't have any better idea than the rest of us, but he is going to make it seem like he has super OT powers or some super secret tech from the Old Man. He just HAS to sound important and all-knowing. It's a ridiculous assertion that is included to make himself look good in the eyes of scientologists.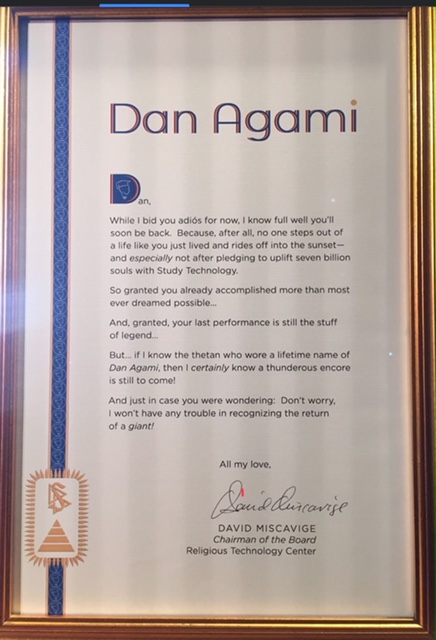 But what is MOST remarkable about this, is why he wrote something to be published about Dan Agami — because his family remain whales, this little framed letter probably guarantees another $10 million to the IAS.  Yet he never said a word about the passing of Annie Broeker, Lyman Spurlock, Maria Starkey, Phyll Stevens or any of the senior Sea Org members who gave their LIVES to scientology, not just some of their money. Ah, the true priorities of a "religious leader."
And speaking of religious leaders. It has become increasingly apparent since 2007 when he launched the new "Miscavige version" of Hubbard's books, that he no longer worries that the Commodore is following the Sea Org motto of "We Come Back." Hubbard is way overdue at this point, one can safely assume that he isn't ever returning (after all, Dave WOULD recognize the return of a giant). So, now the Ron's Journals have been officially replaced by Special "COB Briefings," and the transition from Joseph Smith to Brigham Young is complete.