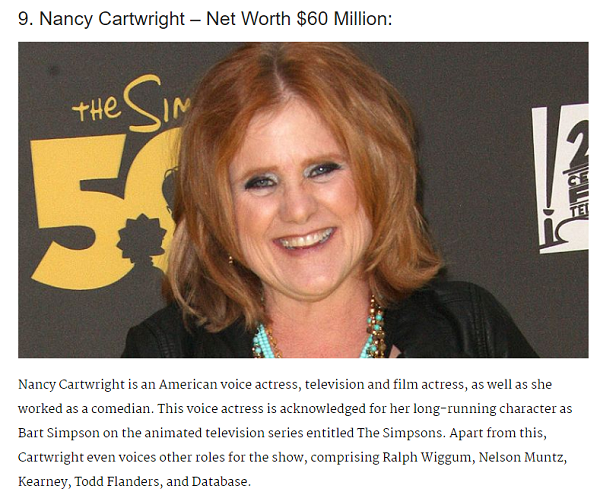 Nancy Cartwright has long been a prominent "fundraiser" for scientology ideal orgs.
Not that she hasn't given plenty of money herself. She was the single reason Valley Org was able to buy and renovate that monstrosity on Burbank Blvd that sits empty as a weekend flea market on Wednesday (every day of the week). For a long time they didn't mention her name at all. Then she was known as "Our Royal Guv, Princess Warrior and official Valley Rockstar Goddess" and various other equally insane "titles." Eventually she just started appearing as Nancy Cartwright, fundraising pitch woman for Ideal Orgs as far away as Columbus Ohio.
They say her net worth is $60 million. Seems a bit low. 650 episodes of the Simpsons has generated a LOT of money for her. At the outset the main voice actors were paid $30,000 but as it became a hit, the pay levels rose. This is from the Wikipedia entry:
The six main actors were paid $30,000 per episode until 1998.  From 1998 to 2004, they were paid $125,000 per episode. In April 2004 their salaries increased to between $250,000 and $360,000 per episode.  In 2008, the salary was raised to $400,000 per episode. Three years later the cast members accepted a 30 percent pay cut, down to just over $300,000 per episode.
Let's take it as an average of $200,000 per episode for 650 episodes = $130 million. And the money continues to roll in.
Yet, instead of just paying for the renovations herself if she thinks it's so important, she pushes other people to stretch their finances and uses her money as an incentive to get others to hand over cash: "If you give $10,000 I will give $10,000" which is the ultimate "shill" and a technique used by scientology fundraisers routinely. They effectively double the hit on a whale. And people are made to feel embarrassed about their lack of contribution when "Nancy has given so much."
You have to wonder whether she EVER thinks about the people who stretch themselves so thin that they end up filing for bankruptcy? Or losing their home? Or being unable to pay their medical bills?
You can be sure SHE is not having trouble covering her bills. Yet, she is helping "encourage" (perhaps shame) others to give more than they can afford.
Come on Nancy, this "Match Game" stuff is gross. Why not just pop off a $10 million check and let Ventura ideal org be a "Done Sir"? If it really is THAT important?
But, just one final question.
Have you BEEN to the Valley "ideal org" ever? Just dropped in unexpectedly to see how your money has boomed scientology?
I didn't think so. If you ever set foot inside the Valley Org they would be sending out promotion pieces announcing it for weeks afterwards….
Been to any of the other "ideal" orgs and seen how empty they are and how a new building has done NOTHING to change their non-impact on the world?
I think Nancy needs to be assigned to write on the blackboard 100 times: