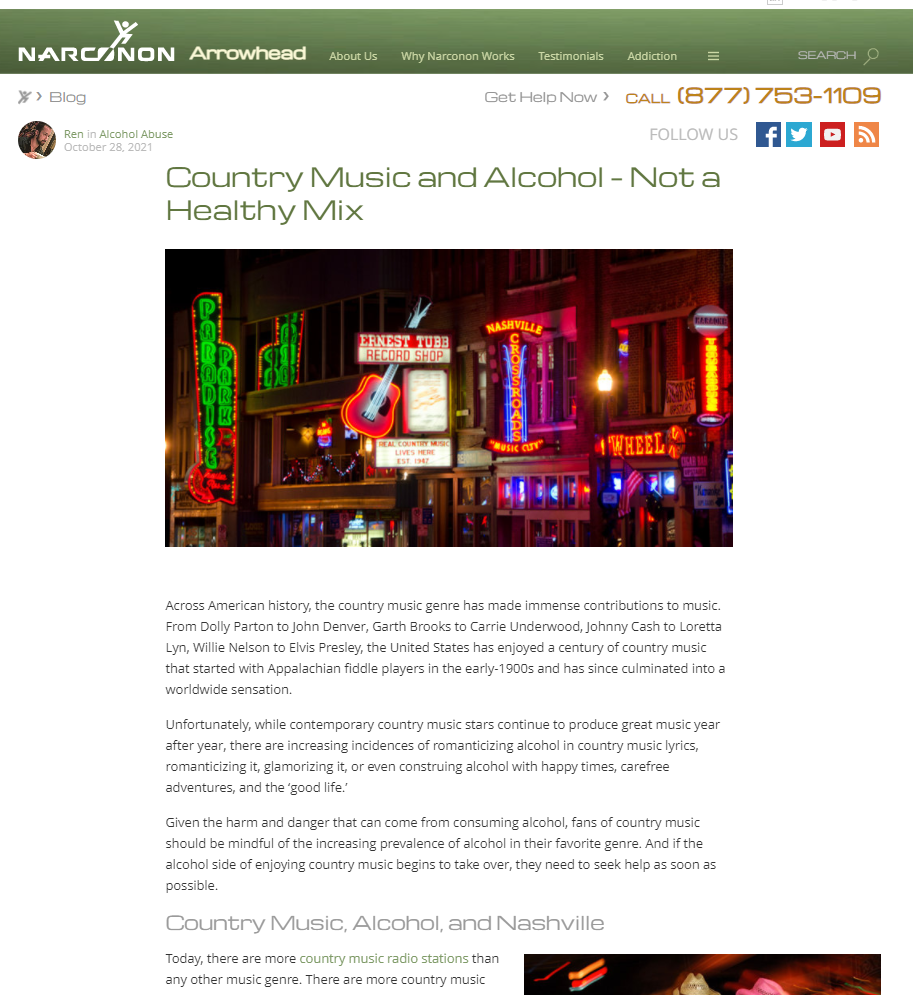 Scientology and its front organizations (like Narconon and CCHR) live in a world disconnected from reality. They seem oblivious to the absurdity of things they say and positions they take.
Narconon is now beginning to sound like prohibitionists, targeting county music for "romanticizing alcohol."
Unfortunately, while contemporary country music stars continue to produce great music year after year, there are increasing incidences of romanticizing alcohol in country music lyrics, romanticizing it, glamorizing it, or even construing alcohol with happy times, carefree adventures, and the 'good life.'
Given the harm and danger that can come from consuming alcohol, fans of country music should be mindful of the increasing prevalence of alcohol in their favorite genre. And if the alcohol side of enjoying country music begins to take over, they need to seek help as soon as possible.
For some unknown reason (maybe to fill space?) after this they go into details about the size and scope of country music in Nashville?
The city's music industry generates $15.9 billion per year within the Nashville Metropolitan Statistical Area.
About $5.5 billion of Nashville's music industry has a direct, local impact on the Davidson County economy.
Nashville has 190 recording studios, 130 music publishers, and 80 record labels.
There are 60,000 music industry jobs in the Nashville area, representing 15% of the city's private sector workforce.
There are four times the music-related employment options in Nashville than in any other city in the U.S., when measured on a per capita basis.
Proportionally, there are more music jobs in Nashville than in Los Angeles, New York City, and Austin combined.
They then list — as if to prove some correlation between lyrics in country music: "435 people were killed in impaired driving accidents in Tennessee, 4,604 were injured, all from 7,272 impaired crashes. These numbers are on the rise from 2017, 2018, and 2019, in which 348, 380, and 379 Tennesseans died in impaired driving accidents." Which proves absolutely nothing. They didnt even bother trying to get statistics for Nashville. Just the whole state.
I would guess these figures are not better or worse than any other state. But, of course, they provide no comparisons. I did a fast google search and came upon this site Drunk Driving Statistics
The first paragraph completely trashes the country music theory of alcohol addiction:
For more than two decades the Foundation for Advancing Alcohol Responsibility has been leading the fight to eliminate drunk driving and underage drinking. During this time drunk driving fatalities have declined 34% and among those under 21 the number of fatalities has decreased 66%. Underage drinking among the nation's youth has continued to decline with fewer reporting drinking each year – past month consumption decreasing 54% since 1991 – while the number of conversations among parents and kids has increased.
They also have a convenient map — Tennessee isn't anywhere close to the worst state: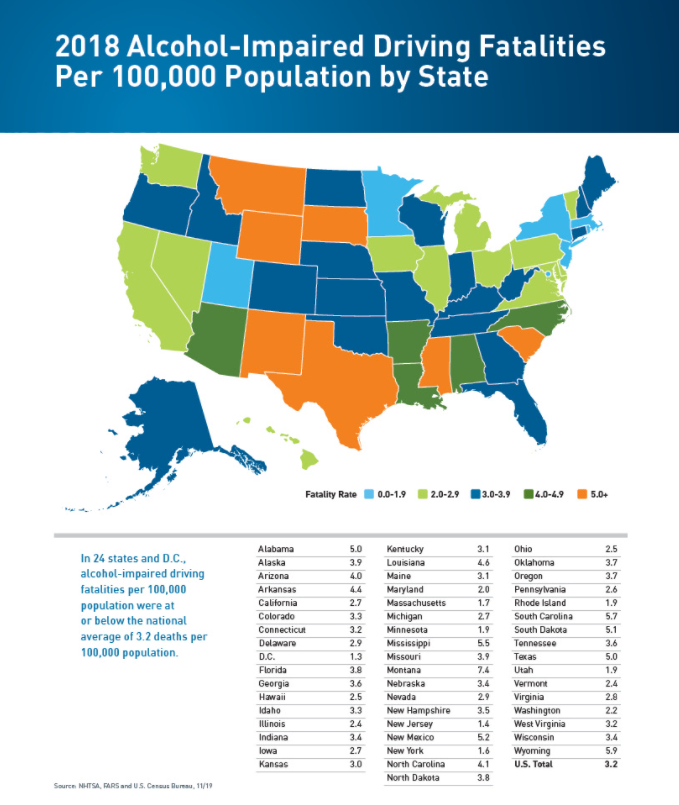 Oh well, so much for that theory.
Narconon also cite some lyrics — which is about as far down the rabbit hole as you can go. These lyrics drive people to alcoholism?????
And just for some context, here are a few snippets of famous country music songs that put a fair amount of emphasis on alcohol:
You're as smooth as Tennessee whiskey
You're as sweet as strawberry wine
You're as warm as a glass of brandy
– Tennessee Whiskey: Chris Stapleton
Blame the whiskey on the beer
Blame the beer on the whiskey
Blame the mornin' on the night
– It Ain't My Fault: Brothers Osborne
As lame as all of this is, it is made even more laughable when you know that Narconon relies on the Purification Rundown as the method of dealing with alcohol addiction. The Purification Rundown supposedly removes "drug residues stored in the fatty tissue."
Alcohol is extremely volatile. There is no evidence that drug residues are stored in fat tissue, but there is even less evidence of alcohol "residue."
In fact, there is exactly the same volume of evidence that Narconon is effective for treating alcoholism as there is that listening to country music will turn you into an alcoholic.
Maybe the person who wrote this was drunk?