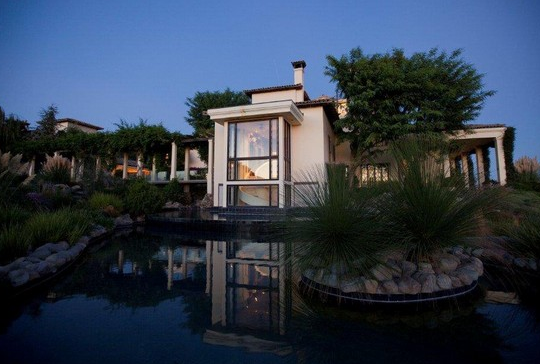 The big push is on — open the unwanted Narconon "celebrity/VIP" centers across the world so Miscavige has something to talk about at the IAS Event. This is the latest. Narconon Ojai… It's been a long time coming, but the heat is on now, because it's just a month til the IAS event. Tony Ortega first reported on it way back in April 2014 (where I predicted it would be a Celeb/VIP Narconon)…
And while Narconon, ABLE and the church scream like stuck pigs when the plaintiffs in the numerous lawsuits filed over abuses in Narconon claim they are part of "scientology" and are controlled by the church, here is just another example of what a lie that is.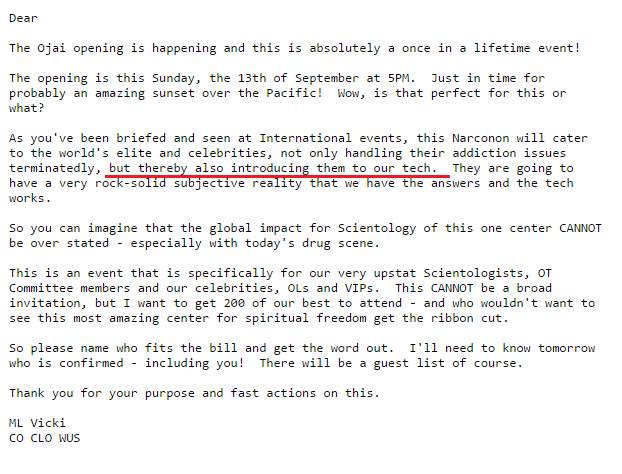 Desperate to get people there to be in the video, the CO CLO WUS sends out a last minute plea to anyone and everyone pitching them to be put on the list.  "This CANNOT be a broad invitation…" even though she sent it out to everyone she possibly could hoping she would get more than 200 people who want to attend and can weed out the riff-raff so Mr. Cruise and COB don't have to mingle with the hoi-polloi. But even more ctastrophic, if she can't find 200 people in the largest concentration of scientologists on earth, she will have to send SO members to fill up the shots. That means she will have to hire buses and they will waste an entire day going to Ojai and they won't be on post regging for the IAS and selling Basics and overstocks of Congresses from the Bridge warehouse.
But in the middle of her pitch about how important this is, and knowing it is going to "scientologists" (wink wink) the real reason for Narconon is laid out in plain sight: "introducing them to our tech."
Now, in this case, "our" tech is not "narconon tech" it is "scientology tech." Because "narconon tech" is THEIR tech, Vicki is NOT Narconon. It's a completely separate secular organization that has nothing to do with scientology.
Right.
The statement that an important purpose of Narconon is "introducing them to our tech" would come as NO SURPRISE to any scientologist. It is what they ALL think.
It only comes as a "surprise" to the attorneys trying to beat back the lawyers who are suing over the abuses their clients experienced at Narconon. They stand before the court expressing indignant amazement that anyone could claim that narconon has anything to do with scientology. The only lawyers that squeal louder than those guys are the ones in court shrieking that David Miscavige has had absolutely nothing to do with [fill in the blank] scientology organization ever in history.
The lies and disdain for the "wog world" don't diminish even when exposed. They just tell bigger lies to cover up their earlier ones.
Watch, at the IAS event Miscavige is going to talk about the MASSIVE INTERNATIONAL EXPANSION and that Narconon is the "fastest expanding drug rehab program on earth" and "has expanded 52.79X more in the last year than in the 75 million years previously." It's going to be EPIC news about Narconon's monumental milestones.
Looking forward to hearing all about it. It will be fun to match up with this post.
And there will be NOBODY in these places in UK, Mexico, Ojai or anywhere else….
But that's the scientology way.