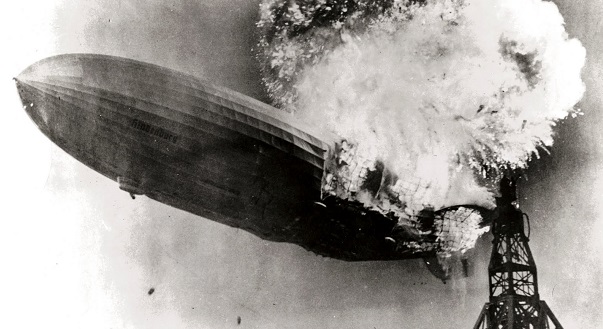 The "March 13" edition of the International Scientology Nonsense (ISN) has just arrived in mailboxes everywhere. A bit tardy, but one could understand: 146 glossy, 4 color pages of Shermanspeak stream of consciousness is a bit of a task to put together.  Though all it does is repeat the contents of the March 13 Event held at the Ruth Eckerd Hall (after 20 years, one would assume that the straight up and vertical expansion would have outgrown Ruth Eckerd Hall that only holds 2300 people…)
Of course, reduced to the written page this stuff sounds even stupider than when it is accompanied by loud crashes, music and CGI images. Unfortunately you also have a bit of time for the inane statements to sink in.
As a first obvious question: Why wouldn't they take the event and simply put it on the internet or send out DVDs of it to everyone (a DVD IS glued to the back of the magazine "In their own words… A brand new world of wins from the Golden Age of Tech Phase II") rather than the astonishing expense of printing and mailing a magazine of this size — let alone any concern for the destruction of the 6th dynamic. Of course, there are two reasons for this:  1. POLICY says to send out "magazines" and so that is what they do. It's amazing they have moved on from mimeograph machines to photocopiers…. 2. More importantly, Miscavige does not want images of himself to be available on the internet as if there is one thing he hates more than anything in the whole world it is being ridiculed by lowlife, unemployed, DB bloggers on the fringes of the internet.  So, he will spend millions of dollars to convert his million dollar audio/visual extravaganzas into good old fashioned pulped tree style magazines.
But what sets this particular edition apart is what it DOES NOT contain in its 146 pages. While omissions are not always easy to spot, even the most dimwitted couldn't have missed what was NOT talked about.
Let me give you just a few highlights (lowlights?)…
The "rolling thunder" that Dear Leader always begins his events with (this is the endless stream of "stats" that seems to be one continuous 10 minute sentence, accompanied by CGI "graphs" that "explode") was more akin to a rumbling fart, though no doubt the volume was cranked high.
I scanned part of the page that covers some of these amazing statistical accomplishments — though what you don't see included here was the fact that there are 1.085,675 Ron Mags "in circulation" if recycling is redefined as in circulation, that there were 123 million Golden Age of Tech Phase II pages printed for release, 1,408 tons Golden Age of Tech II materials produced for release and 185,850,000 translated words of LRH tech. In the immortal words of Church Lady: "Isn't that special."  Only someone with absolutely NOTHING to say would make a big deal of these sort of useless numbers (Mr. Miscavige, I used 9,653.5 keystrokes typing this masterpiece — impressive eh?).
But here are the "big hitter" numbers (you can click on the images in this posting to enlarge them):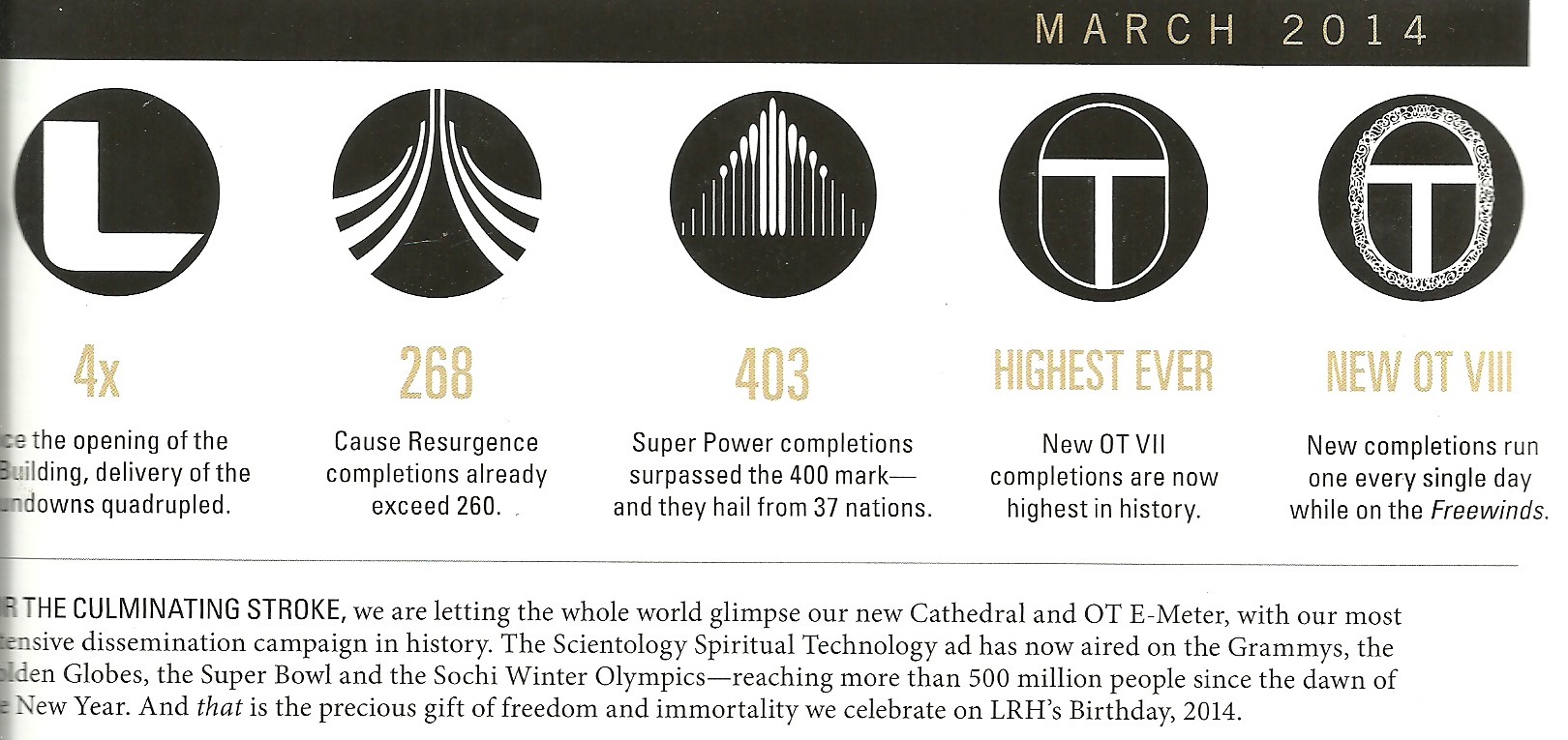 100% Academy Course completions in checksheet time? EVERYONE knows this is just a baldfaced lie. If I could walk into Tampa Org tomorrow and look at the checksheet of the one person on Academy Training (anyone else is on Basics, Purif or Objectives) I bet you anything they would NOT be on checksheet time. Let alone if there is anyone on Academy training in Port Elizabeth or Kansas City or Bogota. But how absurd is this datum — no mention of HOW MANY auditors are trained, just that the ONE who is "in training" is "on time" — BUT 4 MONTHS after the release of GAG II there should have been tens of thousands of Academy Level 0 completions?
517,000 WDAH of course includes the dedicated seals doing 6 Solo NOTs sessions a day, as well as everyone else doing objectives or on the Purif. But if you break this down over 4 months, say 15 weeks, this is 34,500 hours a week. Divide that by 150 orgs (let's not even count the missions and field auditors), this is 230 hours per week on average. That is maybe 3 people going Clear in each org each week (IF they were actually auditing anyone up the bridge). 450 clears a week would take about 200,000 YEARS to "clear the planet" provided the population didn't increase at all.
And then there is ONE Student Hat Completion every 9 minutes or 6 an hour or 52,500 a YEAR. Good news, that will only take about 135,000 years to get everyone through the Student Hat.
And then the real nutball "stat" of hours of Objective Processing  "52X" than the previous 63 years combined. Utterly meaningless. And a total lie. Even if ALL 517,000 hours of auditing were objectives that means on average there were less than 8200 hours of objectives delivered in a YEAR over 63 years by 150 orgs, or a bit more than 50 hours a YEAR or ONE HOUR A WEEK. But last year and the year before and the year before that Miscavige was boasting how the stats were straight up and vertical and higher in the last 5 years than the previous 50 years combined?
He then moves on to the "Top of the Bridge" and the story is even MORE pathetic, if possible.
Cause Resurgence completions "already exceed 260" — remember this is the ONLY place on earth you can do the Running Program and it has been promoted as the ultimate "OT Rundown" that even "non-OT's" can do. 260 in 15 WEEKS? That is not even 20 completions a week… But more significantly, this is the grand total number of people they have managed to round up to do this from the millions of scientologists around the world?
But there ARE 400 Super Power Completions. Woohoo. Yet there were 2700 Cornerstone Members. Where are they all? About 15% have showed up?
Breaking News — the number of completions of Solo NOTs is more this year than last. Tells you for SURE they are not deducting those who are being declared, otherwise the impossible would be happening and the cumulative number of completions would be going down! BUt you gotta admit, it is really impressive to announce there are more people completed on Solo NOTs this year than last year. It's sort of like announcing "2014 is a bigger number than 2013."
And new OT VIII completions "run one every single day" — this is the massive surge of people up the Bridge? Sure there is bound to be some fall-off, but the numbers are pitiful. If the Freewinds, a ship DEDICATED to delivering OT VIII is delivering to 30 people at a time (averaging a month to complete OT VIII) then it is bankrupt.  It is frankly the best reflection of the true size of scientology today. 7 people a week make it "to the top." That is less than the number who are declared and WAY less than the number who slip away quietly into the sunset.
Then Dan Sherman gave a totally confusing, non-sequitur and ridiculous presentation about the "life of LRH" that bore little resemblance to reality. But this is just filler because Miscavige feels obliged to pay some lip service to LRH between what is really important. His programs.
So, Dear Leader soon returned to the stage to talk about the massive progress towards achieving His program of all orgs being Ideal.
But because he didnt have a SINGLE Ideal Org to talk about, he twisted this into a new vector called "Ideal Continental Bases." Here is the write up on what He said in all it's convoluted gibberish. To borrow a phrase from one of Tony Ortega's writers at The Raw Story — this is word salad that has been put through a woodchipper.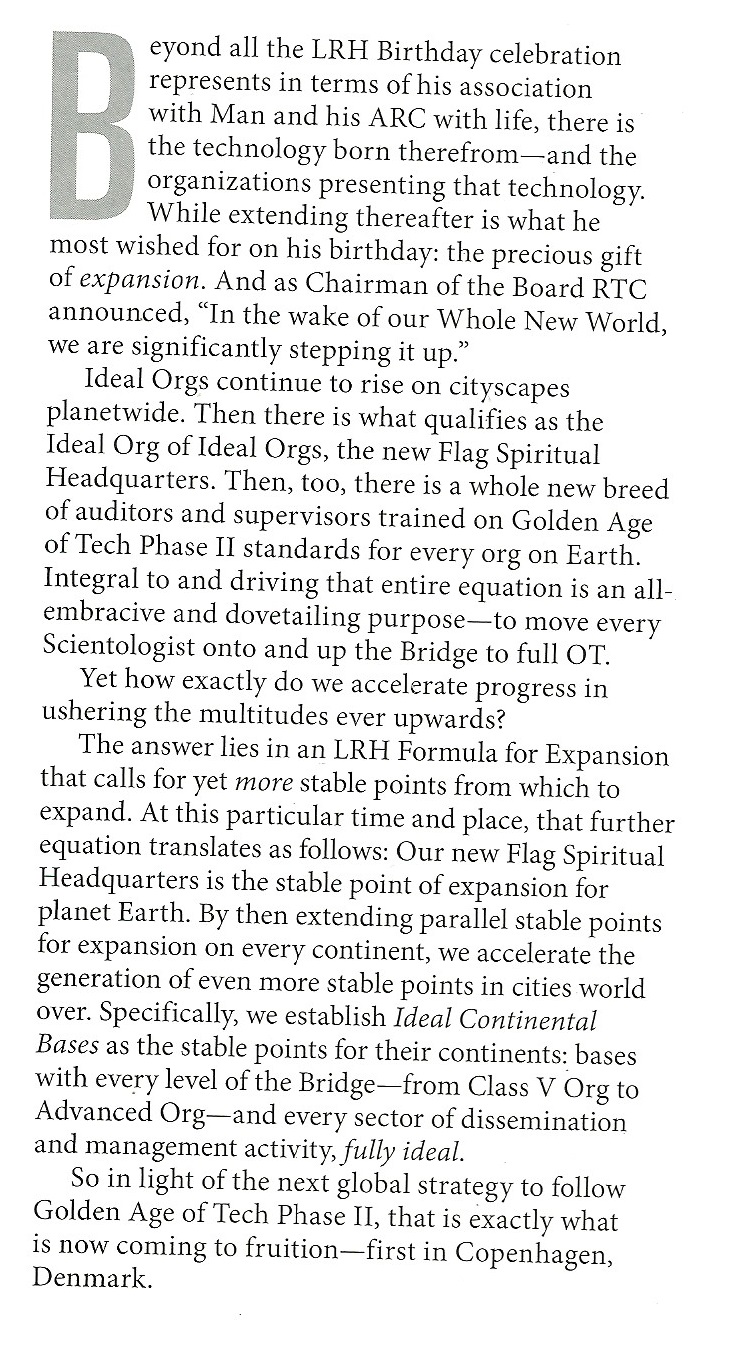 Now, realize he says "Ideal Continental Bases" and includes "management and all sectors."
He then launches into the "accomplishments" starting with "the Continental Base For Europe."
But this turns out to be JUST AOSHEU and from the shots, there is NOTHING DIFFERENT about it other than some new carpet and paint. The place looks EXACTLY the same.  It is accompanied by the mandatory shots of the Great Man at the ribbon yanking, with blurry images of balloons and a crowd that is no more than 300 in any wide angle shot, yet they claims "thousands assembled." Scientology has its own tech for counting crowds that apparently includes demon circuits, ridges, ghosts and other entities.
But here is the real rub. The Continental Base is not AOSHEU. That is not management or "other sectors." In the 20 pages devoted to this, they have tiny photos of the "future" CLO EU, the "future" Nordland Hotel, the "future" Sea Org Berthing, the "future" Ideal Org of Denmark and pronounce New Era Publications is "already a model of Ideal.'
So, right out of the blocks, the first "ideal continental base" is nothing of the sort. It is simply a ribbon cutting on a recarpeted and painted AOSHEU.
Next, on to "the Pacifica Bridge" with equally absurd statements of how 6,000 were present (noting that Los Angeles is the largest concentration of Scientologists on earth — wow, there are more people each week that show up on Sunday for the regular sermon in dozens of big Christian churches throughout the US) which everyone also knows is a lie.
There are then FORTY PAGES of empty spaces and shots of Dear Leader devoted to LA Org, ASHO and AO. They are proclaimed to be the "model ideal orgs" for their "type" of organization (even though there are no other SHs or AOs that are not combined?).
Within the 40 glossy pages are shots of the "Test Center" which was never opened. This is almost certainly because the church could not persuade anyone to allow them enough time to close down Hollywood Blvd to erect their fake forests and walls so nobody could catch a glimpse of Dear Leader. So it just "opened" with no ribbon yank at all.
But again, this is NOT an "Ideal Continental Base." No mention of the CLO. No mention of the SO berthing. No mention of other sectors. And not a single photo of any of that in these pages.
And while there seems to be some new furniture in ASHO and AO (so they can route everyone onto the Student Hat, Purif and Objectives?) there is really nothing new at all.
And that is ALL THE NEWS on the single most important COB strategy in scientology. Not ONE "new" ideal org. Not even one continental base completed. A big fat zero turned into SIXTY PAGES of empty rooms, blurry crowd scenes and full page photoshopped glamorpuss shots of Pope On a Box.
In the history of March 13 events, this is the thinnest ever. Usually it is a bit of news blown up big. This is no news spread so thin it is see-through.
Then, he trots out "Guillaume Lesevre" (NOT ED Int) to present the "Birthday Game Awards".
These have always been rigged, but they have become a complete farce now.
With silly descriptions of horses bolting from the gate, jockeys on the track, mounts in harnesses, long shots and sure bets, the only cliche that was not used was the only appropriate one. The fix is in.
Missions — not even worth mentioning other than to note the winning mission for the UK was New Delhi in India and the winning mission for ANZO was one in Taiwan and the world champion was Los Feliz.
Orgs — To fill in time (because there was no other news) they flew the "winning orgs" from each Continent and presented them all with their "racing silks".
And surprise, surprise, see if you can spot the similarity between them.
These are the winners by continent:
Latin America: Ideal Org of Mexico City
Canada: Ideal Org of Cambridge
Africa: Ideal Org of Joburg
UK: Ideal Org of London
ANZO: Ideal Org of Melbourne
Europe: Ideal Org of Moscow
EUS: Ideal Org of Tampa
WUS: Ideal Org of Portland
Dear Leader said earlier in the event that "100% standard tech means 100% ideal" and he forgot to mention that "100% of Birthday Game winners are always going to be ideal."
But the real kicker is this.
The Grand Winner of the entire Birthday Game — the MOST EXPANDING AND FLOURISHING ORG ON PLANET EARTH was….
Portland.
See here for the reality of the Portland "Ideal Org."
Sea Org — of course, the winner was the "Ideal AOSHEU."
And the winning "continent" was the "almost ideal WUS."
Phew, the suspense was incredible. Only exceeded by the bullshit.
Finally, mercifully, Dear Leader wrapped up the evening with some more woodchipped word salad "A Turning Point In Whole Track History" subtitled "Spanning The Social Blueprint Of This Planet' (if anyone can interpret this for me I would appreciate it).
Here, in all it's foolishness are his closing remarks, accompanied by yet another full page shot of photoshopped majesty entitled simply "Chairman of the Board Religious Technology Center Mr. David Miscavige" — as if 6 previous full page shots identifying him similarly hadn't been enough to ensure everyone knew who he was (funny, the single shot of Guillaume Lesevre has NO caption at all).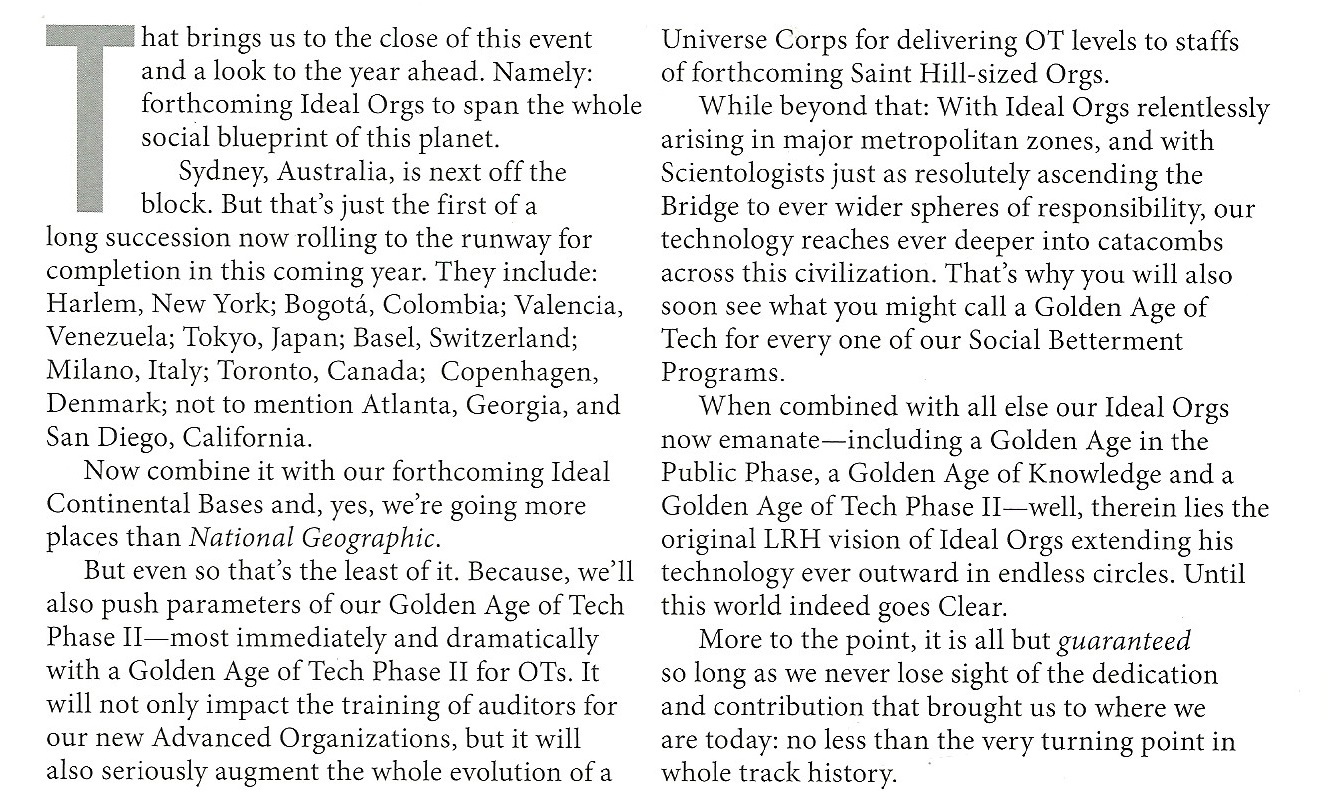 And with that, I can take no more.