Tony Ortega covered the recent openings of Salt Lake and "Silicon Valley" ideal orgs with some interesting on-the-ground reports from observers.
I have, as is my wont, a few observations of my own.
Salt Lake City:
This is the official photo on the scientology.org website. If you had the time or inclination, you could actually count the heads present.
My guess would be 350. (Update, a reader counted every head in this photo, the number is 242).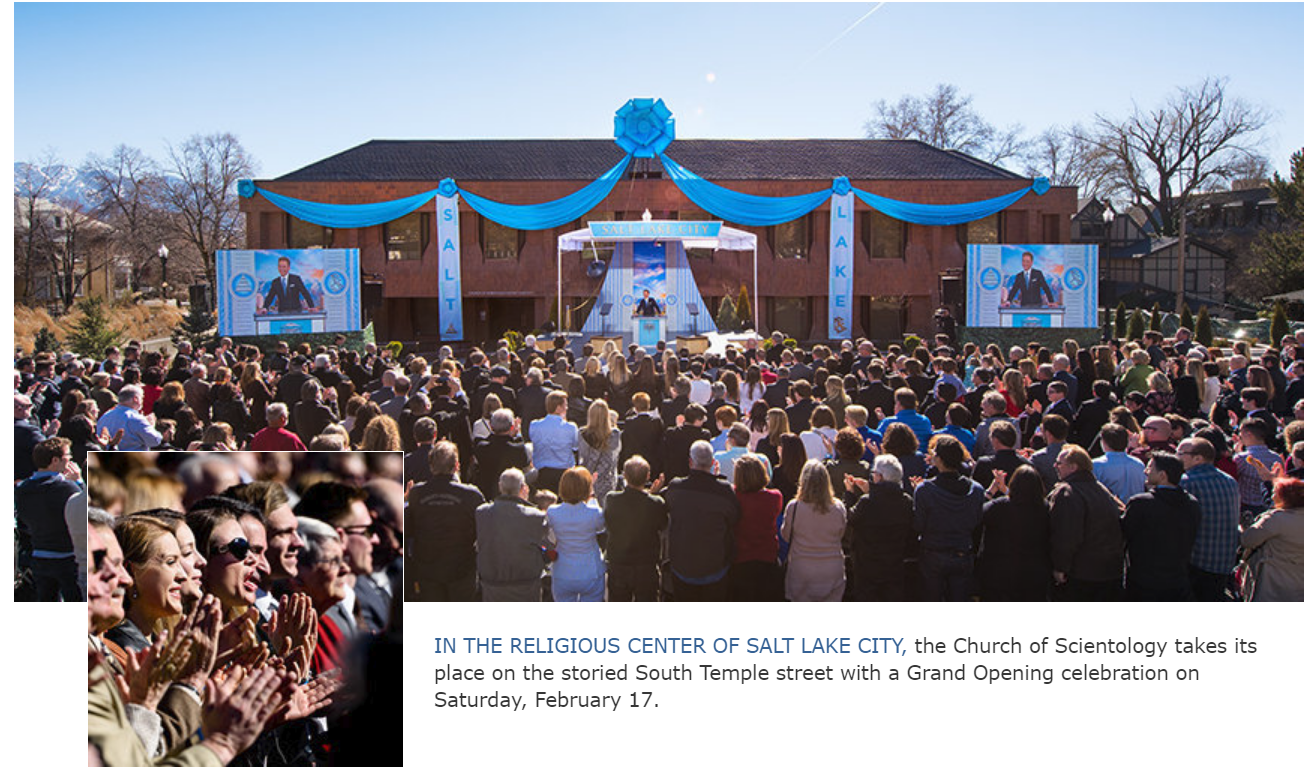 But if you read their press release, the gathering consisted of "more than a thousand" in attendance.  It's no surprise,  they routinely increase the number in attendance by 3 or 4 times. Remember back in the good old days just a year or two ago when they ALWAYS claimed "more than 2500" or "thousands" even when the best estimate was 700? They're half that now.
This is a big downstat in the scientology world.
And you know they flew in people from all over. Denver "ideal" org was press-ganging people to attend from their city. No doubt the same everywhere else.
Of course, the poor turnout was only one aspect of the fail. I joked about how they would get the "Playground In Charge from the Other Side of Town" to talk about how the WTH had reduced fights over the swings. Well, satire is verging on reality.
The all-star line up for this grand ribbon yanking included Taryn Dipo "of" Operation Underground Railroad (if you check their website, she is nowhere to be found, but Marisol Nichols is) out of Lehi Utah. What is so sad about this is that this organization works to help victims of human trafficking. She should be working to help the victims of scientology, not sucking up to them: "We first met members of your Church when testifying at Capitol Hill. We immediately collaborated on education efforts on behalf of freeing men, women and children from modern-day slavery. But if that's not commitment enough, you've even put your own lives on the line, flanking our extraction operations to expose real-life traffickers. Yes, you educate, you empower and you most certainly liberate in the name of freedom." She didn't elaborate on how scientology has put their own lives on the line. Would love to hear those stories… Maybe this is in reference to Humanitarian Michael Roberts being on the road fundraising for months on end?
But the most bizarre moments were reserved for the Chairman of the Bored who spouted his usual Shermanspeak, topping the front porch of eternity with reference to the "Kingdom of Heaven on Earth" a rather strange reference coming from the head honcho of an organization that has an article of faith that heaven is an "implant".
And I wonder how those mountains are rising? Perhaps some OT VIIIs are going to "postulate" it?
 "Before that ribbon falls and every surrounding mountain rises six or seven hundred feet, we come to what L. Ron Hubbard would have you remember before venturing forth across this valley. Not 'good luck,' nor 'happy trails,' but merely and simply: 'Change no man's religion, change no man's politics. Instead, teach Man to use what he has and what he knows to the factual creation of a civilization on Earth for the first time.' Wherefore comes freedom from ignorance and then, perhaps, a Kingdom of Heaven on Earth."
The best they could do to make all this sound grand was a shot of Dear Leader with a caption stating he was met with "thunderous applause." Maybe they piped it in?
This is the "last" of the "ideal orgs" in NoCal. It joins SFO Day and SFO Fdn, Sacramento, Steven's Creek and Los Gatos.
That is FIVE other "ideal orgs" — one would expect a MASSIVE turnout with all the staff and public from these 5 orgs showing up (of course along with a massive contingent bused in from LA).
For this event, THEIR claim was 2000 in attendance. You can judge for yourself. I would top this out at 700 — maybe twice as many as Salt Lake to be sure, but pretty dismal given the circumstances. This is really all they could muster? (Update, that same reader counted heads here — grand total 322).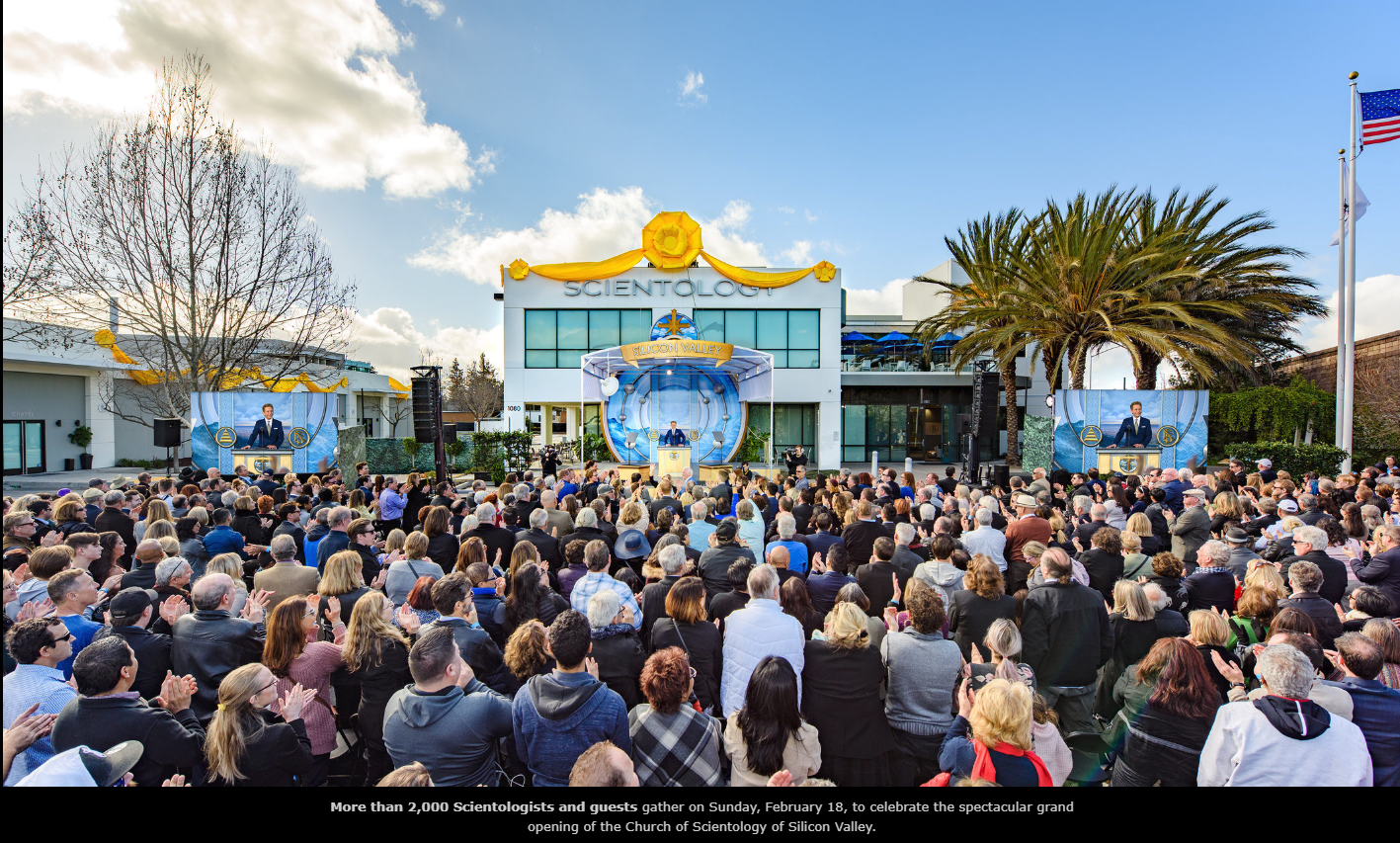 Once again, the Shermanspeak was the feature of the show — ranging from the completely incomprehensible to the cute and the condescending.
The headline of the press release had a self-congratulatory tone that only scientology seems to have mastered:
Where Spirituality Intersects With Human Brilliance: The New Church of Scientology Opens in Silicon Valley
In a special place where the brilliance of intellect was revered, 2,000 people gathered to celebrate the other defining dimension of humanity: the spirit.
What?
And the COB didn't disappoint:
"Here, indeed, is where the 'Digital Technology' revolution can transform into a 'Spiritual Technology' evolution—and all in the name of human ingenuity, human brilliance and personal freedom."
Huh?
But then they popped off with the biggest lie of all, reflecting the incessant parroting of their message of "unprecedented expansion."
Another new Scientology Church, this one in Salt Lake City, was also inaugurated by Mr. Miscavige during the same weekend. It is the first time that Scientology has opened two new Churches back to back—testimony to the accelerating pace of Church openings and the growing worldwide expansion of the religion.
Pretty bold claim. Especially when the attendance at these events shows a dramatic decline in membership. And the FACT there has not been a NEW church of scientology opened ANYWHERE for a decade. No new ones in the United States for more than 2 decades. Maybe even 3? That's their idea of the accelerating worldwide expansion?

The line-up of guest speakers for this yanking reflected that decline also. Back when Sacramento Ideal Org opened a few years ago they managed to lure the then Mayor to speak. When San Francisco opened they had the Mayor of San Francisco. For this opening all they could muster was an attorney "active in the Black American Political Association of California", a cop who is a member of the California Narcotics Officers' Association, an  "advisor to the City of Fremont" and a reverend from the Christian Fellowship Ministry. Miscavige must have been fit to be tied over the failure to round up anyone of that would agree to share the stage with him. If he didn't think he needed these people to try to pretend that this new building would be good for the community he would have long since abandoned this idea and just done it all himself — not sharing the spotlight with anyone.
The truth is, it is becoming harder and harder to apply lipstick to the pig that is the scientology organization. These pretty (and empty) buildings still fool some people, but more and more are wising up. They are seeing them for what they are. Stage props, just like a North Korean ski resort. They are intended to convince the world what a wonderful, flourishing and prospering organization this is. The curtain is falling away, the ugly truth is being laid bare.
PS: Dave — whatever happened to Erin Banks? She was the chosen one there for a while? She was the "MC" for these events and then conducted tours for preselected media. Another of the "disappeareds" — what did you do with her?