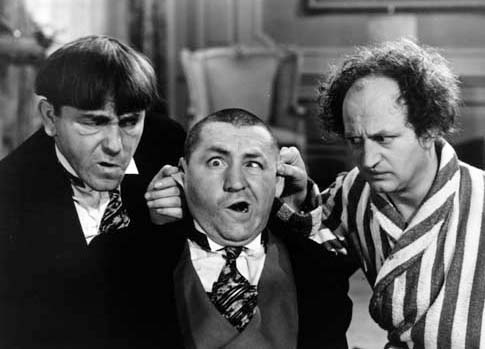 Take a look at the posting on the African blog here.
Clumsy would  be a kind description of the buffoonery. These fools make the Three Stooges look like James Bond.
Here are my thoughts (because I am featured in their footbullet).
1. The South African blog has become a major headache for the church. They probably have more readers than the church has active members. They don't know what to do about it.
2. So they try to position the blog with the thing the public hates the most. Asking for money. Oh, the irony….
3. If they really DID send out this idiocy to their public then it is the worst "handling" since forcing public to read the "no-name" Freedom magazine after the SPT Truth Rundown series which resulted in people going to the internet to try and find out who the "Kingpin", "Factchecker", "Conman" and whatever they called Amy Scobee. Now people are going to go to the South African blog (and here).
4. I can only assume that they mentioned me because they try and make it sound like I am somehow collecting money from blogs that link to mine, and probably because "everyone knows" what an SP I am, so connecting the S. African blog to me automatically tars them with the same SP brush.
Oh well.
But my congratulations to the South African bloggers for having such an impact.
Not often you get a footnuke with your name on it! 🙂