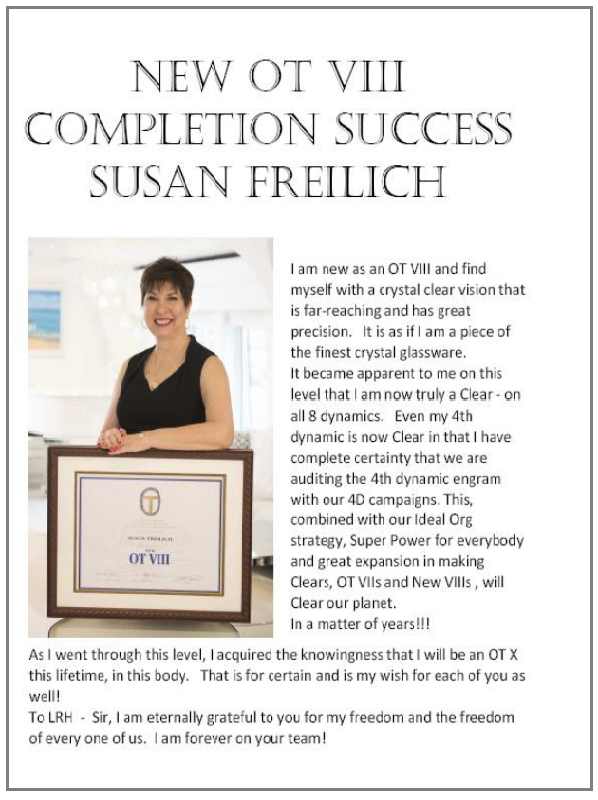 This is totally wacky.
Susan Freilich is certainly entitled to express her "wins" any way she wishes. She can be cray-cray and as long as she doesn't hurt anyone, who really cares other than those who have to deal with her directly in the real world. Something like this has got to make you wonder — hundreds of thousands of dollars and thousands and thousands of hours to become (or remain – she might have been this way all along) so out of touch with reality.
But the organization is another thing.
THIS is the "success story" they choose to promote? Wow. It says a lot about the state of Scientology that this is what they aspire to.
This woman claims she is Clear on all Dynamics (including, she notes specially, the 4th). Curious that. If HER 4th Dynamic is Clear, I wonder if she is part of the same species as the rest of us? My 4th dynamic (i.e. "Mankind") certainly isn't clear. And there is still a lot of talk inside the Scientology bubble about "clearing the planet" and how urgent it is to give money/join staff/sign up for a billion years in order to "ensure" this happens. Yet here we have the pinnacle of scientologists saying it's already a done… delusory is a kind term for it.
And the "knowingness" that she will be OT X "this lifetime, in this body" is right up there with people who predict the end of the world next week and Hubbard proclaiming not smoking enough cigarettes causes cancer.
Really scientology, what wall?