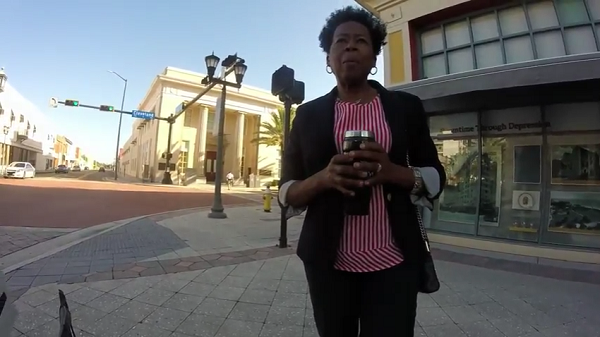 Perhaps the only scientology "PR" who is still operating anywhere these days is Pat Harney in Clearwater.
Though she doesn't make live media appearances or even answer live media questions (witness her scurrying away when she came to "confront" one of the Producers of The Aftermath while they were shooting on the sidewalk – and refusing to even give her name) – she will dash off a Letter to the Editor every now and then, as long as it's not to one of the "known SP media" outlets (looking at you Tampa Bay Times). Pat is the last of a dying breed. Karin Pouw is just a name used to put on letters these days, nobody has seen her in person in years. The old guard local "spokespeople" like John Carmichael, Ken Hoden, Brian Anderson, Jeff Quiros and others have all been banished from the airwaves or have banished themselves from scientology.
Scientology "PR" these days consists primarily of providing propaganda to their internal public — keeping them suspended in the bubble of "planetary clearing is being made a reality", "we are experiencing the greatest expansion in our history" and "governments and people are demanding our tech like never before." And then schmoozing with whatever local politicians/"opinion leaders" are gullible enough not to realize they are being used to try and give scientology credibility.
Here is Pat's latest "Letter to the Editor" effort: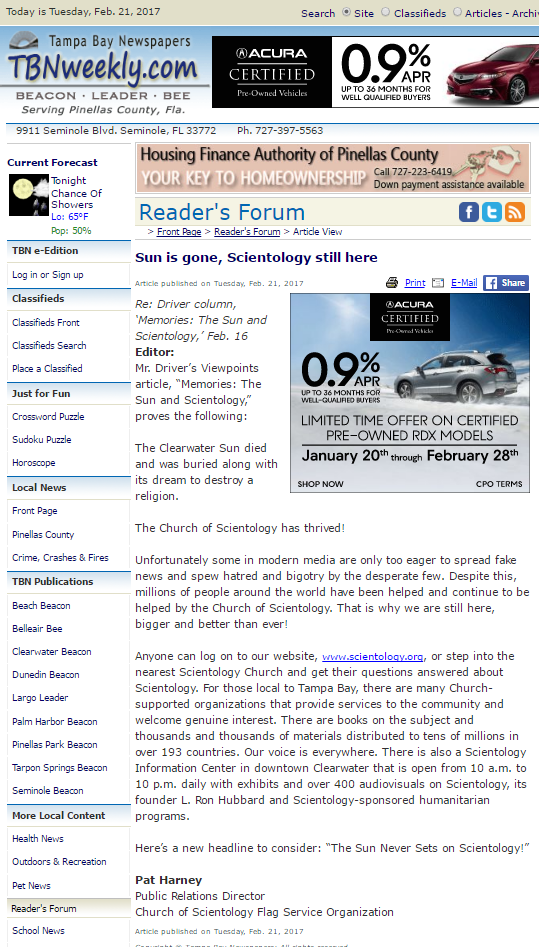 She is responding to an article from a former editor of the now defunct Clearwater Sun newspaper, Bob Driver. I have included his guest article below that appeared a few days earlier.
What Bob Driver says is interesting, but hardly any bombshell – he basically recounts known facts that scientology does not like anyone remembering.
Pat Harney's response is exactly in accordance with the L. Ron Hubbard Playbook.
This is hardly a national publication. But no perceived slight may be left unpunished, so Pat Harney ploughs ahead with the arrogant tone of a bully who won a schoolyard fight. Not a hint of an apology or recognition that scientology did anything wrong. Not even anything about "we are kinder and gentler." No, just an assault, claiming the Clearwater Sun existed on a "dream to destroy a religion." Funny, the Clearwater Sun predated the existence of scientology, let alone its presence in Clearwater.  Imagine being a small town local newspaper and having a mysterious organization land in your midst, buy the two most prominent buildings in the city, move in hundreds of uniformed and regimented people and offer up a "shore story" to try to cover up who it is. Then to have revelations from an FBI raid that the same organization was engaged in dirty tricks and spying on critics and the government. Including the Mayor of your city. And to have them parade outside your offices in Nazi uniforms.
That would not qualify for plenty of media coverage?
Frankly Pat, this is a subject best left alone. None of it is good for you. Let Bob Driver have his say and ignore it.  Responding with a gloating "you are gone and we are still here" and talk of "fake news outlet" is just not seemly. But then again, that has never really mattered when the first commandment in the bible of scientology "PR" is always attack, never defend.
But then to pile on with the steaming layers of bs is just ridiculous.
Try stepping into the nearest church in Clearwater and see how welcoming they are. Start with the biggest one, the one that dominates Clearwater, the SP Building — and see how many questions you get answered. After you have been evicted by the security guards, walk across the street and try the Ft Harrison. Again, you will not get in the door. By this time Security will probably have called the CW Police Department who will issue you a trespass warning. If not, go to the virtually abandoned Oak Cove behind the Ft Harrison hotel. It's the next biggest scientology building in downtown Clearwater. Ask for a tour and to get your questions answered. Not a chance. Same with the Sandcastle. The Westcoast Building. The totally empty former Lee Arnold Building. The Coachman building. There is one door you can go in — the lobby of the old CW Bank building — but don't ask to see anything outside the lobby. That is described by Pat as "There is also a scientology information center…" — no, that bolded word should be "ONLY".
The scientology facilities in Clearwater are about as warm and welcoming as East Berlin before the fall of the wall.
She then goes on to claim "there are many church-supported organizations that provide services to the community" — which ones Pat? They are invisible to everyone else. Perhaps you could point them out?
And then the big whopper "There are books on the subject and thousands and thousands of materials distributed to tens of millions in over 193 countries. Our voice is everywhere." Really Pat, you are still going with the "tens of millions"? Even though you no longer actually say there are tens of millions of MEMBERS, you sort of fudge it to number of people "materials" have been "distributed to." Whatever, it is simply untrue.  And I would love to see that list of 193 countries. I bet a large number of them have NO scientology presence at all. They may have mailed books to libraries there (part of the tens of millions who had materials distributed to them) and they end up in the trash like they do everywhere else. But that really doesn't count.
But the ultimate conceit is her final line.
Boasting about how big and successful your organization is all over the world is not borne out by ANY objective measure. Of course you try to convince the media that this is true because you have invested in more empty buildings, but that just isn't holding water these days.
Clearwater needs to wake up. The tone of this letter is indicative that scientology believes they are untouchable and can get away with anything they want. Not even a tinge of apology for past misdeeds or regret for the terrible things that were done "in the name of religion" by scientology. These are telltale signs of a bully that has gotten away with too much for too long.