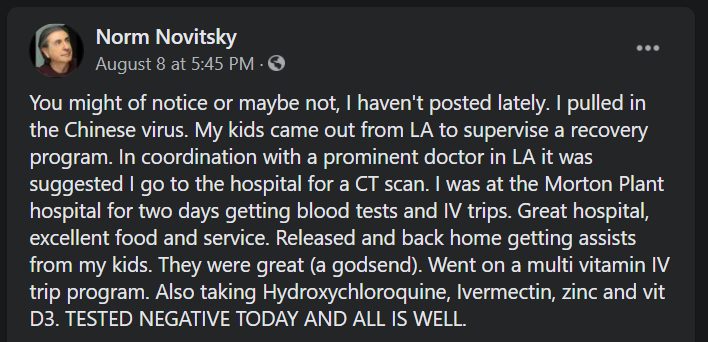 Tony Ortega asked the question yesterday why scientology is not promoting the vaccine like they do masks and hand-washing?
There is no definitive statement from scientology, but there are some clues in the statements of scientologists and from knowing Hubbard's worldview and thus how scientologists think.
This FB post is from a very prominent scientologist and big IAS donor in Clearwater. He and his wife, Terri, were Sea Org members at ASHO before departing and becoming public whales. He is one of the owners of Nationwide Title Company (NTC) which is just a couple of minutes from where I live. NTC employs a lot of scientologists.
The first thing Norm says is he "pulled in the Chinese virus."
Pulled in is scientologyspeak for "caused myself to have" — it is based on the theory of the "Overt-Motivator Sequence" where Hubbard says that if you do something bad you will crave (pull in) harm to  yourself to explain or justify having done the bad thing. Norm is saying he "committed overts" and this caused him to get the "Chinese virus." Scientologists believe that one must be "PTS" (Potential Trouble Source) by being connected to a Suppressive Person in order to get sick. To be PTS means you have committed overts that makes you "effect." This is all very complicated and not very logical — the bottom line is that scientologists have their own explanations for sickness based on what Hubbard said.
Hubbard had a very low opinion of the medical profession. In his view, medicos don't understand the mind and spirit so they are only good for setting broken bones and performing surgery. Not much use other than that because they don't really understand what causes illness.
Thus, scientologists think that auditing and "assists" will cure them better than the medical profession. Norm's family flew in to give him assists.
Scientologists also hate "Big Pharma." Drug companies (very much including Pfizer et al) are wiling partners of the psychs in seeking to enslave mankind. Certainly Big Pharma is far from perfect (watch Alex Gibney's very disturbing "Crime of the Century" if you have any doubt), but that does not mean every drug is bad. Like fundamentalists of all stripes, scientologists see black and white. Big Pharma is bad = all drugs are bad. Except those that are apparently exempted from this categorization — Hydroxychloroquine and Ivermectin (why someone would take a drug designed to kill stomach parasites or head lice for Covid is very strange).  Scientologists love vitamins and vitamin drips because Hubbard was in favor of vitamins.
Scientologists also distrust and dislike government.
Finally, scientologists tend to be conservative leaning. A single issue tends to put them into this category: they vehemently oppose any political support for government health care because it provides funding for mental health programs. Add to this the dislike of government and Hubbard's views on abortion in Dianetics (though didn't have a problem with it when it came to possibly interfering with his personal well-being  — such as when one of his Messengers got pregnant), and it becomes clear why the great majority of scientologists tend to vote Republican and follow right-leaning media (hence the "Chinese virus" rather than COVID-19 and being in favor of Hydroxychloroquine and Ivermectin).
With all this in mind, it can be pretty safely assumed that the majority of scientologists are not pro-vaccination.
A final comment — it is ironic that he praises Morton Plant hospital (though not a word about the doctors and nurses — just about the "food and service"). This is the same hospital Lisa McPherson was taken to. And scientologists went to great lengths to extract her from their clutches. You can bet the food and service she would have gotten there would have been a lot better than what she got at the Ft. Harrison. Not to mention the medical care.