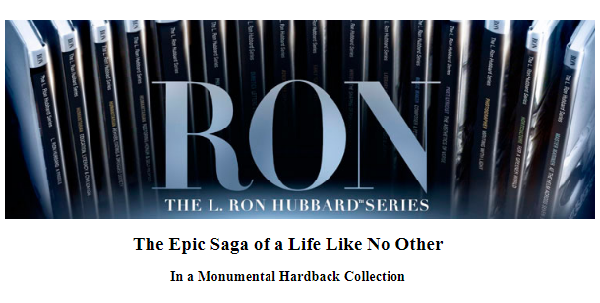 The smoke and mirrors game that scientology plays concerning L. Ron Hubbard is pretty remarkable.
This "monumental hardback collection" is hardly a recounting of a "life like no other." It is a carefully selected collection of anecdotal stories about things L. Ron Hubbard said or claimed about his life. Many of them are unverified, unable to be documented because they didn't happen. Charitably, Hubbard told "tall tales" about his life and exploits. Realistically, he simply lied about himself.
The author of these "books" (they were originally "magazines") is Dan Sherman. The "LRH Biographer" who, after nearly 30 years, has not been able to produce an actual biography. There is of course a good reason for this. They cannot deal with the things about the life of Hubbard that don't match the image scientology wants to have portrayed about their leader.
There are so many aspects of the REAL life of Hubbard that cannot be covered in any scientology endorsed hagiography. What happened to his first wife (he claimed she "abandoned" him, which was opposite of what happened),the bigamous marriage to Sarah Northrup and her divorce case, the daughter (Alexis) he kidnapped and later in life claimed was not his daughter, his oldest son turning on him, the death of Quentin, his war exploits that have been proven to be untrue, his role in the crimes of the Guardian Office and his wife going to federal prison, or even how he died. Among MANY other things. You just can't write a biography without including his family, and that is a sorry tale of failure, betrayal and bitterness. Nor can you ignore the actual events of his life leading up to the time of Dianetics. The "adventures" that he imagined having, but were actually nothing like he described (the "Caribbean Motion Picture Expedition," "The first mineralogical survey of Puerto Rico" or "I studied 21 races"). The heroic exploits that were just tall stories (fighting off the Japanese to save Australia). Or his "conquests" that were abject failures explained as "leaning experiences" (being thrown out of Rhodesia despite being "extremely popular"). Or his racism.
You will find no mention of ANY of these things in the "monumental collection,"
If you want to know about the life of L. Ron Hubbard, read Russell Miller's excellent unauthorized biography Barefaced Messiah or watch Going Clear.
You can see the hype they throw around in the promotion below.
And oh, all this incredible information for only $800!!