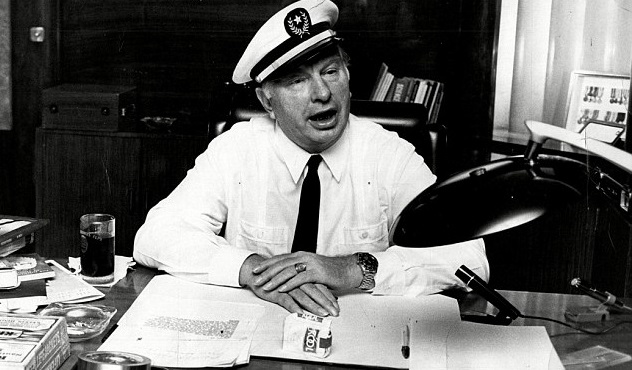 Yesterday, commenter Valerie made reference to LRH ED 301, Ron's Journal 30 in a comment. She sent me a copy of the issue and I glanced through it for the first time in a while.
Looking at it newly, with the water that has passed beneath my bridge since the last time it had come to my attention, gave me pause about a few things.
First, there are those who would say that everything written in here is the gospel truth, and it has all been altered by David Miscavige. But that is a very shallow view.
It is undeniable that there are statements in this writing that are just not true. They never were true. And they were not "made untrue" because of some action or failing of David Miscavige. They are statements intended to "market (hype) the product" to generate income, not impart some wisdom about life and the pursuit of happiness.
Let me just comment on a few snippets that seemed most interesting: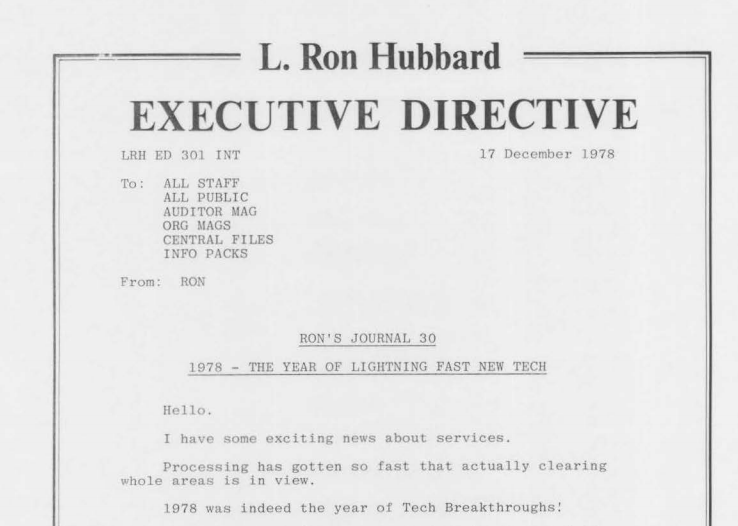 Unlike most issuances from scientology today, you do not find it laden with typos, grammatical errors, childish language or patently absurd false statements. They are more cleverly couched.  Right at the outset he proclaims "Processing has gotten so fast that actually clearing whole areas is in view." Of course, this is not true. If you ask David Miscavige, processing was NOT fast until HE invented GAG and then GAG II. But what is REALLY not true is that clearing whole areas is in view. There has not been a single, small area cleared, let alone a "whole" area. Of course, the statement is not such a crass, disprovable lie as "47X expansion", but a lie nevertheless. There was never any hope that clearing entire areas would be happening, it was merely something to make the sheeple believe that scientology was taking over the world.

I found this interesting because of the choice of words about people who had "the courage" to get through the "Sweat Program."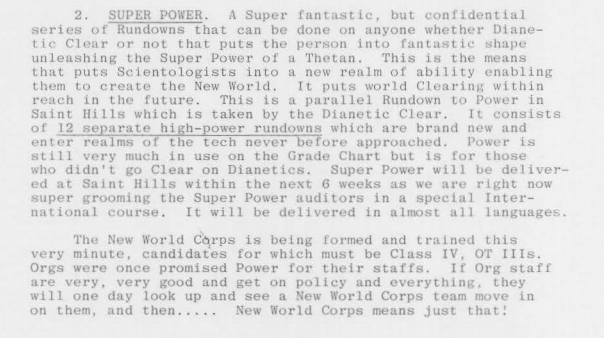 Here are some whoppers — and interestingly this text is STILL used in promotional pieces (selected parts at least) as if it is gospel and every good scientologist should believe every word (except the ones that are proven NOT to be true — they are to be forgotten).
This puts "Scientologists into a new realm of ability enabling them to create the New World."  Come on, no matter how good it could be, Super Power does not do that. Never did. Never will. And it doesn't put "world clearing within reach in the future."  It's nearly 40 years later and world clearing is further away now than it was then. The population of the planet has exponentially increased in that time…. No additional clears.
And then a whopper: "Super Power will be delivered at Saint Hills within the next 6 weeks…." Of course, this section is not quoted today. It's like those words never appeared on the page. Ron couldn't have gotten it wrong, it must be a transcriptionist error or something. And just because this tangible statement is a bald-faced lie, doesn't mean any of the hype should be given less credibility. But the fact is, the statement was not true then and even 35 years later when Super Power was finally released (the delay was not because "Ron was refining the tech" during those intervening years) it is not delivered in St Hill's at all.  You cannot blame this one on Miscavige for the first few years at least — Hubbard was still very much in control of scientology and he did not make his promise happen in the next 6 weeks or in the years until his death.
After he died, Super Power became a cynical bright idea to raise funds for a building that was never needed in order to deliver it. It is quite possible that if the Garcia's had not filed their lawsuit, Super Power would still be being used as a carrot to convince the sheeple to hand over their cash to build a building in which it could be delivered. Hubbard clearly didnt think it needed such a building, he said it would be delivered at "St Hills". And how cynical is it that this invaluable technology that will save the planet was kept from the public for 30 years (if you truly do believe it is earth-saving) so it could be used as a sales tool.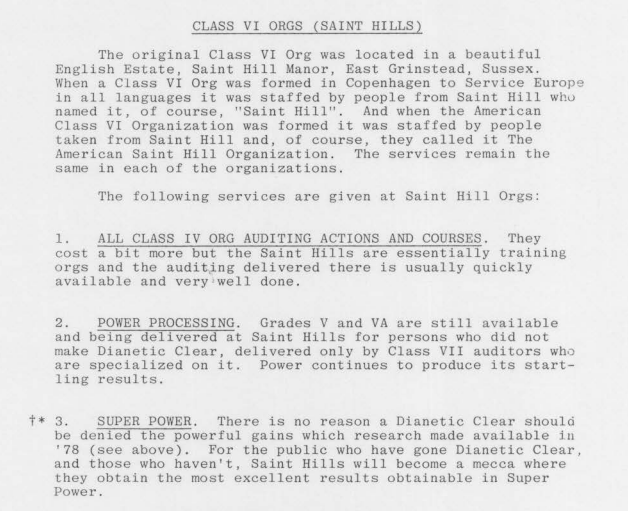 Just to reconfirm that Super Power was intended to be a Saint Hill service. Never happened. Never will. The "alternate route" became FPRD.

Just as Val said, OT VIII is in the "Advanced Org" section. Not even Flag (there was no Freewinds yet, that was another subsequent money-making and IRS avoidance scheme).  And those "upper OT grades" were just a pipe dream. Didn't exist and don't exist, but this hype was a pattern that was used from the earliest days of scientology, always selling something ahead just out of reach that would solve all problems.

Finally, this is where this issue really goes into carnival barker mode. Have You Lived Before This Life "has gone 5X the normal best seller" Hahaha. And this is pretty strange as the book was not even written by Hubbard and did nothing to "disseminate the tech." It was purely a collection of anecdotes that he put his name on and collected royalties. 5X the normal bestseller IS like 47X expansion — so I stand corrected. Just like it and no doubt this informs on the practices of Miscavige today.
The book was such a magnificent success that it is no longer in print, even though all the other books that also don't sell, are kept in print by the vanity publishers of the church.
And the final clanger, "After all, we discovered past lives." 
Believe it or not, this was written with a straight face. It was not a wry joke poking fun at himself. And this sort of statement is taken literally by scientologists. And they accept them without a second thought. Amazing.
By no means a complete dissection or analysis of this issue. And not an issue in the same crazy league as "Pain and Sex" or some of Hubbard's other more bombastic writings, but interesting to see with fresh eyes nonetheless.