It is an endless source of amazement how scientologists buy the idea that every word Hubbard spoke or wrote is some sort of brilliant revelation. Much of it is gibberish, particularly his "research track." Many of the things he stated as absolute fact he later repudiated — though he typically characterized it as "further research revealed…"
But that implies the former assertion of fact was based on research, and not just meanderings he tossed off which then proved not to be fact when he sold a newer technique. And I do mean "sold"…
Yet today, the foolishness he wrote about in the early 50's in particular is simply reprinted and everyone is supposed to ooh and aah about the genius of it, even if he later said his theories were NOT true.
The sign of the mind that has been convinced it can no longer think for itself is the insistence that everything someone says is true, despite evidence to the contrary, including a plain reading of what is said.
Here is a perfect example. It reads like something Lewis Carroll would have been proud of.
This quote is supposed to inspire you to greater understanding and enlightenment? And this is something they actually CHOSE to publish to promote buying his books and lectures?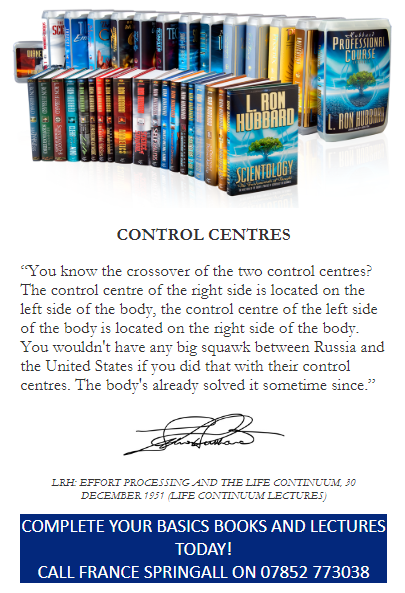 For those who may still be a little confused about it despite reading what he said, here is some "clarification" from Hubbard's Advanced Procedure and Axioms.
I am sure this will make it all abundantly clear.
The Evolution of Man
Man evidently began as a monocell, without inter-cellular relation problems. He developed by counter-efforts to a degree which banded together many cells with one central control center. He joined then with a second control center and, dual, evolved organically into Man.
The problems of the monocell by itself were strenuous but uncomplicated, having relationship only with the environment in its grossest form – pure MEST. These problems included such phenomena as the explosion of cosmic rays. The problems of a cellular colony under one control center were yet similar to those of the monocell. The protagonist had but one personality and one antagonist – MEST. Vegetable and invertebrate problems are found in this period.
The problems of the dual control stage began severely and continued in confusion. Interpersonal relations, when in difficulty, have their foot in the elementary problems of the dual control problems wherein the current control center confuses its ancient problems with its partner center with the problems the organism may have with other individuals in the environment.
The evolution of Man presents many fascinating aspects but all have basic simplicities. There are, essentially, only two sets of problems: The problems between the control center of the mind and the elements; the problem of the control center of the mind with its alternate control center. An auditor need only resolve, in any case, the essential basic confusions of the preclear in each of these two sets.